B1G1 STUDY TOUR 2014 – CAMBODIA (PART 1): WORKING TOGETHER
Siem Reap, Cambodia was a consecutive repeat destination for the B1G1 Study Tour. We had such a great and inspiring time during the 2013 Study Tour to Cambodia that we decided to repeat the same destination. The activities, however, were slightly different.
The week-long tour started on Sunday, 5 January 2014. The day was spent awaiting the arrival of all our tour participants mainly from Australia and the UK. We then had a fantastic introduction dinner, with Paul introducing everyone and getting the tour kick-started!
It was the 'official start' to the B1G1 Study Tour 2014.
DAY 2
17 of us including 3 from the B1G1 team had a wonderful start to the week-long study tour we had in Siem Reap, Cambodia. After an introduction of Cambodia at the temples (Ta Prohm & Bayon Temple) and lunch at a restaurant that supports a local NGO, we headed for a visit to our Worthy Cause Partner, This Life Cambodia (TLC).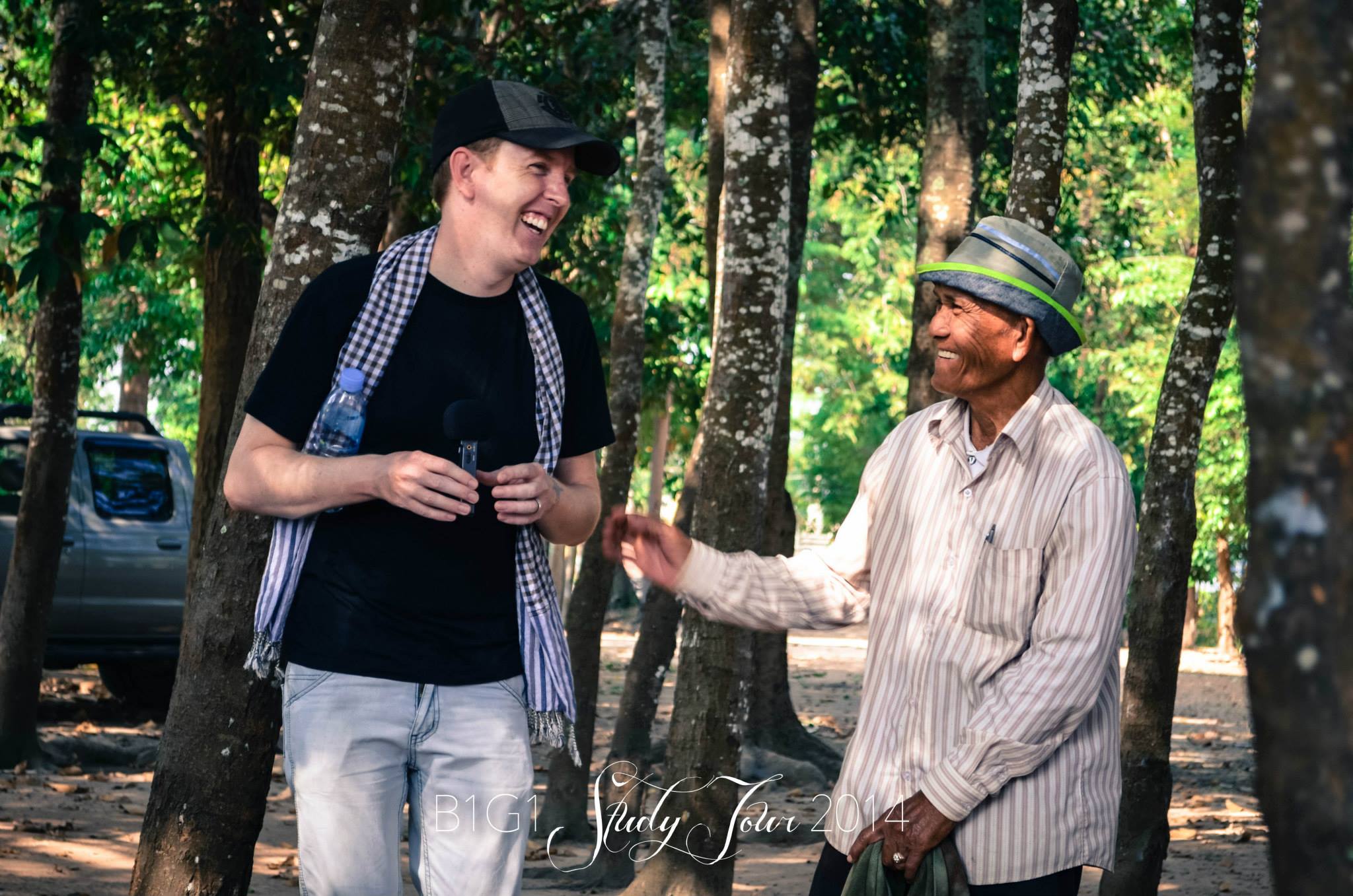 A lovely afternoon when we participated in one of their activity called 'The Walk', which is an opportunity to reflect on how community development works in real life. As a result, the 20 minute walk gave many of us deep, new insights on the importance of working as a community. We learnt that without real community development, long-term impacts cannot be created.
We also met 2 students who are supported by This Life Cambodia.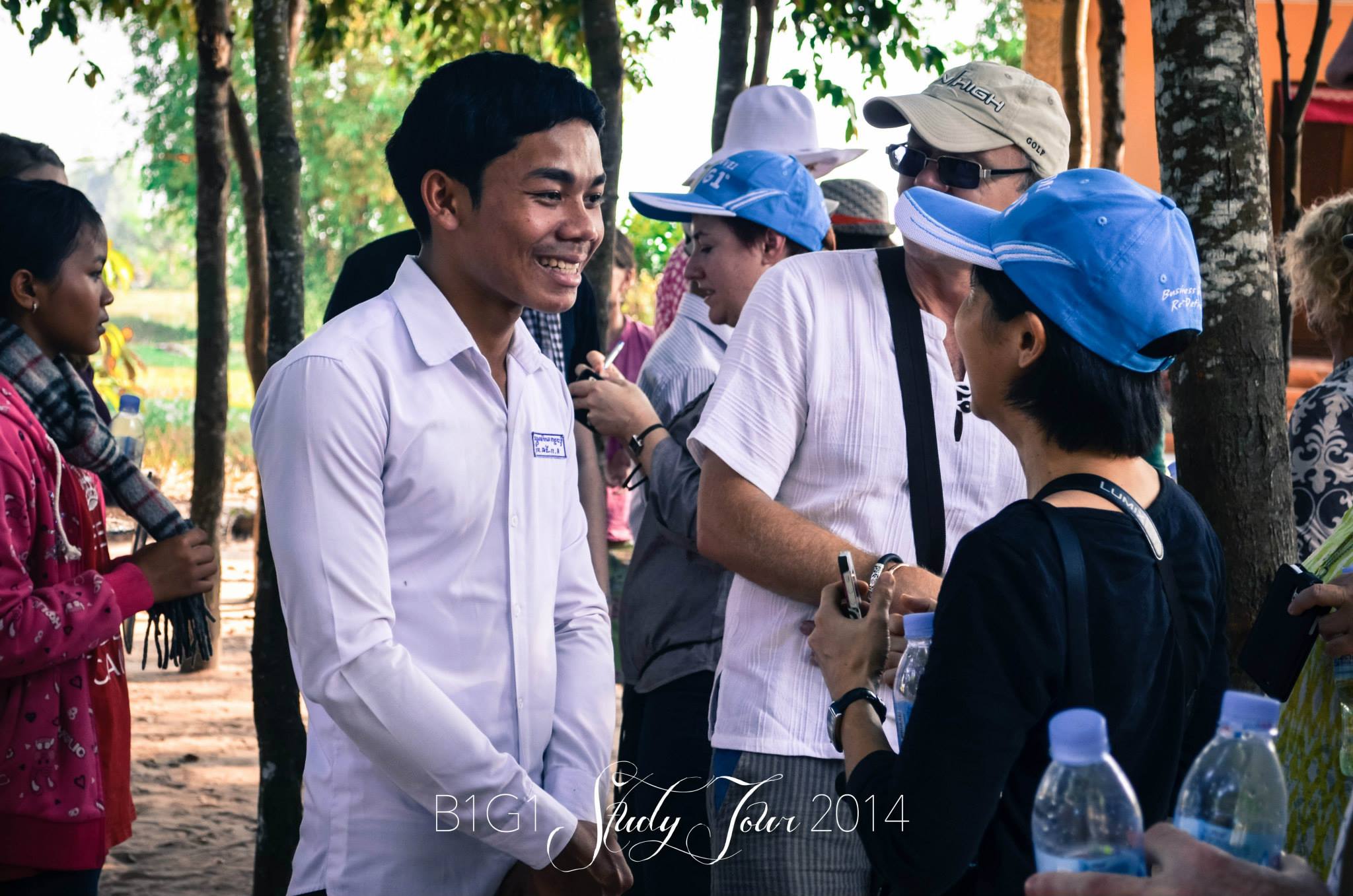 They are recipients of TLC's Pedalling Out of Poverty project. Pedalling Out of Poverty provides a second-hand bicycle and lock to each student and this simple means of transportation gives the student an ability to attend secondary school and continue his or her education, breaking the cycle of poverty. Every adult participant on this study tour also contributed one bike to a disadvantaged student.
We ended the evening with a lovely sunset dinner at the Komphiem Village House, recapping and connecting over the day's insights. All ready for more learning the next day!
DAY 3
It was a Public Holiday in Cambodia. Cambodia celebrates Victory Day which commemorates the end of the Khmer Rouge Regime in 1979.
However, NGO Trailblazer Foundation kindly agreed to have us visit that morning to learn more about their projects. Boy were we in for a surprise! Though the main focus of the visit was to learn more about their Bio-Sand Water Filter project, we were also amazed at their mushroom growing project! A project which increases the average daily income of a Cambodian by four times! Isn't it amazing how a small, simple project creates such a huge impact?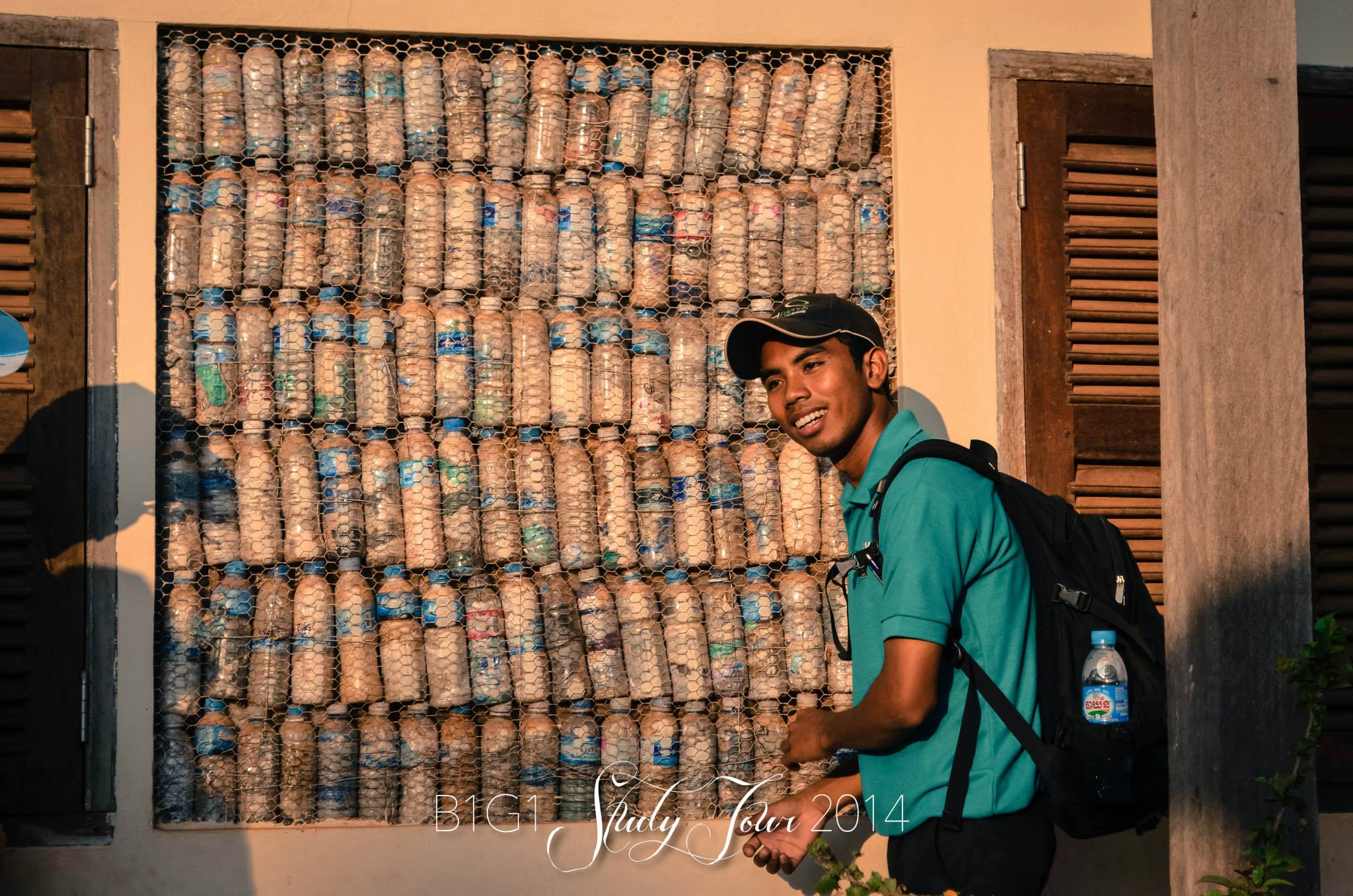 We then headed for lunch at one of B1G1's Worthy Cause Partner, Sala Bai Hotel & Restaurant School. Delicious food, very happy students and such a great learning environment!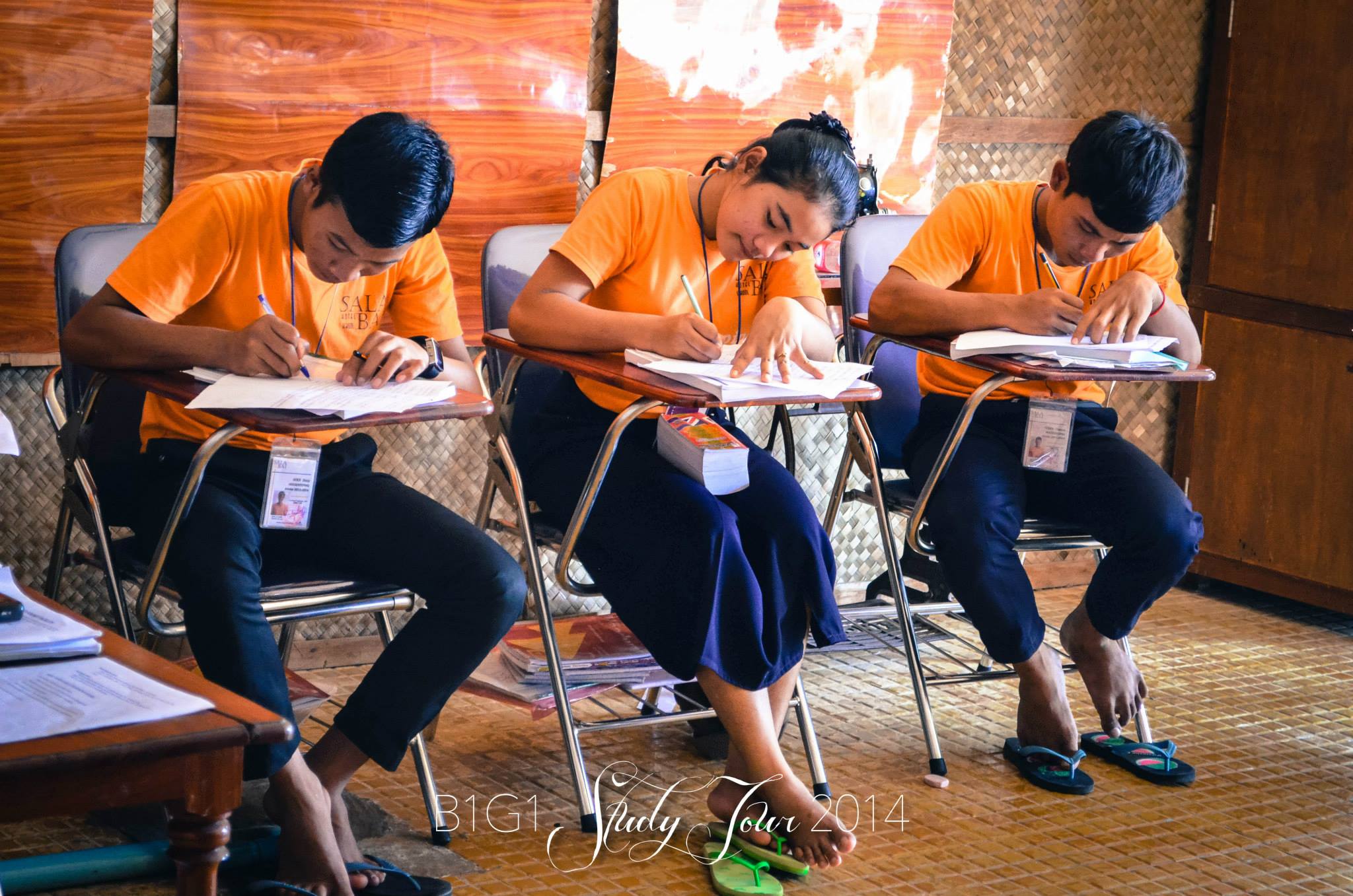 Late afternoon saw us cycling 15km through the jungle trails and roads in the Angkor compound. For some of us, the highlight of this day was when we met some local women and their sons collecting food in the jungle.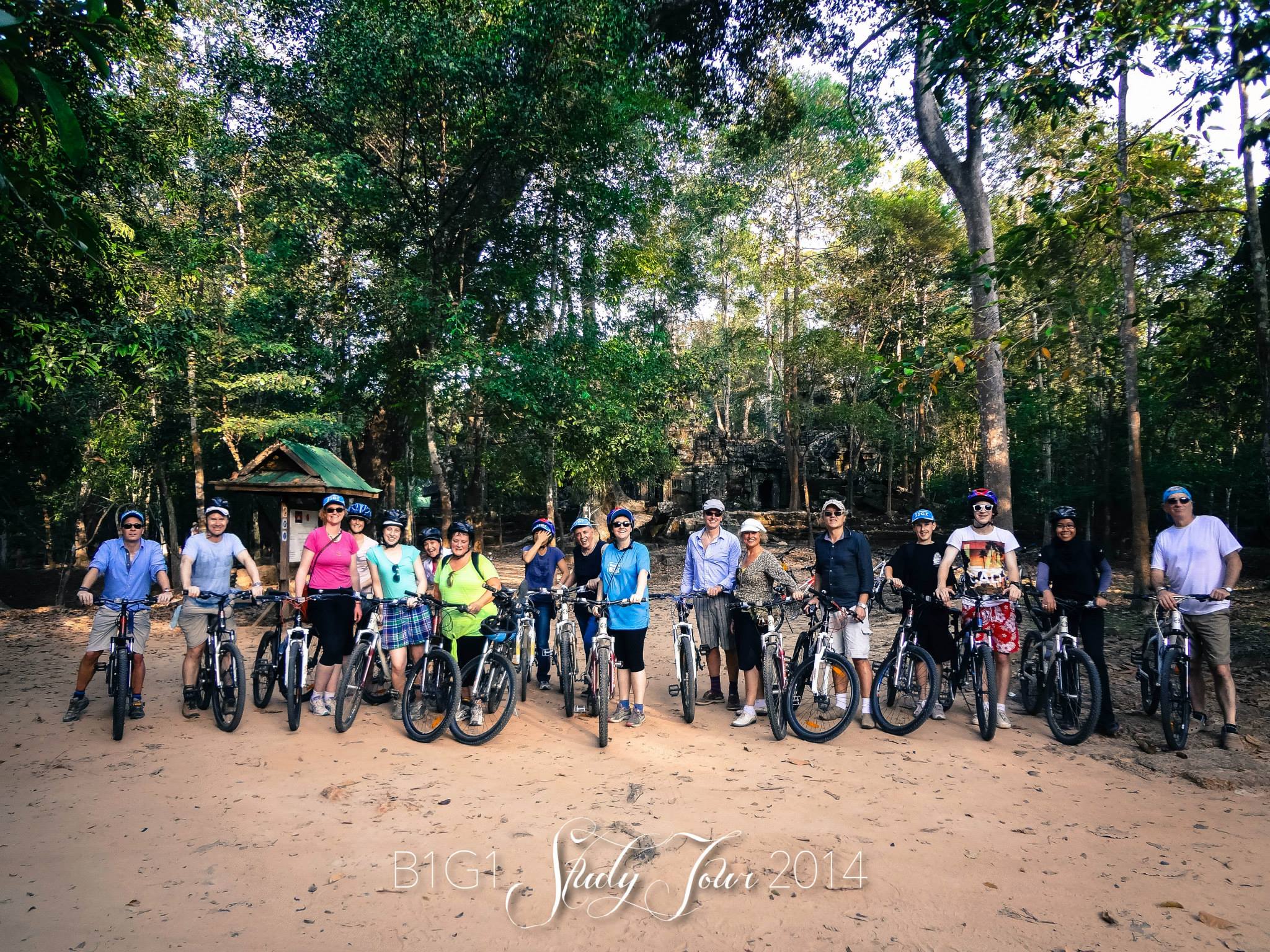 They were collecting firewood, wild potatoes and small fishes. It got us reflecting on how simple their life were and how some of us struggled through the sandy trails while these women do this almost everyday to feed their family. They were so friendly too, even concerned if we were lost. It was truly their Cambodian hospitality that touched our hearts.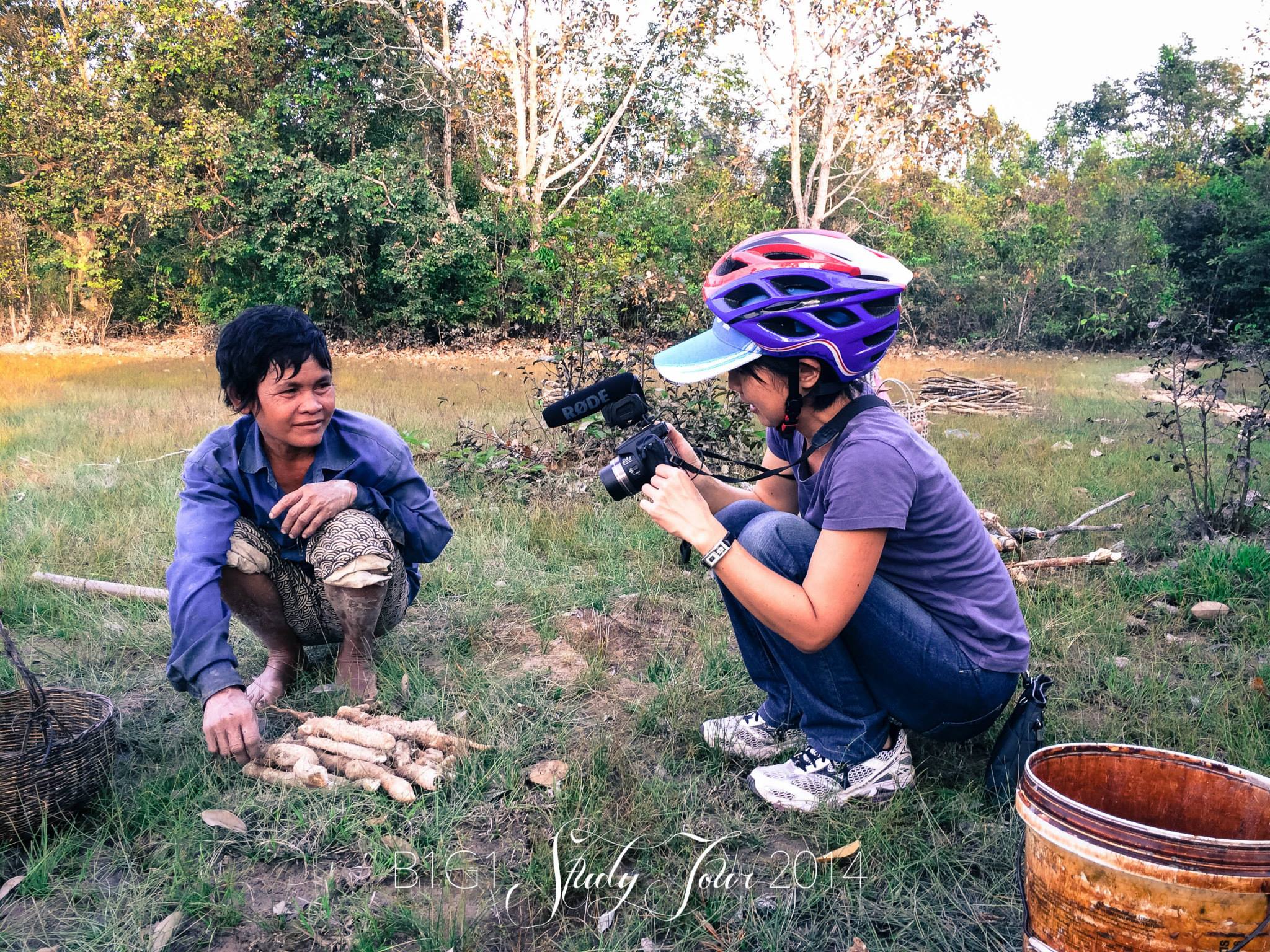 Tired and famished, we went to a training restaurant, Marum, for dinner. We went rounds sharing our highlights of the day, creating even more deeper insights about the Power of Small.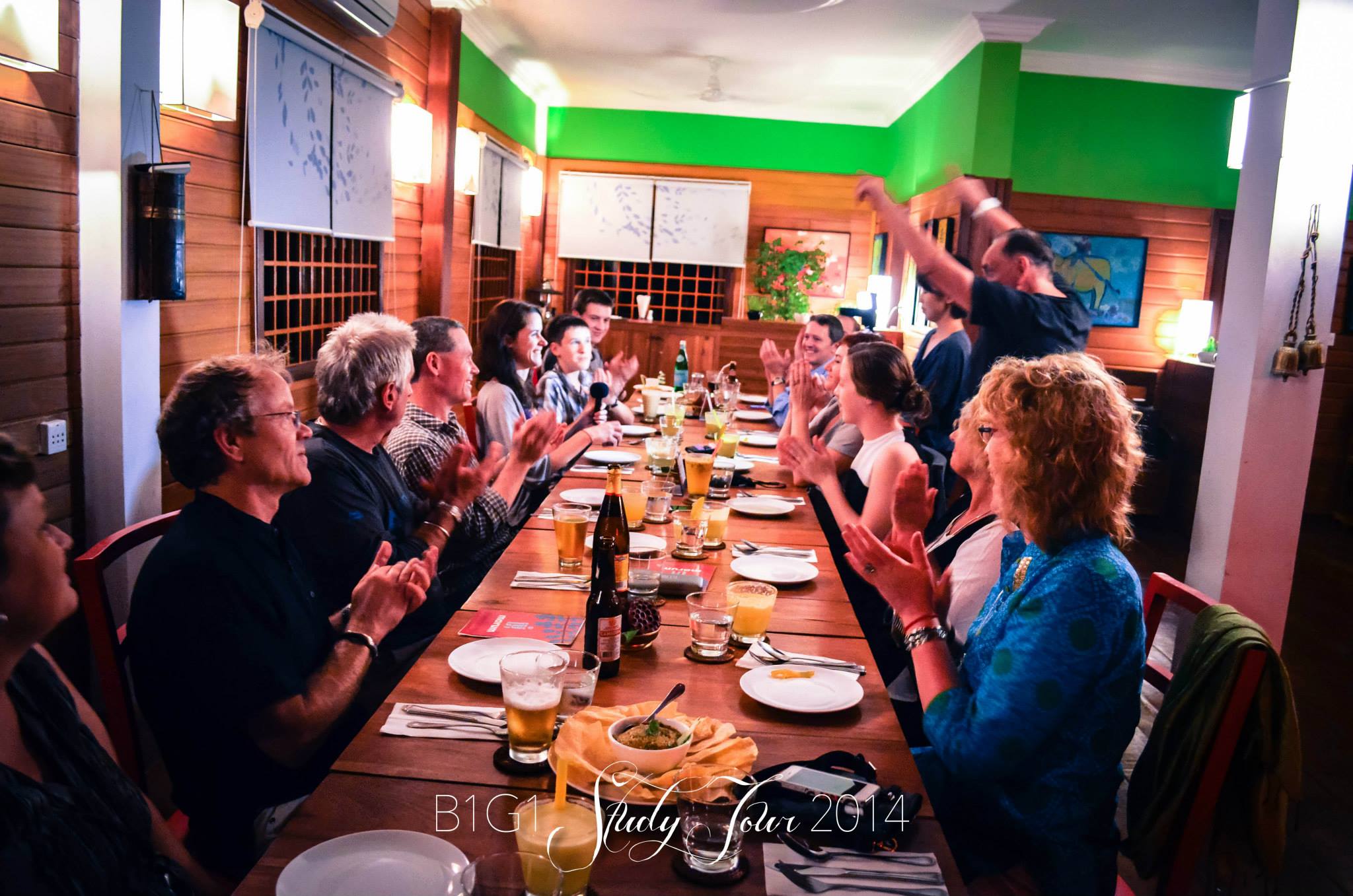 GREAT day indeed.
DAY 4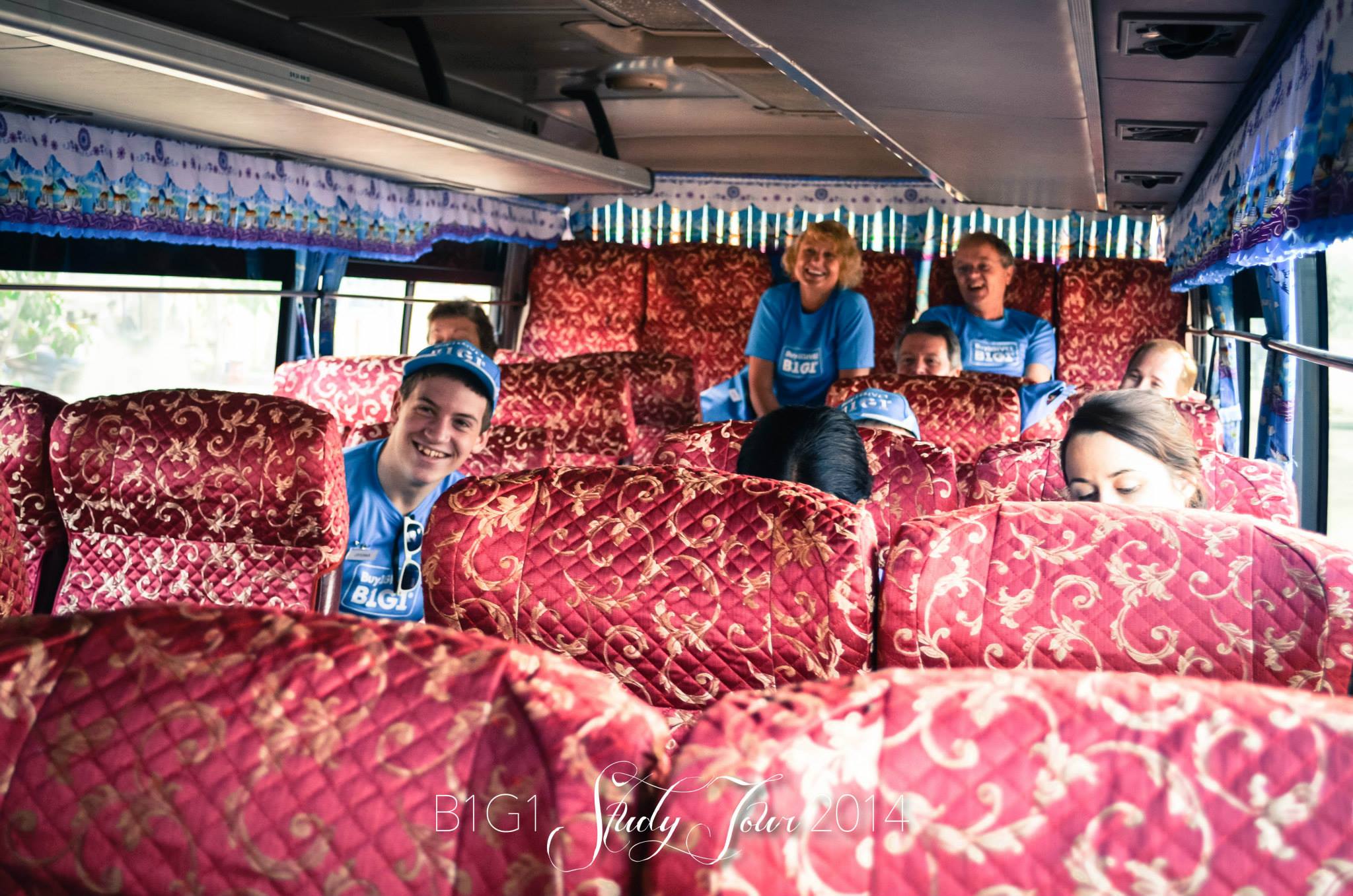 It was a big day for all of us.. It was playground building day! 7.30am and we're on our way to a province 2 hours away from Siem Reap, Banteay Meanchey, which was where we're building the playground.
The journey took a while longer than anticipated as we encountered some challenges getting through the narrow roads and when it got almost impossible for our coach to go on, we had to jump on a pick-up truck (or a ute, as the Australians would say!).
Close to 20 people squeezed on a pick-up truck going through the dusty and bumpy roads was an unforgettable experience!
When we arrived, we quickly got to work, transferring all the swings, rocks and sand. It was so heartwarming to see all the school kids eagerly helping us with carrying the tyres and painting! It was truly smiles all around while we're all building the playground together.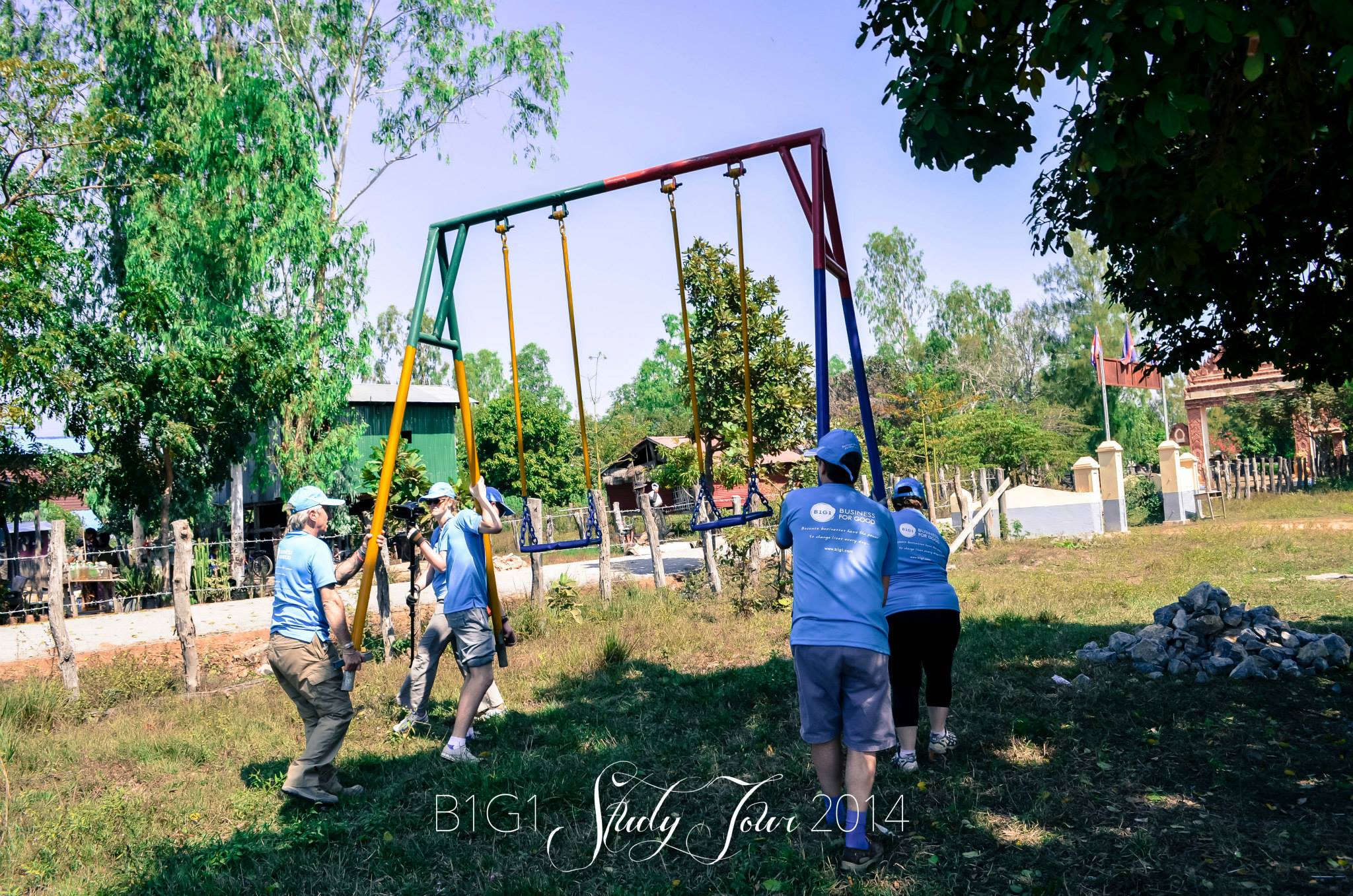 Lunch was lovingly prepared by the local villagers and we had a great time trying new dishes too ;)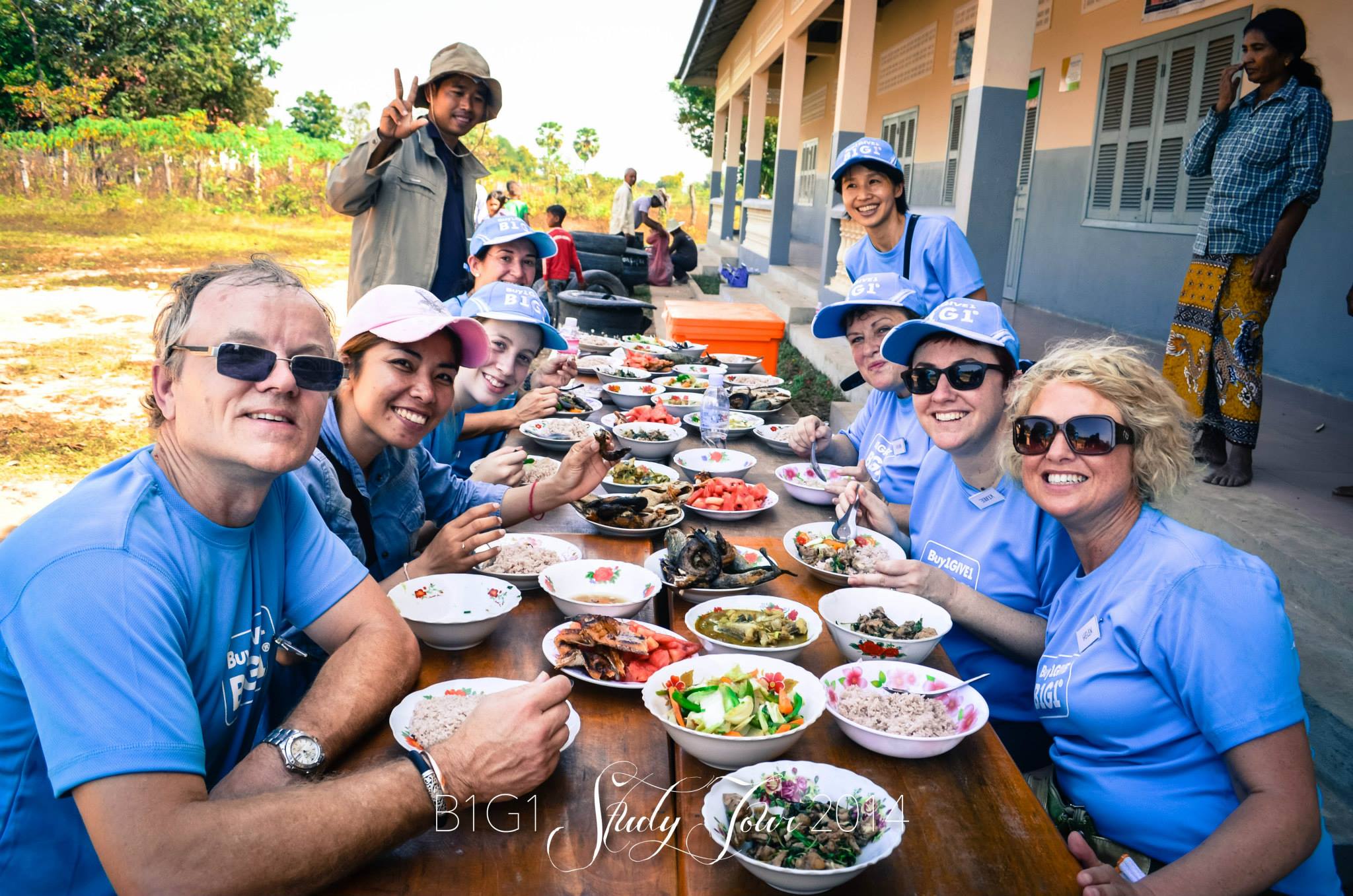 Time passed by so quickly when we're having fun! Playgrounds are an important educational tool that improves the kid's physical and mental health, in particular during the earlier part of childhood. And we're so grateful to be a part of this playground building project.
Sadly saying goodbye to the kids, we jumped on a pick-up truck again back to the coach and off to Siem Reap!
The last thing we had on the itinerary was a circus performance at the Phare, The Cambodian Circus and dinner at the Phare Cafe. Though we're unsure of what to expect, it was hands-down the best 'circus' performance ever! For a very good cause too! In such great spirits with so many highlights on this day, we retreated back to our hotels to dust off the dirt and rest for a very emotional next day.
B1G1 STUDY TOUR 2014 – CAMBODIA (PART 2): HOPES AND ASPIRATIONS
---