HERO: BUY ONE, GIVE ONE FREE
Read the full article below:
Every time you make money, you can help someone less fortunate – thanks to B1G1. Meet Masami Sato's revolutionary one-year-old social foundation. This heroic lady has found a way to make giving a part of your business.
Written by: Karin Frick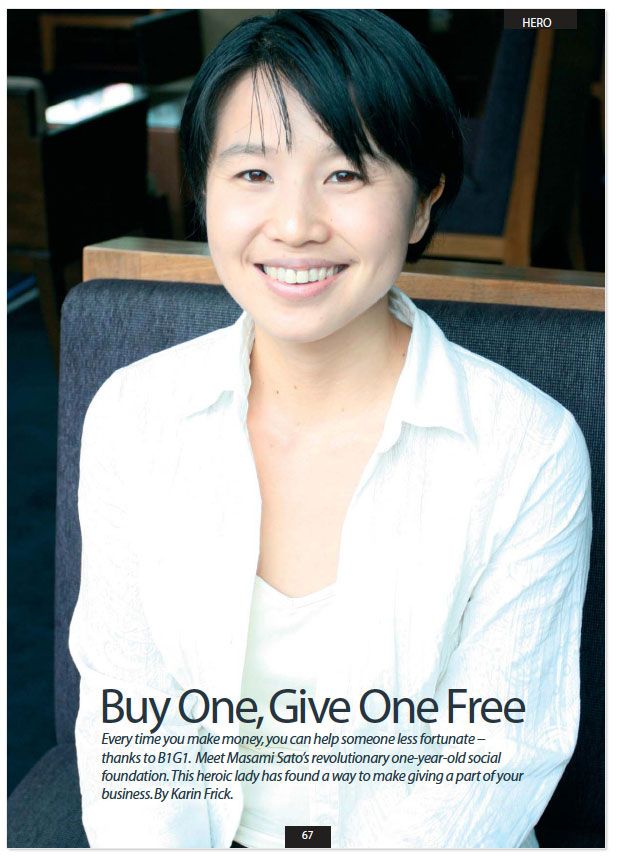 Recently, I had the great pleasure of listening to Masami Sato during one of her lectures.
Masami is a passionate woman and her dream is about changing the way people do business. Her desire to do things differently has guided her to create a unique Australian healthy eating food company, Bouncing Olive. This food manufacturing company operates with a unique giving campaign, "Buy One Meal and Give One Free to a Child in Need". This unique concept eventually led her to launch a global social enterprise programme, Buy1GIVE1.
Masami was born in Japan, but her desire to expand her horizons at an early age took her on an incredible journey of exploration through Canada, the USA, Central America, Europe, India, Southeast Asia, New Zealand and Australia. She has lived, worked, and operated businesses in several countries around the world over the last 7 years, and has impacted many people's lives.
Her success has largely been due to her willingness to push the envelope of possibility, never letting the fact that she is a woman and mother of two young children stop her from following her passion. Her career has followed her diverse interests and extensive skills, having been an English teacher, translator, business manager, health care provider/advisor, and health food chef. She is now an international public speaker, author and social entrepreneur.
Masami's ultimate aim is to support and inspire others to create success in the areas of healthy, finance, relationship and greater life awareness. Most importantly, she is the founder of the B1G1 (Buy1GIVE1) social enterprise programme (www.b1g1.com), which is making a positive difference, enabling many businesses to effectively and profitably give. This simple yet powerful concept is now helping to transform our world.
B1G1 started (unknown to co-creators at the time) back in 2001, as a fast food takeaway business, with a start-up capital of only NZ$4,000. Masami Sato and David Anttony, inspired by the desire to manifest a global vision of giving back and making a difference to children in need around the world, started where they could and with the resources they had. Vision, passion and burning desire to succeed led Masami and David on an astounding business and life journey, one that stretched over seven years. That journey finally led to the creation of Buy1GIVE1 in 2007.
If you are curious about this concept and wish to find out more, B1G1 will first ask some questions about your business in order to assist you in finding an ideal non-profit partner, while at the same time helping you market the B1G1 concept successfully for your business.
You will be guided to calculate the amount that you with to or are able to give per transaction. This amount is entirely up to you and will be based on your desire to give, along with a practical profitability focus. The amount you are able to give will then determine which Worthy Cause Project you can support.
If for example, you are able to give between three to four dollars per sale, then you would be looking to find a B1G1 Worthy Cause Partner who can deliver a service for this amount of money. If you were in the restaurant business for example, this amount of money will feed and educate a child in India for 12-15 days in partner ship with one of the B1G1 Worthy Causes in Mumbai. So, B1G1 would request a donation of $US2.80, and every time one of your customers eats at your restaurant, they feed a child for two weeks. Are you now beginning to see the power of B1G1?
On the other hand, if you own a non-profit organisation, you can register with B1G1 and once your membership has been activated, you will be able to start forming your list of projects.
You too can join B1G1 and make a difference like Masami. Like John Lennon's song, just imagine the world as one – a place where each time you bought something, someone who is much less fortunate benefited from it!
---