SPRINGWISE.COM – GIVING ENGINE ENABLES 'BUY ONE GIVE ONE' GENEROSITY
Springwise.com featured B1G1 in an article about the ways businesses interested in setting up a donation program can start by looking towards B1G1 - a transaction based giving engine.
Click here to view the full article or read it below.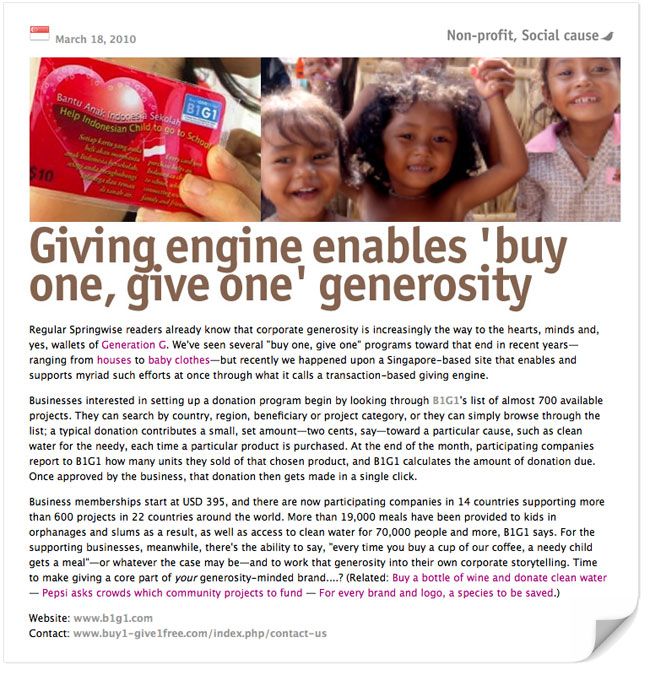 Regular Springwise readers already know that corporate generosity is increasingly the way to the hearts, minds and, yes, wallets of Generation G. We've seen several "buy one, give one" programs toward that end in recent years—ranging from houses to baby clothes—but recently we happened upon a Singapore-based site that enables and supports myriad such efforts at once through what it calls a transaction-based giving engine.
Businesses interested in setting up a donation program begin by looking through B1G1's list of almost 700 available projects. They can search by country, region, beneficiary or project category, or they can simply browse through the list; a typical donation contributes a small, set amount—two cents, say—toward a particular cause, such as clean water for the needy, each time a particular product is purchased. At the end of the month, participating companies report to B1G1 how many units they sold of that chosen product, and B1G1 calculates the amount of donation due. Once approved by the business, that donation then gets made in a single click.
Business memberships start at USD 395, and there are now participating companies in 14 countries supporting more than 600 projects in 22 countries around the world. More than 19,000 meals have been provided to kids in orphanages and slums as a result, as well as access to clean water for 70,000 people and more, B1G1 says. For the supporting businesses, meanwhile, there's the ability to say, "every time you buy a cup of our coffee, a needy child gets a meal"—or whatever the case may be—and to work that generosity into their own corporate storytelling. Time to make giving a core part of your generosity-minded brand….?
---