Quarter Magazine: GIVING BECOMES A BUYER'S MARKET
B1G1 Chairman Paul Dunn was interviewed in Quarter Magazine's May 2011 issue.
Read the full article below: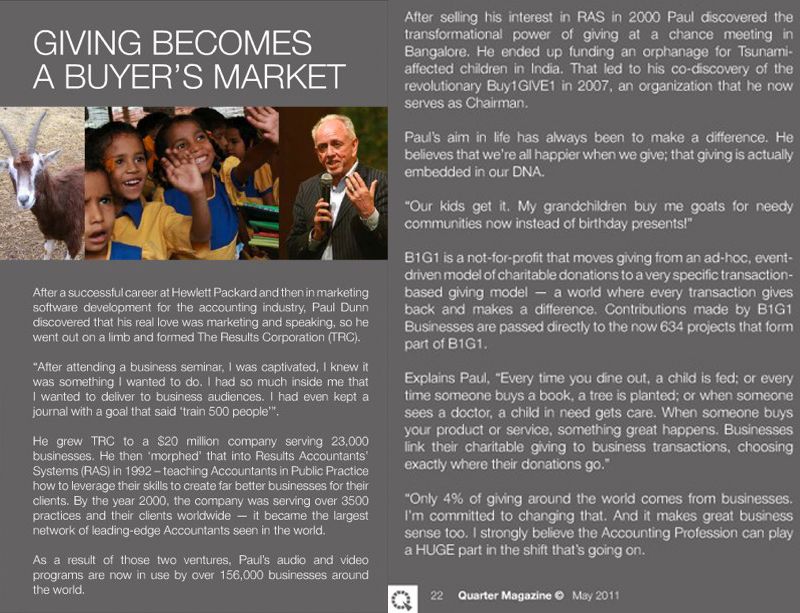 After a successful career at Hewlett Packard and then in marketing software development for the accounting industry, Paul Dunn discovered that his real love was marketing and speaking, so he went out on a limb and formed The Results Corporation (TRC).
After attending a business seminar, I was captivated, I knew it was something I wanted to do. I had so much inside me that I wanted to deliver to business audiences. I had even kept a journal with a goal that said 'train 500 people".
He grew TRC to a $20 million company serving 23,000 businesses. He then 'morphed' that into Results Accountants' Systems (RAS) in 1992 – teaching accountants in Public Practice how to leverage their skills to create far better businesses for their clients. By the year 2000, the company was serving over 3500 practices and their clients worldwide – it became the largest network of leading-edge Accountants seen in the world.
As a result of those two ventures, Paul's audio and video programs are now use by over 156,000 business around the world.
Aftar selling his interest in RAS in 2000 Paul discovered the transformational power of giving at a chance meeting in Bangalore. He ended up funding an orphanage for Tsunami-affected children in India. That led to his co-discovery of the revolutionary Buy1GIVE1 in 2007, an organisation that he now serves as Chairman.
Paul's aim in life has always been to make a difference. He believes that we're all happier when we give; that giving is actually embedded in our DNA.
"Our kids get it. My grandchildren buy me goats for needy communities now instead of birthday presents!"
B1G1 is a not-for-profit that moves giving from an ad-hoc, event-driven model of charitable donations to a very specific transaction-based giving model – a world where every transaction gives back and makes a difference. Contribution made by B1G1 Businesses are passed directly to the now 634 projects that form part of B1G1.
Explains Paul,
Every time you dine out, a child is fed; or every time someone buys a book, a tree is planted; or when someone sees a doctor, a child in need gets care. When someone buys your product or service, something great happens. Businesses link their charitable giving to business transactions, choosing exactly where their donations go.
Only 4% of giving around the world comes from businesses. I'm committed to changing that. And it makes great business sense too. I strongly believe the Accounting Profession can play a HUGE part in the shift that's going on.
---