FAST COMPANY – A NEW WAY TO REALLY CONNECT YOUR BUSINESS
B1G1 was featured in Fast Company. The article shared about how to connect businesses and giving through B1G1.
Read the full article below:
Written by: David Gardner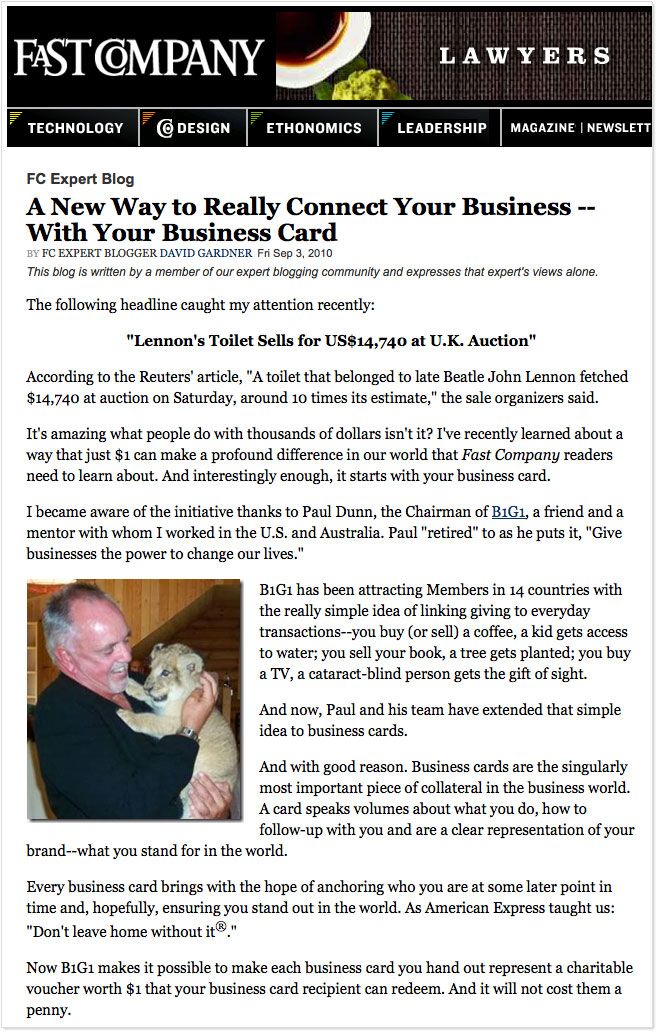 The following headline caught my attention recently:
"Lennon's Toilet Sells for US$14,740 at U.K. Auction"
According to the Reuters' article, "A toilet that belonged to late Beatle John Lennon fetched $14,740 at auction on Saturday, around 10 times its estimate," the sale organizers said.
It's amazing what people do with thousands of dollars isn't it? I've recently learned about a way that just $1 can make a profound difference in our world that Fast Company readers need to learn about. And interestingly enough, it starts with your business card.
I became aware of the initiative thanks to Paul Dunn, the Chairman of B1G1, a friend and a mentor with whom I worked in the U.S. and Australia. Paul "retired" to as he puts it, "Give businesses the power to change our lives."
B1G1 has been attracting Members in 14 countries with the really simple idea of linking giving to everyday transactions–you buy (or sell) a coffee, a kid gets access to water; you sell your book, a tree gets planted; you buy a TV, a cataract-blind person gets the gift of sight.
And now, Paul and his team have extended that simple idea to business cards.
And with good reason. Business cards are the singularly most important piece of collateral in the business world. A card speaks volumes about what you do, how to follow-up with you and are a clear representation of your brand–what you stand for in the world.
Every business card brings with the hope of anchoring who you are at some later point in time and, hopefully, ensuring you stand out in the world. As American Express taught us: "Don't leave home without it®."
Now B1G1 makes it possible to make each business card you hand out represent a charitable voucher worth $1 that your business card recipient can redeem. And it will not cost them a penny.
B1G1 simply provides graphics that you can print on the back side of your business card representing a $1 voucher for the recipient of the card to give towards any of the 612 B1G1 projects in 28 countries.
The hope is that the person will learn how they can have a favorable impact on their world and will come back on their own to make additional contributions and, of course, share this giving opportunity with others.
The person issuing the card can track which individuals gave to which cause(s) facilitating the means to thank the card recipient for their generosity and giving an additional reason to reconnect. Monthly, B1G1 invoices the card issuer for any donations that are made via the business card voucher.
How much can $1 do, really, you say? B1G1 got my attention when it said that 1 cent gives a child access to water, $10 provides an implant lens to restore someone's sight in Bali; $12 buys a goat to give sustainable income for a year to a family in Kenya.
So before you order your next batch of business cards, consider a simple, smart, beneficial addition to the back of it. It's a great way for you to really connect. And you too might be amazed at how much $1 can do.
---