DNA INDIA – CHARITY BEGINS AT HOME
B1G1 was featured in a DNA India article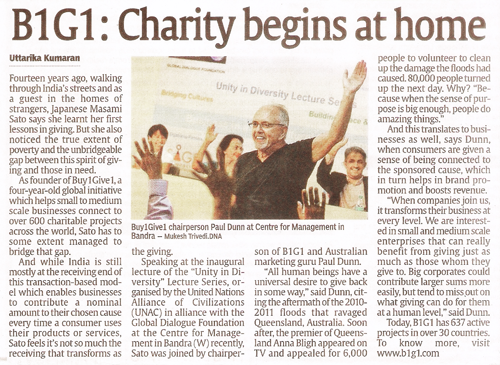 Read the full article below:
Fourteen years ago, walking through India's streets and as a guest in the homes of strangers, Japanese Masami Sato says she learnt her first lessons in giving.
But she also noticed the true extent of poverty and the unbridgeable gap between this spirit of giving and those in need.
As founder of Buy1Give1, a four-year-old global initiative which helps small to medium scale businesses connect to over 600 charitable projects across the world, Sato has to some extent managed to bridge that gap.
And while India is still mostly at the receiving end of this transaction-based model which enables businesses to contribute a nominal amount to their chosen cause every time a consumer uses their products or services, Sato feels it's not so much the receiving that transforms as the giving.
Speaking at the inaugural lecture of the "Unity in Diversity" Lecture Series, organised by the United Nations Alliance of Civilizations (UNAC) in alliance with the Global Dialogue Foundation at the Centre for Management in Bandra (W) recently, Sato was joined by chairperson of B1G1 and Australian marketing guru Paul Dunn.
"All human beings have a universal desire to give back in some way," said Dunn, citing the aftermath of the 2010-2011 floods that ravaged Queensland, Australia. Soon after, the premier of Queensland Anna Bligh appeared on TV and appealed for 6,000 people to volunteer to clean up the damage the floods had caused. 80,000 people turned up the next day.
Why? "Because when the sense of purpose is big enough, people do amazing things."
And this translates to businesses as well, says Dunn, when consumers are given a sense of being connected to the sponsored cause, which in turn helps in brand promotion and boosts revenue.
"When companies join us, it transforms their business at every level. We are interested in small and medium scale enterprises that can really benefit from giving just as much as those whom they give to. Big corporates could contribute larger sums more easily, but tend to miss out on what giving can do for them at a human level," said Dunn.
Today, B1G1 has 637 active projects in over 30 countries. To know more, visit www.b1g1.com
---