B1G1 THANK YOU: 2019 IN REVIEW
As we come to the end of 2019, we want to express our gratitude for your support for the B1G1 Movement.
As a way of doing that, we thought you'd like to share in some of the milestones, impacts and highlights we shared in 2019. As you go through the list, do be sure to scroll down to the bottom to see the latest B1G1 opportunities to celebrate the giving month and welcome the 2020 too.
197 MILLION IMPACTS TO DATE (NEARLY 200!)
IN 2019, THE B1G1 COMMUNITY HAS CREATED 27,964,907 IMPACTS.
This year, the giving by our members went to a more diversified list of projects than ever before. Many new projects were brought into the B1G1 Project List because of the changing trend in global issues as well. Here are some highlights for you.
16,938 DAYS OF ACCESS TO A WARM BLANKET AND 24,226 DAYS OF ACCESS TO WARM CLOTHING.
Winter is becoming colder in many parts of the world. One warm blanket or one warm jacket can transform the life of a child in those cold winter days.
375,781 DAYS OF SUCCESS TO TRANSPORTATION AND 45,904 DAYS OF ACCESS TO LIGHTING / SOLAR LAMP.
Even if access to education is available, some children drop out of school because they have no means of getting to school every day. Giving access to transportation like bicycles changes this. And a solar lamp lets a student complete homework at night.
2,516,739 DAYS OF ACCESS TO ENHANCED EDUCATION AND 341,552 LEARNING TOOLS.
We all agree that access to quality education is a right that should be available for every child. But in reality, that is not the case. Adding extra resources and facility to schools makes a whole world of difference.
42,927 TREES WERE PLANTED, AND 213 KG OF COASTAL PLASTIC TRASH WAS REMOVED.
Projects like tree planting became more and more in demand in B1G1. Some of these tree-planting projects also support income generation for families too. And a brand new project to remove coastal trash is now gaining enthusiastic support.
THE MOVEMENT IN 2019
IN 2019, THE B1G1 COMMUNITY HAS SEEN MANY GREAT DEVELOPMENTS.
We cannot thank you enough for your support and participation in many of the wonderful things that happened in 2019. Here are some of the highlights.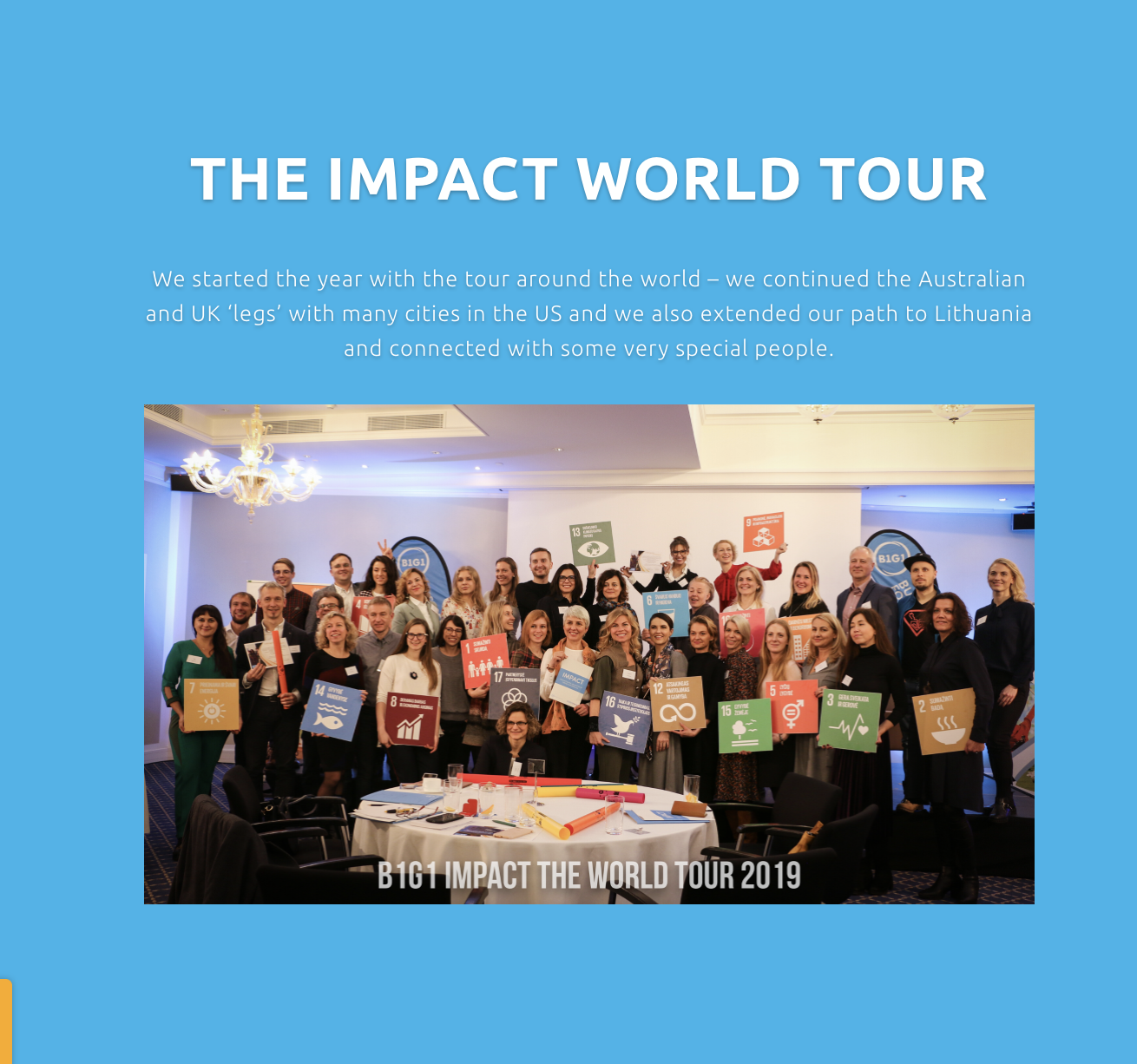 THE IMPACT WORLD TOUR
We started the year with the tour around the world – we continued the Australian and UK 'legs' with many cities in the US and we also extended our path to Lithuania and connected with some very special people.

NOW, SPECIAL OPPORTUNITIES FOR YOU AS WE HEAD INTO 2020
These are the opportunities you can engage in to maximise your impact.
B1G1 CHRISTMAS BUNDLE
If you haven't got the amazingly creative and impactful 12 Days of Christmas special bundle, do make sure to have a look at this specially packaged gift you can give to your team, customers and family members as a gift. You can also share the special gift in a creative way as one Member did to do just that.
A FAMILY GETAWAY TO HANOI: B1G1 GLOBAL CONFERENCE, JULY 2020
We've made the upcoming B1G1 Global Conference super-family-friendly by curating a special child ticket – we're calling it 'KIDS ON A MISSION'. It's a 2.5-day program taking a group of B1G1 Kids on various missions to learn the Vietnamese culture and explore how they can make a difference. Check out the ticket option here.
FOLLOW THE B1G1 WORTHY CAUSE PROJECT UPDATES
You can now join the special public group featuring many of the B1G1 Worthy Causes and their regular updates. By opting in to this group, you get to receive the timely first-hand updates from some of the Worthy Causes whose projects you have supported. Join the group now.
There are so many more things we want to share with you — so many reasons we want to thank you.
And most importantly, we want to wish you a very special giving month filled with joy, with love, with gratitude and with great aspirations for the coming year.