1 LIFE DO IT NOW: EMBEDDING A NEW WAY OF GIVING
1 LIFE DO IT NOW! THE OFFICIAL MAGAZINE OF 1 LIFE DO IT NOW wrote an article on how it makes such a difference when companies and their customers get purpose every day through B1G1.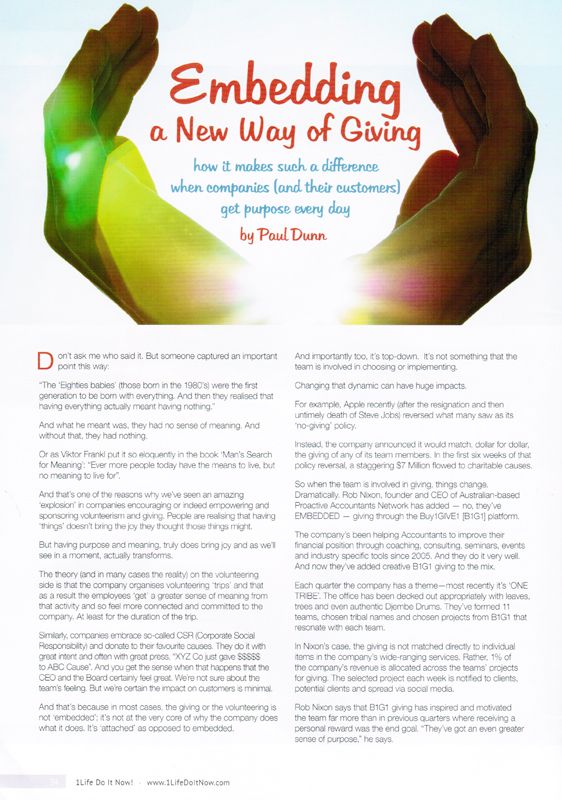 Read the full article below:
Don't ask me who said it. But someone captured an important point this way:
"The 'Eighties babies' (those born in the 1980's) were the first generation to be born with everything. And then they realised that having everything actually meant having nothing."
And what he meant was, they has no sense of meaning. And without that, they had nothing.
Or as Victor Frankl put it so eloquently in the book 'Man's Search for Meaning': "Ever more people today have the means to live, but no meaning to live for."
And that's one of the reasons why we've seen an amazing 'explosion' in companies encouraging or indeed empowering and sponsoring volunteerism and giving. People are realising that having 'things' doesn't bring the joy they thought those things might.
But having purpose and meaning, truly does bring joy and as we'll see in a moment, actually transforms.
The theory (and in many cases the reality) on the volunteering side is that the company organizes volunteering 'trips' and that as a result the employees 'get' a greater sense of meaning from that activity and so feel more connected and committed to the company. At least for the duration of the trip.
Similarly, companies embrace so-called CSR (Corporate Social Responsibility) and donate to their favourite causes. They do it with great intent and often with great press, "XYZ Co just gave $$$$$ to ABC Cause". And you get the sense when that happens that the CEO and the Board certainly feel great. We're not sure about the team's feeling. But we're certain the impact on customers is minimal.
And that's because in most cases, the giving or the volunteering is not "embedded"; it is not at the very core of why the company does what it does. It is "attached" as opposed to "embedded".
And importantly to, it's top-down. It's not something that the team is involved in choosing or implementing.
Changing that dynamic can have huge impacts.
For example, Apple recently (after the resignation and then untimely death of Steve Jobs) reversed what many saw as its 'no-giving' policy.
Instead, the company announced it would match, dollar for dollar, the giving of any of its team members. In the first six weeks of that policy reversal, a staggering $7 Million flowed to charitable causes.
So when the team is involved in giving, things change. Dramatically, Rob Nixon, founder and CEO of Australian-based Proactive Accountants Network has added – no, they've EMBEDDED – giving through the Buy1GIVE1 [B1G1] platform.
The company's been helping Accountants to improve their financial position through coaching, consulting, seminars, events and industry specific tools since 2005. And they do it very well. And now they've added creative B1G1 giving to the mix.
Each quarter the company has a theme – most recently it's 'ONE TRIBE'. The office has been decked out appropriately with leaves, trees and even authentic Djembe Drums. They've formed 11 teams, chosen tribal names and chosen projects from B1G1 that resonate with each team.
In Nixon's case, the giving is not matched directly to individual items in the company's wide-ranging services. Rather, 1% of the company's revenue is allocated across the teams' projects for giving. The selected project each week is notified to clients, potential clients and spread via social media.
Rob Nixon says that B1G1 has inspired and motivated the team far more than previous quarters where receiving a personal reward was the end goals. " They've got an even greater sense of purpose," he says.
And in the first 12 weeks alone, they:
• Gave 165,037 people access to clean water
• Gave 44,233 people medical support
• Gave 42,106 people in need accommodation
• Gave 40,867 people in need agriculture support
• Gave 36,567 people improvement of personal hygiene
• Gave 25,024 square meters of rainforest protection
• Gave 17,090 people access to the toilet
• Gave 12,000 people in need a nourishing meal
• Gave 4,249 children education support for a day
• Gave 3,579 trees maintenance and protection for a year
• Gave 2,966 children computer education for a day
• Gave 2,042 children in need a learning tool
• Gave 1,434 children in need a meal at school
• Gave 780 people occupational training for a day
• Planted 592 trees to nurture the environment
• Gave 522 children a life education program for a day
• Gave 406 disadvantaged people special education for a day
• Gave 395 people in need vitamin supplements for a day
• Gave 120 social entrepreneurs support for a day
• Gave 50 children in need full support for a day
• Gave 42 people in need transportation for a day
• Gave 24 families a domestic animal to provide income
• Gave 16 people in need a health check-up
• Gave 10 children in need a book to read
• Gave 6 elderly people life support for a day
What's particularly impressive in this (and many other examples) are several specifics:
1. The totality of the spread of the impact
2. Customers are involved – every sale carries a give-back of some kind
3. The give-back is never about money – it's always about impact – in effect, companies are saying "when we sell this, this giving-back happens." For example, you buy a TV, a person gets sight; you drink a coffee, a child gets access to life-saving water; you sell a book, a tree gets planted.
4. The giving is 'controlled' and importantly celebrated each week by the team.
The impact on the company is profound.
Small business builder, Giovanni Silanesu at Inspired Constructions described it recently in an email as "transforming our business in a week".
AND HE DESCRIBES THE IMPACT OF ONE OF HIS CUSTOMERS THIS WAY: "WE JUST COMPLETED A SMALL PROJECT WHERE WE DID SOME WORK FOR A LADY WHOSE HUSBAND IS CRITICALLY ILL. I TOLD HER THAT AS A RESULT OF US DOING THE WORK, 150 NEEDY CHILDREN IN INDIA WOULD BE FED AND EDUCATED FOR A DAY. SHE WAS SPEECHLESS. I STARTED TO WELL UP AND WHEN I LEFT, I FELT THAT NOT ONLY HAD WE HELPED 150 CHILDREN IN INDIA BUT WE HAD LIFTED THE SPIRITS OF SOMEONE THAT DESERVED IT HERE AS WELL."
Staggeringly, the company now doesn't track sales; it tracks how many kids it's helping. Now that really is embedding!
Daniel Priestley, UK-based author and developer of the Key Person of Influence program puts it like this, "Giving is, I'm certain, the real cornerstone of entrepreneurship. There's a point in our lives where we think we're doing it for ourselves, as in ourselves personally. But then there's a point where you get that ourselves actually means 'us' as in the human family."
American author (most recently of Drive), journalist, vice-presidential speech-writer and speaker, Daniel Pink, said it well:
"The move to accompany profit maximisation with purpose maximisation has the potential to rejuvenate our businesses and remake our world."
That means it's important.
And thankfully, it's happening now too. Through Buy1GIVE1 (or B1G1 as it's now better known), a staggering 13.7 Million giving activities have already taken place. The company (which started in Australia) now has business members in 14 countries giving back to a staggering 600 plus projects in 28 countries.
It;s mission is simple- to create a whole that is full of giving... simply because that is a happier world.
So B1G1 exists because businesses have the power to change lives.
Through B1G1, businesses make sure that whenever they sell something, some real good gets done. And individuals can now be a part of the process too, in fascinating ways. And it all happens just by doing what we normally do.
So, for example, the coffee shop is able to say, "Every time you buy our coffee, a child gets access to water"; the author; "Every time my book gets sold, a tree gets planted". The consulting company educates kids each time they do a project; in the electronics store, a cataract-blind person gets sight each time a plasma TV gets sold.
The possibilities are endless, the impact is huge. Find out what you can do in your business (and as an individual too) now at www.b1g1.com.
---