WALK YOUR TALK: TURNING CRISIS INTO OPPORTUNITY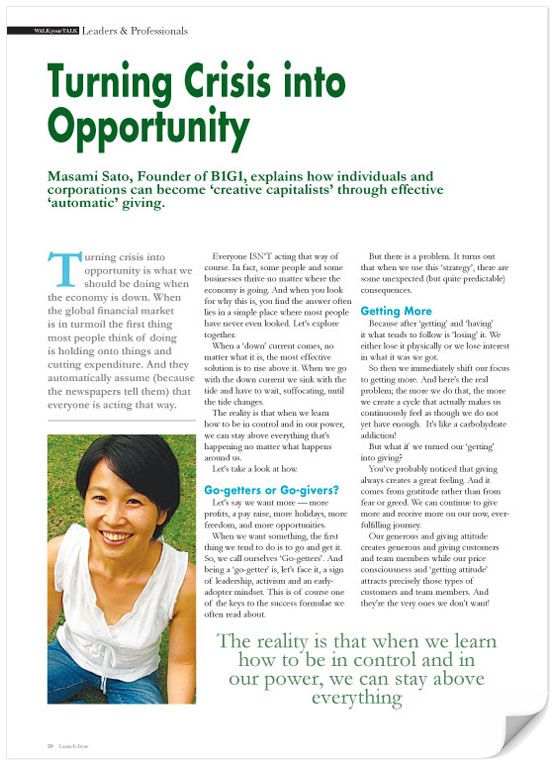 Masami Sato, Founder of B1G1, explains how individuals and corporations can become 'creative capitalists' through effective 'automatic' giving.
Turning crisis into opportunity is what we should be doing when the economy is down. When the global financial market is in turmoil the first thing most people think of doing is holding onto things and cutting expenditure. And they automatically assume (because the newspapers tell them) that everyone is acting that way.
Everyone ISN'T acting that way of course. In fact, some people and some businesses thrive no matter where the economy is going. And when you look for why this is, you find the answer often lies in a simple place where most people have never even looked. Let's explore together.
When a 'down' current comes, no matter what it is, the most effective solution is to rise above it. When we go with the down current we sink with the tide and have to wait, suffocating, until the tide changes. The reality is that when we learn how to be in control and in our power, we can stay above everything that's happening no matter what happens around us. Let's take a look at how.
GO-GETTERS OR GO-GIVERS?
Let's say we want more — more profits, a pay raise, more holidays, more freedom, and more opportunities. When we want something, the first thing we tend to do is to go and get it. So, we call ourselves 'Go-getters'. And being a 'go-getter' is, let's face it, a sign of leadership, activism and an earlyadopter mindset. This is of course one of the keys to the success formulae we often read about.
But there is a problem. It turns out that when we use this 'strategy', there are some unexpected (but quite predictable) consequences.
GETTING MORE
Because after 'getting' and 'having' it what tends to follow is 'losing' it. We either lose it physically or we lose interest in what it was we got. So then we immediately shift our focus to getting more. And here's the real problem; the more we do that, the more we create a cycle that actually makes us continuously feel as though we do not yet have enough. It's like a carbohydrate addiction!
But what if we turned our 'getting' into giving? You've probably noticed that giving always creates a great feeling. And it comes from gratitude rather than from fear or greed. We can continue to give more and receive more on our now, ever-fulfilling journey. Our generous and giving attitude creates generous and giving customers and team members while our price consciousness and 'getting attitude' attracts precisely those types of customers and team members. And they're the very ones we don't want!
CREATIVE CAPITALISM
Many businesses see this now. They are now starting to give more and more in various ways. There's a veritable 'seachange' going on as more people 'get' the role that giving can play in their business.
Bill Gates is a class example. In a July 2008 lead article in TIME magazine he referred to it as 'Creative Capitalism'. He said: "Doing good might be the tipping point that leads people to choose one product over another."
What he's actually saying is that when a company links its business to giving in some way, that company and its products become more attractive to customers. It takes us way, way above what's been called 'the sea of sameness'.
Creative Capitalism is about rising above what we reluctantly settle for to reach what we truly aspire to. When we can capitalise on our ideas and imagination in a way that benefits and nurtures the wider community and network; we stop wasting our resources, efforts and talents in trying to temporarily win. We start creating the real win for ourselves and for the sustainability of our global economy.
THE ATTRACTION OF EFFECTIVE GIVING
Corporate Social Responsibility (CSR) is the phrase that's often used to describe giving back at a corporate level. It's becoming almost a required part of corporate business practice. Yet when it's done out of a sense of obligation or with the intent to just make ourselves look good, people eventually 'get' what it is. It still is a temporary strategy.
However, 'giving' people and businesses always attract more. The passions and beliefs behind what they do are shared with the people with whom they connect. They attract something beyond what the slick PR or marketing campaign provides.
So, what happens if we allocate some of the marketing budget to go toward giving and caring?
CREATING INSPIRATION
Giving creates something bigger than who we are. Giving creates inspiration.
Inspiration can only be created when it resonates with the people whom we want to inspire. And we get inspired when we are involved in the experience. It is not just about hearing the nice stories of others. It's actually participating in those stories. After all, we all want to feel good in life by making a contribution — to our family and friends, to our company and to our community.
Transaction-based giving makes it happen automatically The ability to give just got so much easier too. And to make this even easier and simpler for all, we founded Buy1GIVE1 in 2007. Buy1GIVE1 is the home of transactionbased giving. Transaction-based giving changes everything. Let's use some imagination to see why.
AUTOMATIC GIVING
For example, imagine if every time you had a cup of coffee at your favourite café, a child in Africa automatically got access to pure, clean water for one day? Imagine if every time you subscribed to a magazine you love, a tree got planted automatically just because you bought the magazine? Or every time you dine out, you fed a child in need? Automatically again.
Or let's say you're being coached in your business. How interesting would it be to know that a child was educated for one month as a direct result (and by the way, all it cost the coaching company to do that was 60 cents per day).
DO GOOD, FEEL GOOD
Or maybe even the speaker you hire for your conference makes sure that kids who can't speak (because of facial
deformities) now can by automatically giving back to a worthy cause connected to those kids. All of a sudden, you feel good too because you've done some good!
Imagine now if you could apply transaction-based giving in your own unique way to match your main products/services to engage your customers and team members to be part of the giving story. Here's how.
THE REAL WIN-WIN ECONOMY
Already, companies right around the world are 'getting' the power of this transaction-based giving. Just one example—the UK's leading supermarket chain, TESCO now gives a school uniform to a child in Kenya whenever a customer buys a pair of school trousers. Mineral water company Volvic also rolled out their transaction-based giving program successfully last year. For every one litre of Volvic people buy, Volvic gives funds to build wells in Africa in a program they call Buy1 GIVE 10 (since every one litre sold essentially creates a flow of 10 litres in the well).
Small to medium-sized companies are now starting to take leadership in expanding this global giving movement through Creative Capitalism. Buy1GIVE1™ (www.b1g1.com) came up with a mechanism that has turned this transaction-based giving into something every one of us can be involved in.
CONNECTING TO CAUSES
Buy1GIVE1 is the home of the most impactful transaction-based giving in the world. Because it connects any business of any size to any cause in the world. Creating a global community of business givers and for SMEs, Buy1GIVE1 connects businesses, their customers AND charities in a way that hasn't been done before. And it all happens automatically.
You can join this giving movement on the Buy1GIVE1 site at www.b1g1.com. And if you own a business, you can become a B1G1 Business through a simple online application and select your cause for your main product or service to kick-start your giving.
Buy1GIVE1 forwards 100 percent of the contributions to their international Worthy Cause Partners (there are now over 600 projects you can select) making the giving even more effective.
COLLABORATE
Often, nature gives us the clue when we are looking for something. So let's come back to where we started — economic turmoil and getting what we want. What we all really want is actually very simple. You can sum it up with 'C' words — connection, collaboration and community.
When we can collaborate instead of isolate and when we can create an effective way to add to each other instead of taking away from each other, we discover there is so much abundance and resource already available in our world.
CONNECT
And when we connect, not just with each other but with our true selves, we discover something really interesting — that we're all ONE. Then we understand how easy it is to create a global community from something as simple as giving.
And nature gives us a real clue to that. In nature, bees and butterflies pollinate flowers and create sustainable flower gardens for many generations to thrive on. It's been in front of us all along!
OPPORTUNITY
When a crisis hits the world, we can see an opportunity to get back to the simplicity. It is now actually time to be grateful for what we have in order for us
all to keep thriving.
And when you choose to start giving today you will feel so much better despite the challenges of the economy. And when you feel better you will discover a renewal of hope and you will remember all tides change and the down will soon be up. Giving today is the one thing that you can do to change everything.
---