UNDERSTANDING THE REAL IMPACT OF YOUR GIVING
A very common question we receive is one that you might have wondered when you first thought about giving back:
What is the significance of my contribution and its impact on the ground?
It's a really important question that resonates with every individual for a simple reason – we all have an inexplicable desire to give and connect; to live a life of significance that makes a difference in our world, and impact lives regardless of whether we get to meet them.
It's why we are compelled to give that additional dollar we have when we can, why we are curious to know how many families have a roof over their heads tonight, how many animals have been rescued, how many children can go to school tomorrow for a better future, or how many people have access to safe disease-free clean water today.
In B1G1, we want to help you learn about our Worthy Causes' work, their vision, the beneficiaries impacted and the stories on the ground. We hope to develop close relationships with our projects to bring these incredible life-changing stories that you're a part of as much as we can. To ensure that every cent of your giving is making a real change, every Worthy Cause that joins B1G1 goes through stringent vetting criteria and annual financial and project reviews. Every single remittance is also acknowledged and confirmed to be used exactly according to the project listed. But aside from the various checks and balances we conduct, we understand that it's not enough to simply know that great things are happening on the ground when you give to a Worthy Cause project.
Our Worthy Causes are excited to share their stories with you, and there are multiple avenues in B1G1 that allow you to understand their efforts more than ever.
PROJECT AND WORTHY CAUSE INFORMATION PAGE
PROJECT DETAILS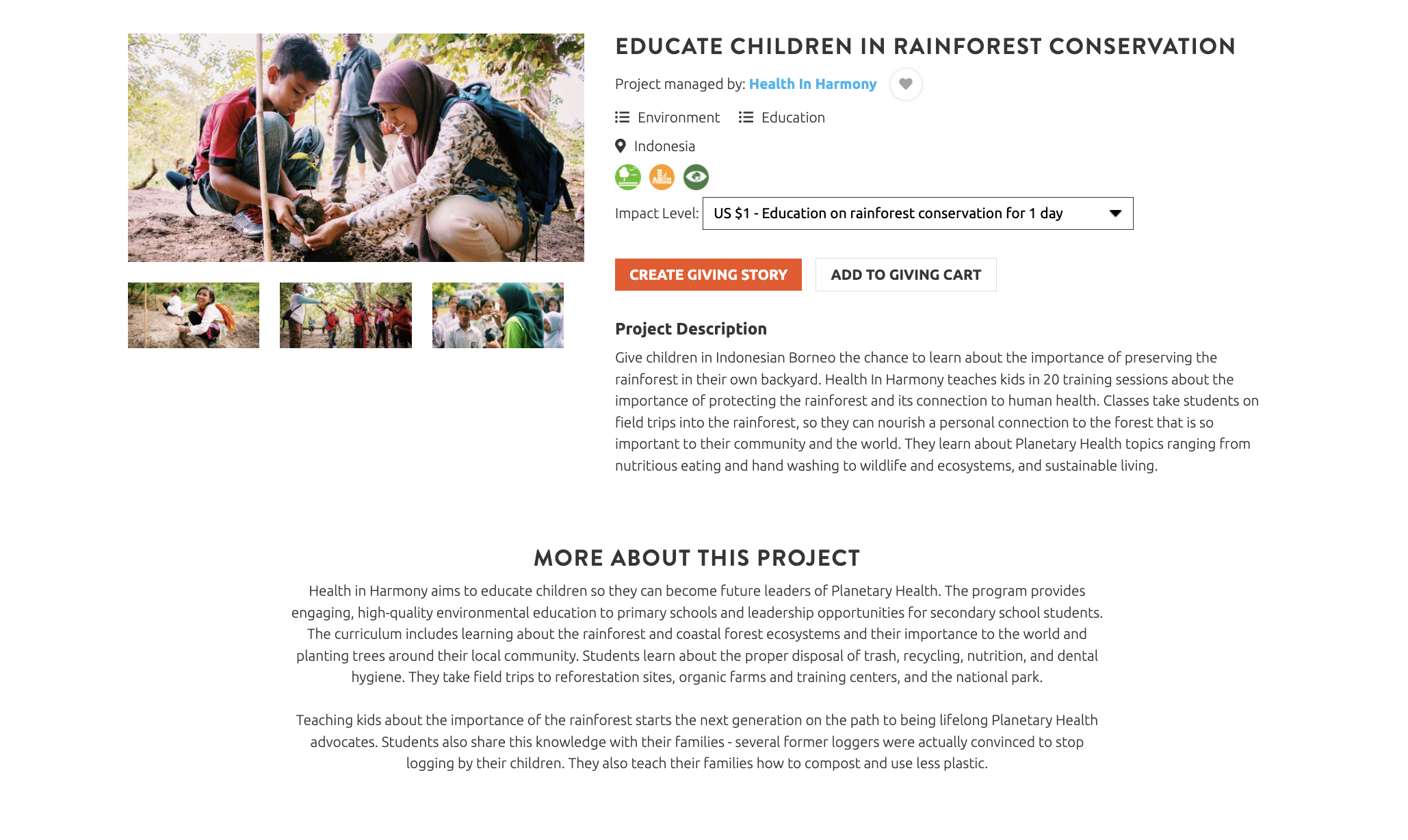 Every project has their own story and you can learn about it through the project description. You can read about the issue they're solving, their specific approach and accessing the detail page with additional background information and project images.
WORTHY CAUSE DETAILS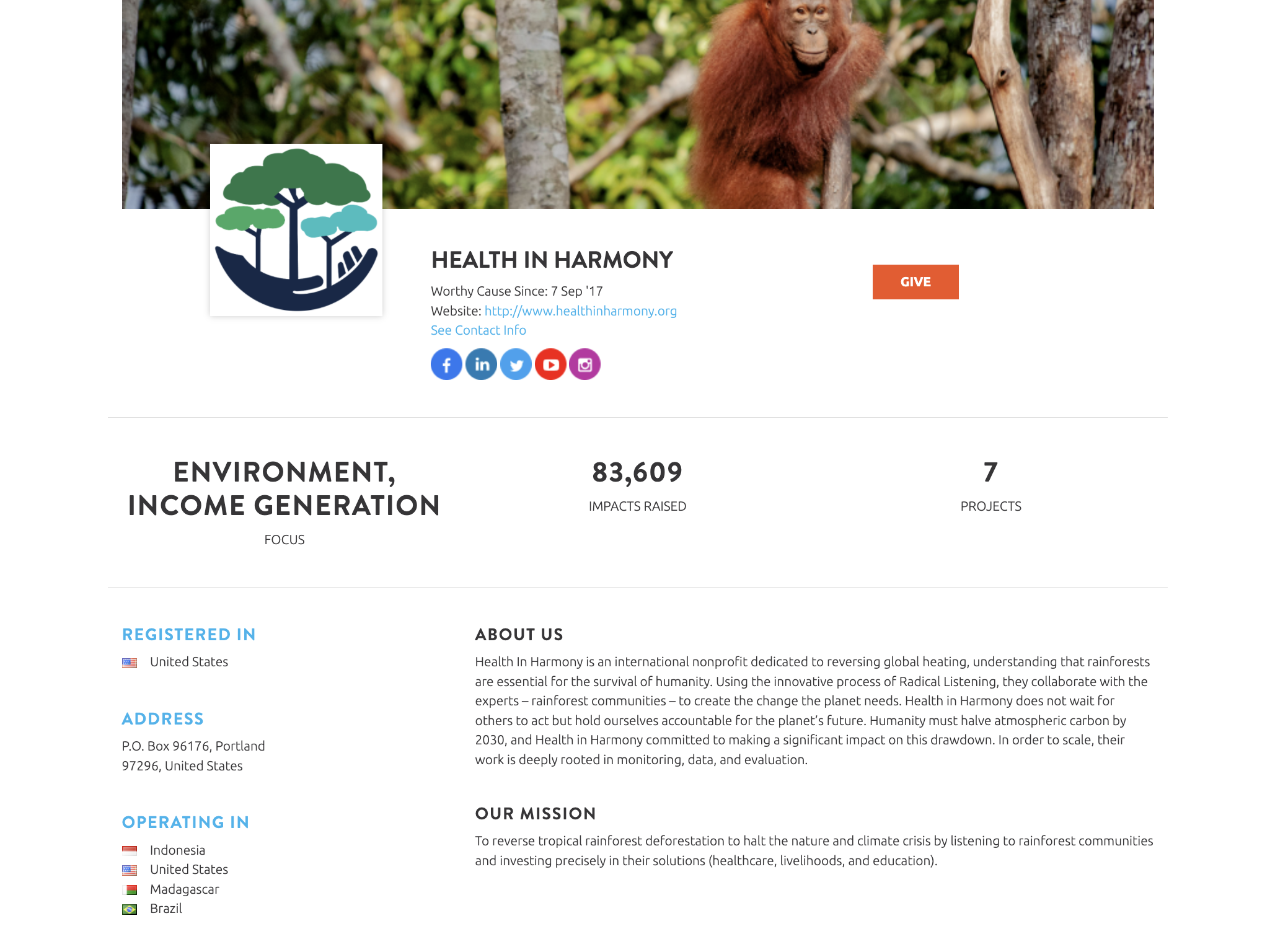 Additionally, each Worthy Cause also has their own profile page where you can read more about the organisation and their mission and vision. You can also access their social media pages and start following your favourite organisations.
PROJECT AND WORTHY CAUSE UPDATES
IN YOUR B1G1 ACCOUNT
In your B1G1 account, you have access to numerous project updates. These updates include information about the overall recent efforts of the organization or insights and milestones regarding the projects you support. The Worthy Causes are encouraged to share regular updates here, so keep a lookout on this tab.
ON FACEBOOK GROUP
Following all the B1G1 Worthy Causes on social media individually is challenging, so we've created our very own B1G1 Project Update Group where we invite our Worthy Causes to frequently share short snippets of their inspiring work. This new development brings you closer to these causes in real time. You are very welcome to join and interact with the projects here.
AND IF YOU'D LIKE EVEN MORE INSIGHTS…
Feature articles, Study Tour reports and video stories – the B1G1 blog is a treasure chest for your curious mind. Head over to the category 'Project Stories' to read more about the various B1G1 Worthy Cause organizations, the problems they are solving and their valuable efforts.
If you are interested in a particular topic or Worthy Cause but there isn't an article just yet, let us know. We are always excited to write the stories you want to read.
We'll also be sending you an update featuring Worthy Causes right to your inbox every month. This email may feature a particular Worthy Cause or discuss a specific problem that our various Worthy Causes are solving in their unique ways. Please do make sure our emails go to the right inbox (and not spam) so you don't miss out on these interesting insights.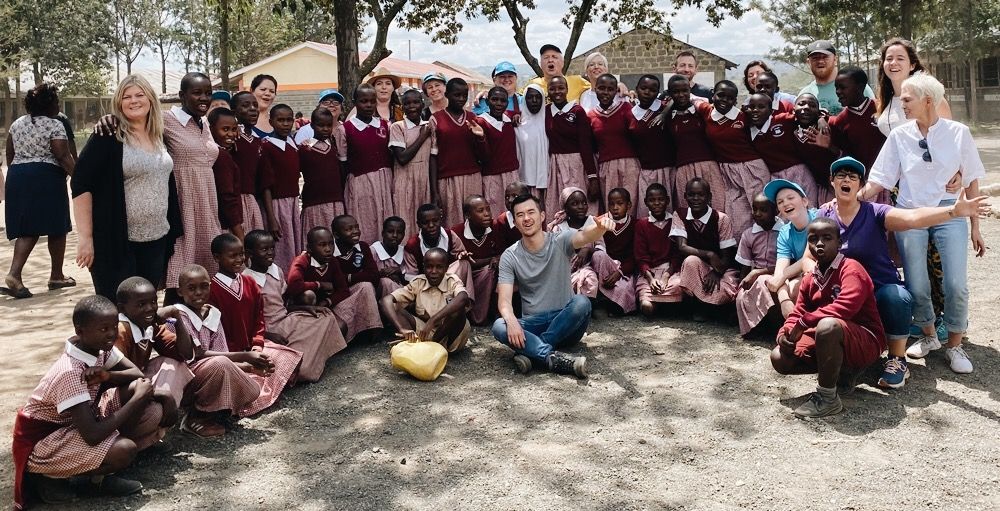 JOIN OUR EVENTS, STUDY TOUR OR VISIT A WORTHY CAUSE
B1G1 is not just a giving platform; we are a movement made of organizations and businesses working together to change our world. The B1G1 community continuously organizes online and offline events – frequently, we invite some Worthy Causes to join too. This creates opportunities to connect and to learn from each other.
One very special event is the B1G1 Study Tour where you can take a trip to visit some of our Worthy Causes in the field and see the impact they are making on people's lives first-hand. Check out some of our upcoming events here.
Additionally, many of our Worthy Causes are also happy to receive visitors. If you happen to be near a project, you are very welcome to drop us a note at team@b1g1.com and we will be happy to connect you with a Worthy Cause. However, we do want to mention that because the main efforts of the Worthy Causes are in the field, we are unable to guarantee that every Worthy Cause will be able to accommodate the visit should there be some limitations due to the nature of their work.
---
We hope you enjoy these stories, features and updates and that they can help you understand and learn more about the wonderful impacts you enable our Worthy Causes to make. All those beautiful stories would not be possible without you.We are all part of the B1G1 Giving Movement and together we can create a World full of Giving – a Happier World!
---