12 Ways to Contribute to the Sustainable Development Goals (SDGs)
The 17 SDGs (sometimes called 'The Global Goals') is a collection of independent but interconnected goals carefully designed to give all of us on our planet a better future, with hundreds of targets and measurement indicators geared toward a date of 2030. The goals were created with businesses in mind, providing a path – what some people refer to as a "Pathway for Humanity" — for any business to harness their power by directing their efforts toward specific global objectives.
Here are 11 ways we all can support our favorite SDG(s) through energizing and inspiring activities. These flexible activities can be a part of our lifestyles, our business practices, or our projects.
1. SIGN THE W.A.S.H. PLEDGE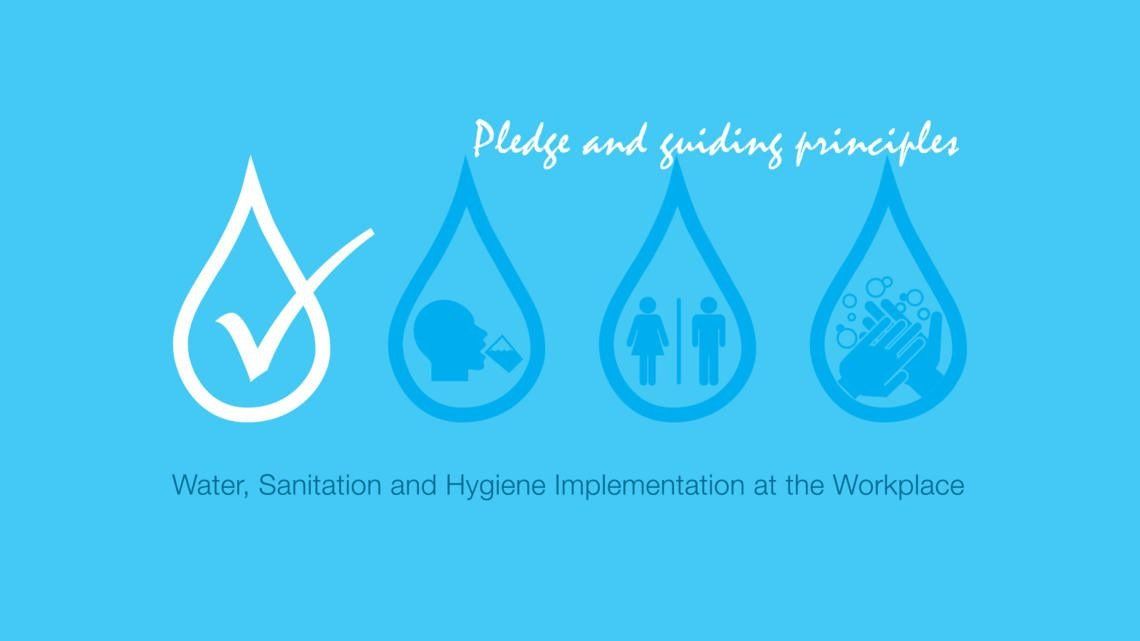 Businesses can be some of the biggest offenders in the wastage of water, so when they take the lead in water conservation, they can make a huge impact on awareness in their communities.
Support SDG 6 – Clean Water and Sanitation by committing your business to a WASH (water, sanitation, and hygiene) pledge to "[implement] access to safe water, sanitation, and hygiene at the workplace". This will not only help keep your community clean but set a standard and expectation for others to follow – including your competitors!
And if you could, go one step further and ensure the same thing happens in a community in remote areas of the world too. Discover some of the water and sanitation projects here.
2. PROVIDE A HEALTHY WORKPLACE
Most people spend about one-third of their adult lives in a workplace environment.
It is essential to ensure that people have a workplace conducive to maintaining good health. Businesses are thus the key drivers for SDG 3 – Good Health and Well-being and SDG 8 – Decent Work and Economic Growth. Emphasize safe practices in the workplace through frequent training and refreshers. Implement health and fitness programs for your team. Also, consider carefully selecting your suppliers and other B2B partners based on how they regard the health of their own employees.
3. REVIEW YOUR SUPPLY CHAIN AND IMPLEMENT SUSTAINABLE PRACTICES
Businesses are often the endpoint in a long supply chain that begins with basic materials and supplies taken from the very land on which we live.
Review your supply chain from top to bottom to make sure that all of the stages uphold human and labor rights, promote and adopt sustainable environmental practices and work against corruption in all its forms. If you're unsure how to start, check out this guide from the UN.
4. Give to Projects that Support the SDGs
Expand the reach of your impact by giving to projects that support the SDGs. You can choose to give to multiple projects or focus on one - that's entirely up to you. Some projects may support multiple SDGs at the same time.
If you don't have time to consider different projects and do your own vetting, consider partnering up with a third-party organization that helps you do so.
Explore how you can connect the SDGs and your business here.
5. INVEST IN RENEWABLE ENERGY
More and more people are packing into urban areas each year. The sustainability of cities is vital to the future of humanity, but they are eating up our consumable natural resources. Being big consumers of energy, businesses can help by taking the lead on SDG 11 – Sustainable Cities and Communities. Invest in renewable energy resources such as solar, wind, and biofuel. By joining initiatives such as the UN Global Compact, you can be one of the businesses to lead the charge toward a more sustainable future.
6. ENCOURAGE 'REDUCE, REUSE, RECYCLE'
The usage of single-use plastic bags, plastic bottles, and other containers puts great pressure on our Earth.
Your business can support SDG 13 – Life on Land and SDG 14 – Life below Water by doing your part to reduce the amount of plastic waste produced by your business activities.
Do you have a business that provides plastic bags for customers?
Start switching to polypropylene bags (green reusable bags) if you have not already. Then, encourage your customers to reuse those bags. (Fun fact: these bags should be reused 35 times before being used as a bin liner or discarded to minimize their impact on the environment). You could even implement a reward system for customers who brought their own bags.
Another change you can adopt is to have a water fountain or cooler instead of a vending machine that distributes plastic drink bottles in office. Remember, every small change makes a huge impact in the long run.
7. SUPPORT EDUCATION OF THE FUTURE GENERATION – LOCALLY OR GLOBALLY
Education is the pathway out of poverty and the foundation for a better future. There is no dispute on that.
Sponsor local school scholarships or give to causes that build schools, supply books and train teachers in remote areas of the world. By helping remove some of the barriers to education, you're not just enriching their individual lives and leveling the playing field – you're also adding talent to the workforce. Who knows? You could be helping to educate a future employee!
Explore projects that support SDG 4 - Quality Education here.
8. THE $2-A-DAY CHALLENGE
Could you survive on $2 a day?
It's an interesting hypothetical for some, but a cold reality for too many others. Sometimes it takes putting ourselves in someone else's shoes to catalyze our empathy and energize us to do good. In support of SDG 1 – No Poverty, try living on just $2 by having "$2 days". Encourage your employees, partners, clients, even your friends and family to do the same. Can you give up the things that you love by living this way? What trade-offs do you have to make? Knowing that millions live on this much or less is an eye-opener and a potent motivator.
9. GIVE PAID VOLUNTEER DAYS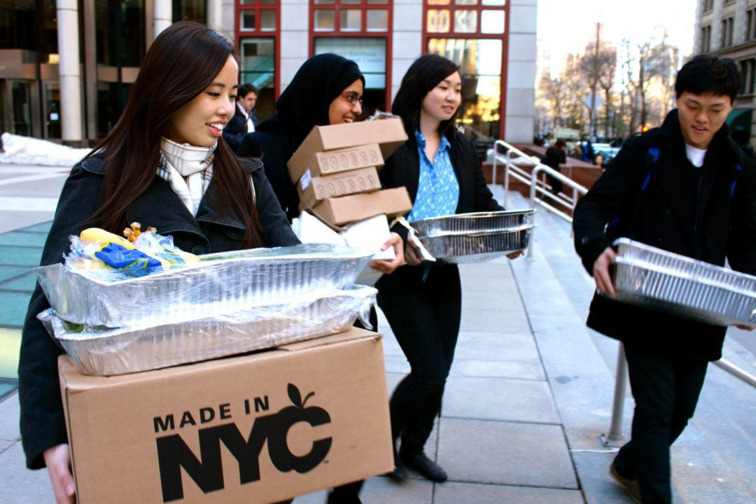 We can all agree that nobody should go hungry in such an affluent world, but our own communities are where we can actually do something about it.
SDG 2 – Zero Hunger shows us a pathway to change the world by feeding our needy neighbors. Businesses can make a big impact by providing paid days off for employees to volunteer in hunger-related activities. Soup kitchens, food banks, and home food delivery programs for the needy and elderly are always in need of eager volunteers. There's typically a greater need during the holiday season.
10. REWARD RESPONSIBLE BEHAVIORS
"Employee of the Month" recognitions are typically reserved for workers with the most sales or best productivity – the ones bringing the most money for the company. But what if employees were recognized for moving the company toward better environmental practices?
To support SDG 12 – Responsible Consumption and Production, consider offering bonuses or award luncheons for your more environmentally conscious team members – especially those who move your business closer to more responsible practices.
11. TAKE IT TO THE NEXT LEVEL THROUGH PARTNERSHIPS WITH OTHER BUSINESSES
SDG 17 – Partnerships For The Goals encourages businesses to become part of partnerships for responsible action in pursuit of any and all of the global goals.
By combining their enthusiasm for certain goals, partnerships become greater than the sum of their parts. You don't have to stop at implementing sustainable programs at your workplace. Participate in changemaker events like sustainability education programs or retreats that let you see the effects of change. Network with like-minded business leaders and see what more you can do!
12. CHOOSE TO GIVE TO CAUSES THAT YOU CARE ABOUT THE MOST
When it comes to giving, we always recommend starting with causes that are close to your heart, be it education, environment, health or human rights. In this case, simply start with the SDG that you feel most strongly about and give towards causes that support it.
On a personal note…HERE'S HOW I CHOOSE TO GIVE BACK.
Growing up, I never had to worry about how I would get to school, or whether there would be enough books to go around. Other than the occasional treat of a Texas tornado, I never had to worry about whether I would have a school building to go to in the morning.
I also know that there are millions of bright, curious minds in the world without such assurances. Which young Cambodian girl would be the one that cures cancer, or which Kenyan child would become the next renowned poet if only he or she had the opportunity and supplies to help his or her young mind reach its potential?
I don't know the answer, so for every B1G1 blog post I write, I give 180 days of access to reading materials to girls in Cambodia – to give them the tools to make their own impacts on the world.
It's a small, humble contribution to the very big cause of SDG 4 – Quality Education, but now it makes every paragraph, every sentence, every word, just a little more meaningful.
Businesses regardless of their size have the power to forge change – to harness the power of innovation and entrepreneurship, involving their employees, clients, partners, and communities, to help us strive towards the goals.
As we move forward, we can all continue in our resolutions for the new millennium – ensuring that no one is left behind in a safer, happier future.
What is your way of contributing to the goals? Do share your thoughts in the comments too, because there is no such thing as too many ideas when it comes to making the world a better place.
Want to learn how you can support the SDGs with your business?