7 Companies with successful CSR Strategies You can Adopt
Corporate Social Responsibility (CSR) or Corporate Citizenship is a practice of businesses to be socially accountable to their stakeholders and the public. By adopting clear CSR strategies, companies accept responsibility for their impact on society – including all economic, social, and environmental aspects.
From small local brands to large corporations, everyone can implement their own unique, sustainable strategy.
Here are some great examples to adopt:
Industry: Fashion Retail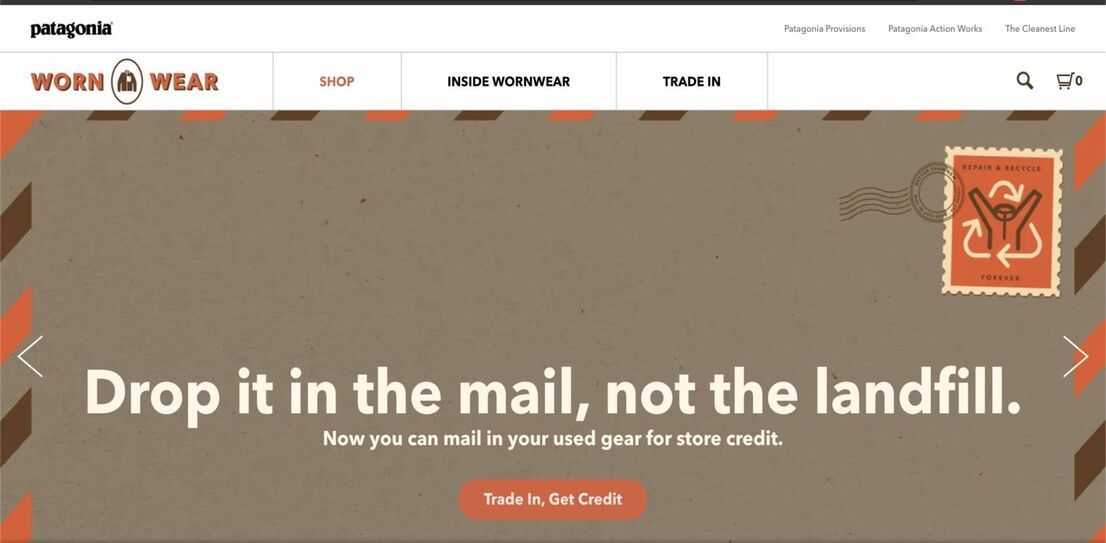 When it comes to planet-protection, the outdoor clothing & supplies brand Patagonia leads the way. Interestingly enough, even if you are not an outdoor person who owns Patagonia gear, you'd probably have heard of their efforts for the environment.
As a founding member of the Fair Labour Association, Patagonia promotes fair labor practices and safe working conditions throughout its supply chain. They stay accountable to consumers by communicating this information on product pages and disclosing their finished goods supplier list.
Discover their ReCraft Campaign here.
Patagonia ensures that the kindest materials go into making every piece of garment by using sources like organic cotton, Tencell® lyocell, hemp, and natural rubber. To follow this, they map supply chains to the farm level and, whenever possible, rely on certifications such as NSF Traceable Down Standard and Fair Trade to confirm that farms they use meet their strict standards.
Not only does their production not harm the earth, but the consumption of their products helps the planet heal too! Since 1985, Patagonia has pledged 1% of sales to the preservation and restoration of the natural environment. In 2002, they co-founded 1% for the Planet, to encourage others to do the same.
Industry: Food & Beverages
Ben & Jerry's is a certified BCorporation, which is recognized as the highest standard for social corporate responsibility.  

By carefully selecting their ingredients and suppliers, Ben & Jerry champions positive consumption patterns. They source all of their delicious brownies from Greyston Bakery, a bakery committed to providing jobs and job training for individuals who face barriers to employment, and exclusively use CertifiedHumane cage-free eggs.
Watch how they carry out Values Led Sourcing here.
In an effort to close the loop and maximize resources, one of their sustainable manufacturing practices include the transportation of dairy waste from their Vermont plants back to two of their supplying farms, where their waste is put into methane digesters with other farm waste to generate energy that can power the farms.

Ben &Jerry's also gives back to the community through their PartnerShopProgram®, where scoop shops that are independently owned and operated by community-based nonprofit organizations are exempt from standard franchise fees. PartnerShops offer job and entrepreneurial training to young adults with employment struggles, changing their lives for the better.
Industry: Heath & Wellness
In addition to helping people be at their best through pain relief treatment, Chiroworks amplifies their impact by giving all around the world as a B1G1 partner.
When a new patient comes to his clinic, the team at Chiroworks casually opens the conversation by asking what the patient finds more important- clean water, education, or access to healthcare.

The patient then goes off unsuspectingly for their assessment and treatment as per routine. The next time the patient comes for their appointment, they are surprised with a Gratitude Certificate (think of it as a unique kind of 'thank you' card) in their name from Chiroworks saying, for example, "Because you've come in, and because you said you value healthcare, we've now given glasses to people in Indonesia."  

Every new appointment = a giving to a project.

Chiroworks has created 492,568 impacts to date by embedding giving into what they do!
Explore how you can start a similar program here.
Industry: Food & Beverages
In 2012, Aaron Fishman discovered that behind the beauty, East Bali is an impoverished region of cashew farmers. The entrepreneur in Aaron saw an opportunity for a powerful social venture that would bring livelihood and educational opportunities to the region.
‍
Every sale makes it possible to provide over 400 jobs in East Bali. Most of those jobs are filled by previously unemployed local women who now have a personal source of income and access to professional development.
‍
Additionally, they provide education for children in their community of Desa Ban through AnaKardia Kids Pre-School. The school hosts up to 60 children daily and provides them an opportunity to grow alongside the business.
‍
Respecting the environment it grows in through eco-friendly energy, East Bali Cashews leaves no part of the cashew or its tree unused.
For example, the biochar from cashew shells is repurposed as carbon-rich fertiliser for their plantations and excess shells are passed to other small businesses who use the shells to heat their boilers!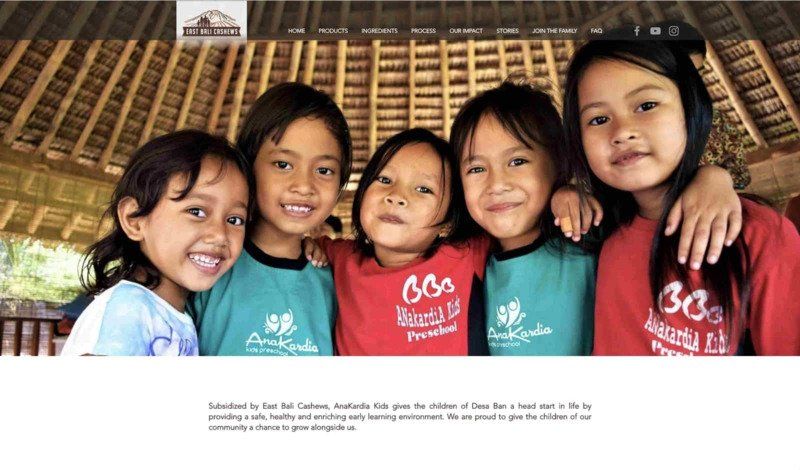 Industry: Household Service
Started by ex-military men who deeply understand the impact of war and conflicts, the main purpose of Combat Pest Control is to help educate children in conflict areas.  

With every pest they eradicate, every time they send an invoice for a job, Combat Pest Control support education for a child in Afghanistan through B1G1. On top of that, every time their team members receive a great recommendation for a job, they reward them by giving an additional 10 days of education to a child.
To date, Combat Pest Control has made 57,570 impacts which includes giving 21 nourishing meals to orphaned children in Thailand, providing 144 counselling sessions to sexually abused children in Nepal, giving 487 days of access to life-saving clean water to families in Ethiopia and giving 100 days of business training to women in need in Malawi.
Industry: Cosmetics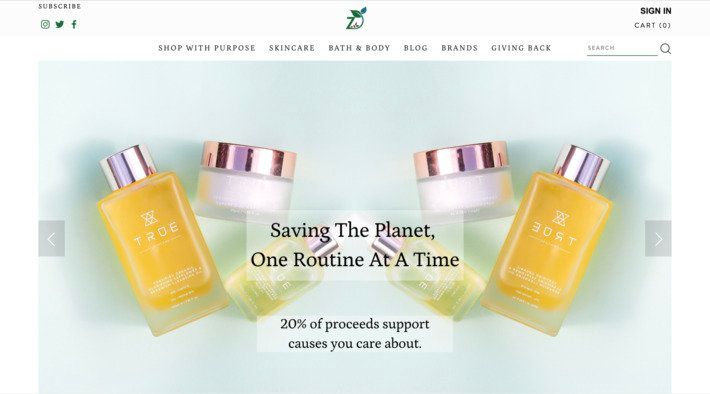 Glossy on the outside, the cosmetics industry has its flaws ranged from using unsustainable packaging to relying on children working in illegal mines to extract key ingredient for their products.
Recognizing the potential damage by the industry, Zeme Cosmetics is the first and only cosmetic store entirely focused on offsetting the damage caused by the cosmetic industry through four aspects – Our Ocean, Our People, Our Animals and Our Earth. Customers can choose which cause to support through a bath & body or skincare purchase dedicated to a specific cause.
In addition to being vegan and free of animal cruelty, the PureChimp line of products gives 5% of its profits to Save The Chimps, an NGO focused on providing sanctuary and exemplary care for various chimpanzees.
Zeme Cosmetics' Save Our People line also gives 20% of sales to Anti-Slavery International to support their work in protecting those at risk of slavery and creating a sustainable future for them.
Leading the future of purposeful beauty, Zeme Cosmetics shows us how to look good while doing good!
Industry: Real Estate
City Development Group (CDL) is a leading global real estate operating company with a network spanning 106 locations in 29 countries and regions. At the core of their business is a desire to 'conserve as they construct'.
CDL ensures that they contract with suppliers who regularly assess their environmental impact and translate improvements into their supply chain. Almost all their buildings are smart and climate resilient which not only lead to energy efficiency but also grants CDL cost savings that they can pass onto consumers. You might have driven past the Tree House condominium in Singapore which holds the Guinness Record for the world's largest vertical garden, spanning almost 25,000 square feet.
Going beyond environmental stewardship, they are also a leader in community outreach to empower people to have a positive impact on their society or on the environment.
Through Incubator For SDGs, CDL supports social enterprises and start-ups by allowing them to tap into an extensive network of experts & potential investors. One of these success stories include UglyGood, a start-up that upcycles fruit waste and transforms it into natural cleaning agents!
These businesses have interesting and engaging projects and policies that we could all learn from. We've created a mini list of things ANY business can do to take charge of their corporate social responsibility.
BONUS: CSR Checklist
Here's a checklist for you to consider as you develop your own CSR initiative.
SOCIAL
o Creating value for communities (eg. providing education, upskilling, access to water & energy, access to counselling)
o Using physical or technological resources to empower disadvantaged groups and other initiatives
o Obtaining certification such Fair Trade, Fair Labour Association, B Corporation
o Ensuring fair wages and safe working conditions
o Creating meaningful employment in the communities the business operates in
o Protecting employees and their families with insurance
ENVIRONMENTAL
o Pollution control and waste management
o Purchasing certified inputs that do not harm animals or the environment
o Repurposing by-products or waste from production
o Using recycled materials instead of virgin inputs
o Obtaining certification such as NSF Traceable Down Standard
o Careful planning to use resources to their fullest potential and minimize waste (eg. to reduce water and energy use on-site)
o Product packaging redesign to become more eco-friendly
o Supporting regenerative farming
o Contributing to conservation (eg. animal welfare, ocean health, forest protection) efforts
CORPORATE TRANSPARENCY & PHILANTHROPY
o Publishing supply chain information online
o Disclosing environmental footprint along with future goals
o Pledging a percentage of sales to a social or environmental cause
o Measuring one's social or environmental impact and sharing these figures with stakeholders