UNEXPECTED LEARNINGS FROM THE B1G1 STUDY TOUR 2018
They say "when you get out of your comfort zone, you learn much more."
The recent B1G1 Study Tour to Kenya included no shortage of learning. What made it possible was simply this: everyone on the tour got out of their own comfort zones.
The learning was immense. Let's highlight some of the main insights that impacted us so much.
UNEXPECTED LEARNING 1:
GREAT PROJECTS START WITH A SIMPLE QUESTION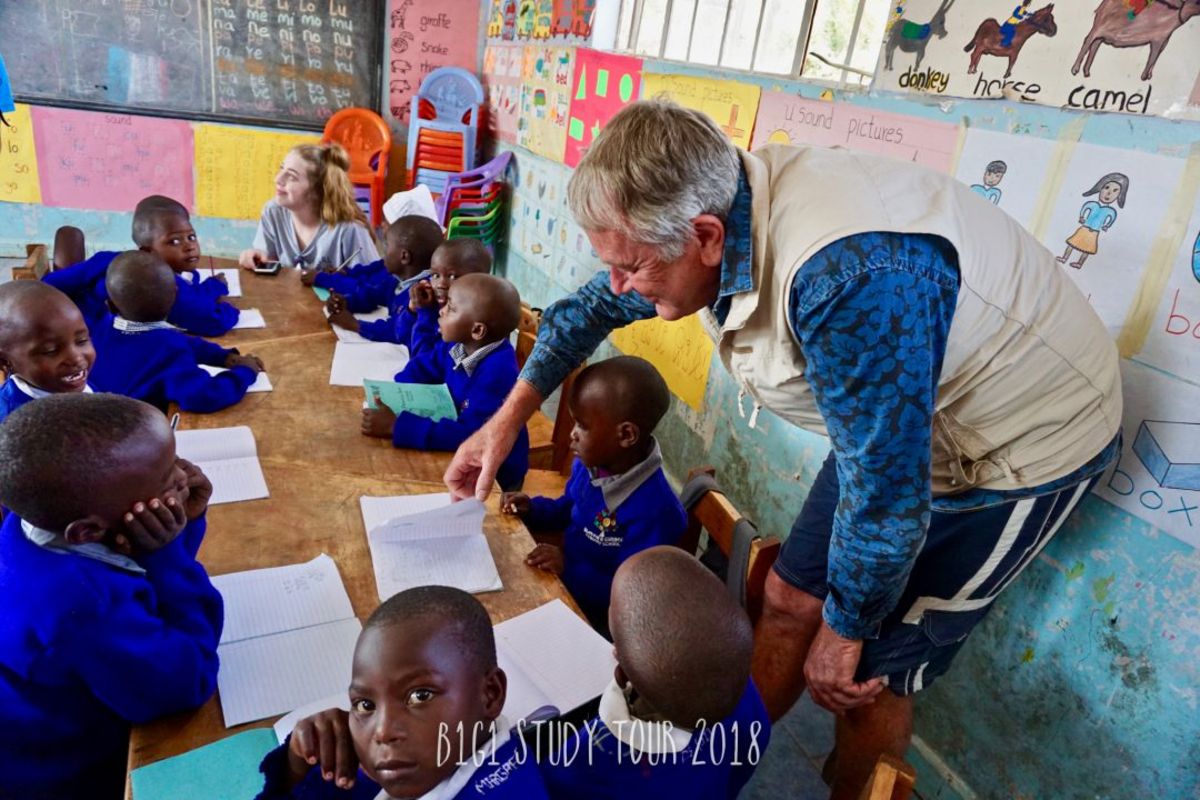 The first project we visited was a school called Aberdare Ranges Primary School in Nakuru.
We met 1080 students who were studying in a brilliantly-managed school that started just 8 years ago with 80 children from a displaced-persons camp.
It all started with a simple question by So They Can Founder, Cassandra Treadwell.
'What one thing do you need?'
"EDUCATION FOR OUR CHILDREN", they said. "That's the only way we'll have a better future."
That simple question and the profound answer led to the founding and focus of So They Can.
So They Can became an organisation that has already impacted lives of more than 10,000 people (directly and indirectly) today. The way they organise their program is replicable and scalable.
100% of students at Aberdare Ranges Primary School move up to secondary school, something so inspiring and unheard of in the region. And it all started from a simple (but powerful) question.
UNEXPECTED LEARNING 2:
THE JOY OF GIVING REWARDS US MORE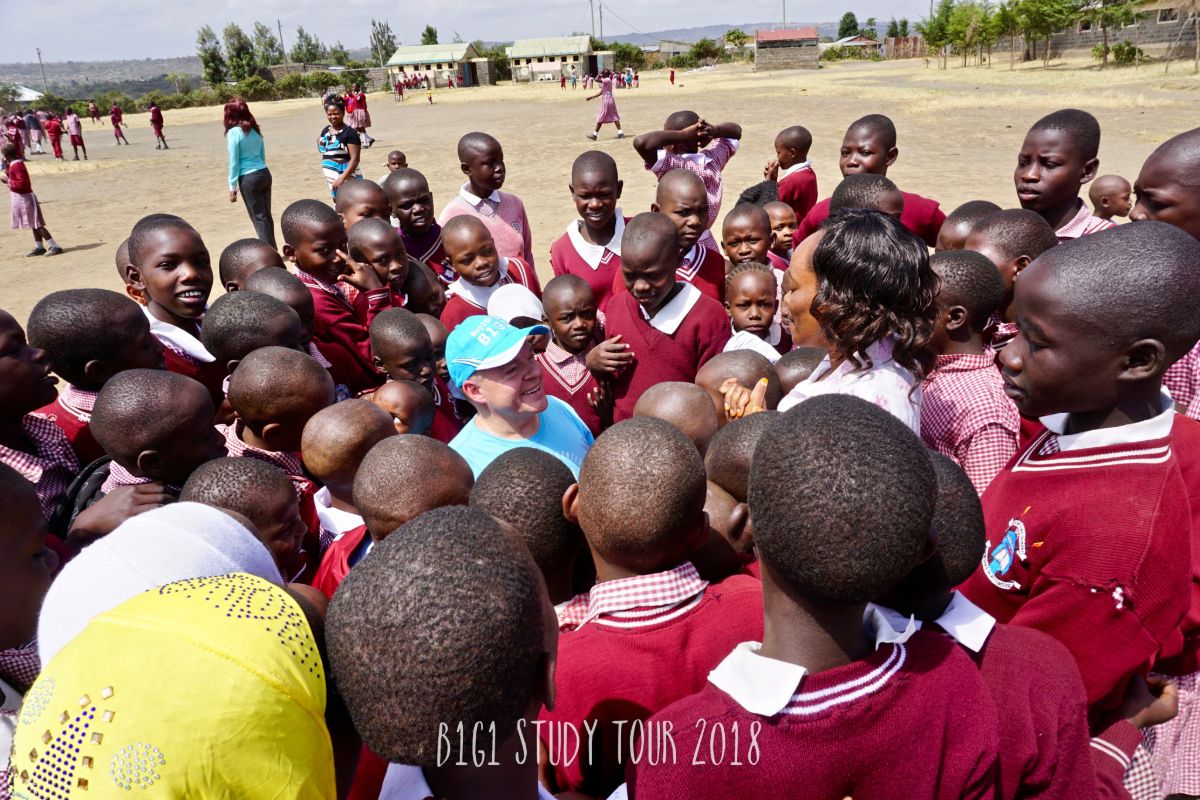 Multiple tour participants told us, "I thought I came to give something to people who had little. But I realised I actually received an amazing gift from the connections with them. They gave me so much more than what I could ever give them."
This realisation is game-changing.
When you connect with people who seem to have less or have greater challenges in life, you get a totally new understanding of what true giving is about. That's principally because you see them smiling and offering what they have to you.
Connecting with people as equals and learning from each other nourishes our experience. We know many of these wonderful people we meet will go on to become great givers who inspire many others.
We gained so much by simply connecting (and playing) with the children.
UNEXPECTED LEARNING 3:
"NOTHING IS DIFFICULT"
One unplanned encounter was with a 14-year-old student called Samwel, which became one of the highlights of our school visits in the slum area.
Samwell stands tall and confident. And, Samwel is blind.
He has never seen light or the faces of his friends. But he is one of the highest performing students. His favourite subject is science, and he wants to become a lecturer.
We asked him a question in an intimate spontaneous conversation.
"What is the most difficult thing at school for you?"
His answer: "Nothing is difficult."
Samwel playing the keyboard
Samwel went on to explain that he loved music and played the keyboard. He was not going to become a lecturer for blind people. He was confident that he could be a lecturer to any student.
The minds of young people like Samwel astonish us. We can all be more daring, to dream big AND make it happen.
UNEXPECTED LEARNING 4:
HEALTH IS THE FOUNDATION OF LIFE
We experienced in so many ways how education and capacity-building activities really transform lives. There are critical ways we can 'hand up' support versus 'handing out' aid.
We work hard to make sure giving does not create dependency.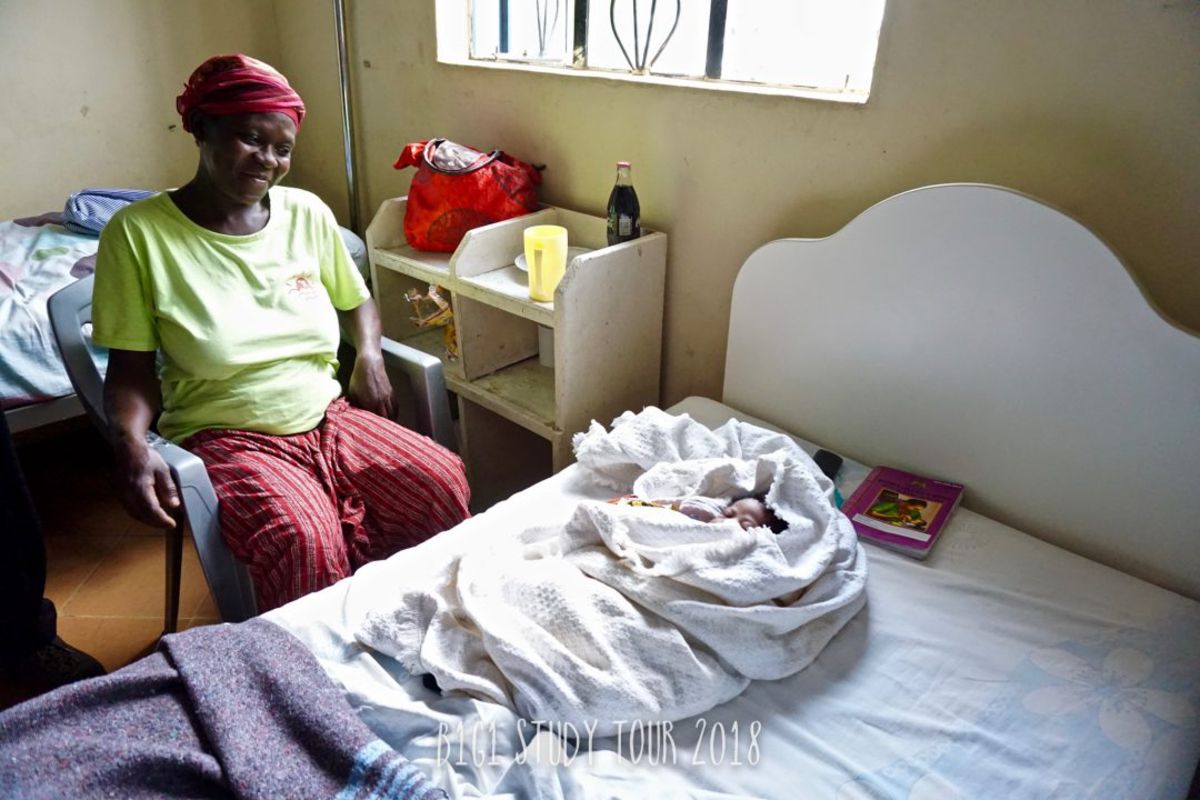 Giving should focus on equipping the community and families with greater education opportunities. This way, initial beneficiaries can create their own future and hopefully become future givers.
It goes without saying that everyone must have access to water, sanitation and basic healthcare as foundation. If mothers and babies are dying because of lack of medical care, children are not able to go to school because they are sick, or girls are not going to school because they don't have sanitary pads….these (and more) are major limiting factors preventing people from taking on available opportunities.
World Youth International, a long-time B1G1 Worthy Cause Partner, has shown us the impact of that with the development of their hospital and medical centre.
So far, more than 2,000 babies have been born safely, many of them avoiding HIV transmission from their mothers (there is still a high rate of HIV in this community). Villagers can now more easily access health care, preventing the spread of other diseases too.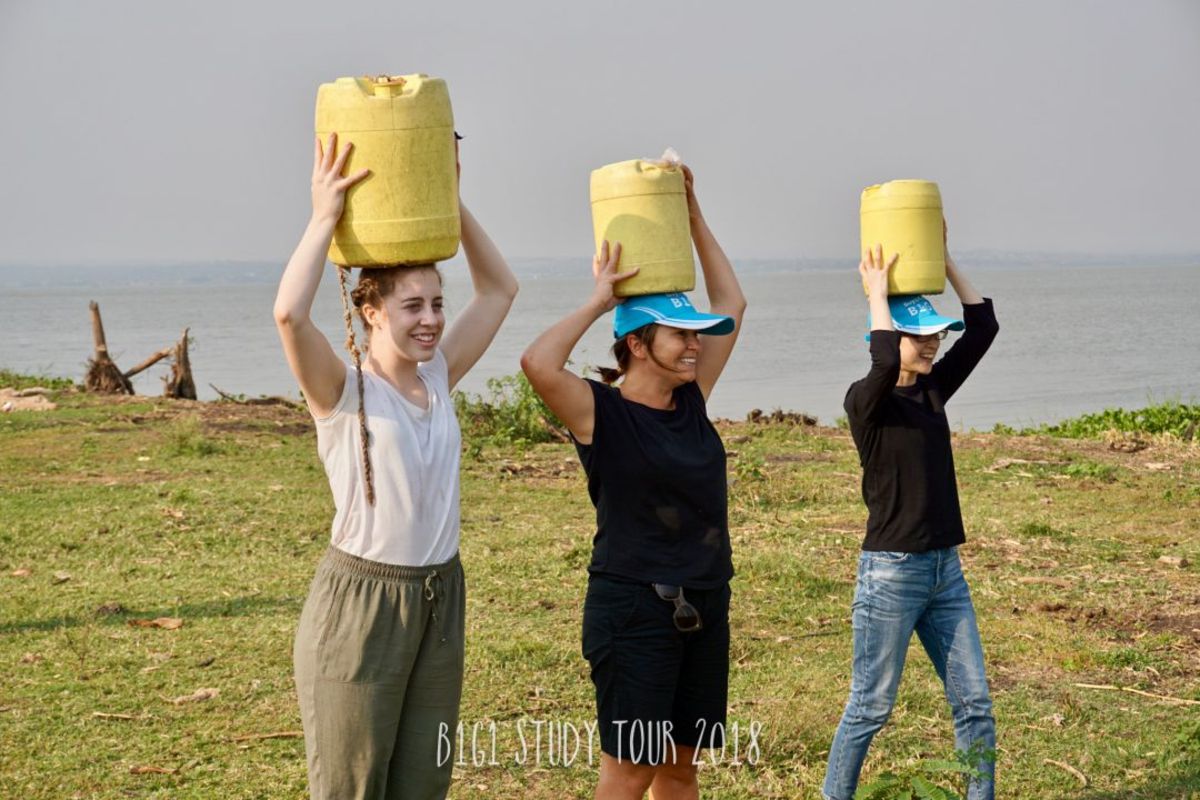 We also tried to carry water cans on our heads for a short distance. They are so heavy (30-40 Kgs). Each one of those heavy cans creates so much impact by providing basic necessities to human life for everyone.
UNEXPECTED LEARNING 5:
BREAK-THROUGH IDEAS COME FROM GENUINE CARE
We were really looking forward to visiting this popular Goat Giving project in B1G1.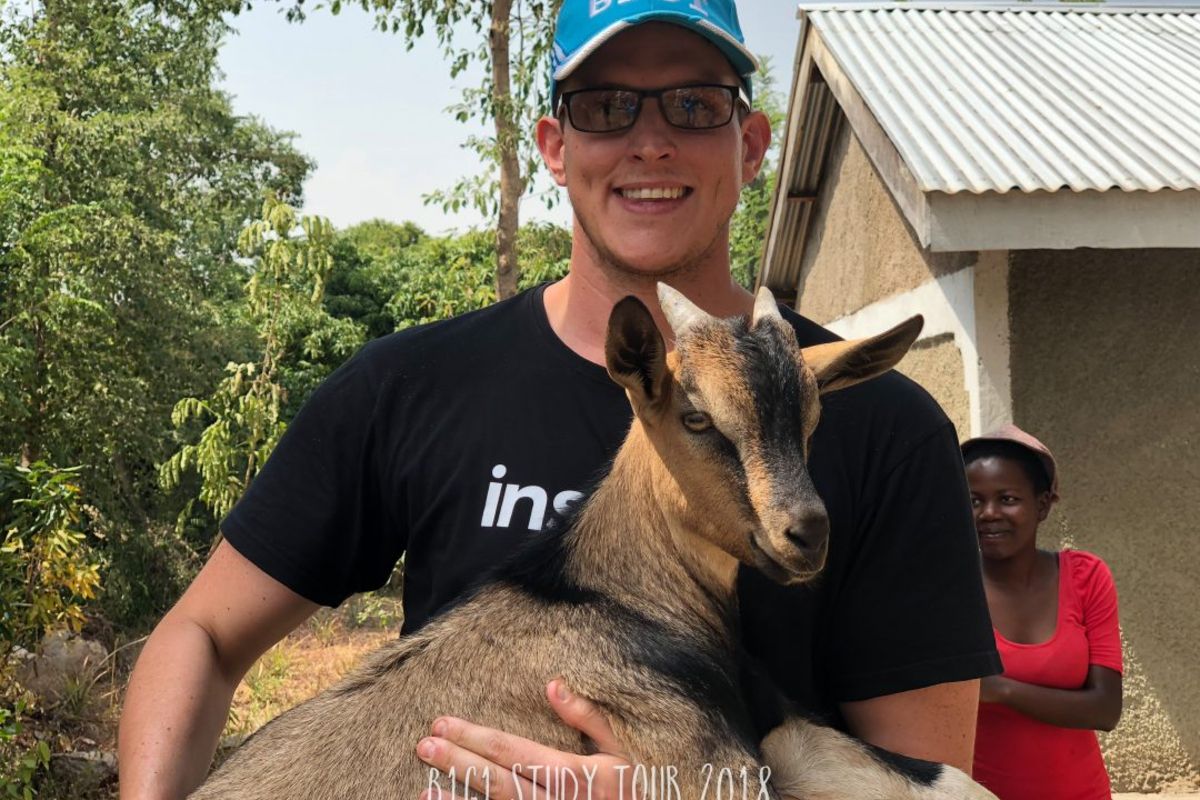 We knew the power of this project because the B1G1 Team visited it almost 7 years ago.
Since then, the project has become an enormous success. Many B1G1 members have contributed to this project. It became so well-funded to the extent that there was not as much need to keep giving more and more goats to the same region.
So, the goat project became a collaboration project with multiple organisations working together. The available funds now benefit many more individuals and families in wider areas. One project we visited illustrated this, run by an organisation called Mango Tree.
The passionate and committed team at Mango Tree explained that they do what they do to ensure that every child can be educated. Every child…? Hold on… isn't this about giving a goat…?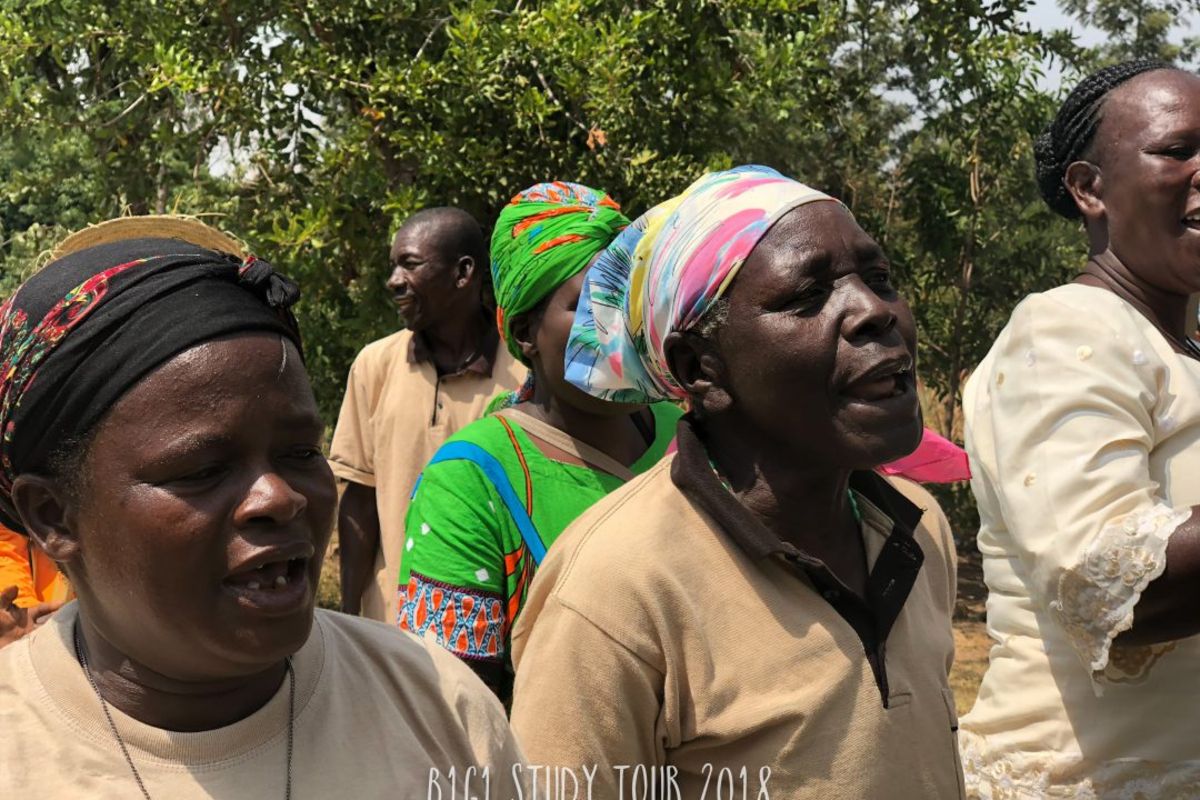 The discovery was that this project focuses on giving families with orphaned children access to income generating opportunities, which then support the education of the entire family.
It works brilliantly. A group of widows form a group and every family receives a female goat. A Hybrid male goat is shared with the group to create offspring that grow faster and thrive better in local environment.
The best part is this:
Each family who receives a goat always passes on the very first off-spring to another family.
It's the gift that keeps giving.
Ideas like this come about because of the deep sense of care people in these organisations have, and because of the questions they ask.
● ● ● ● ● ● ● ● ●
Whew! These are only some of the insights we gained. There are so, so many more.
I hope you will choose to come on one of the future B1G1 Study Tours!
It really is the gift that keeps on giving. Because everyone who was on the tour is now committed to giving on and forward.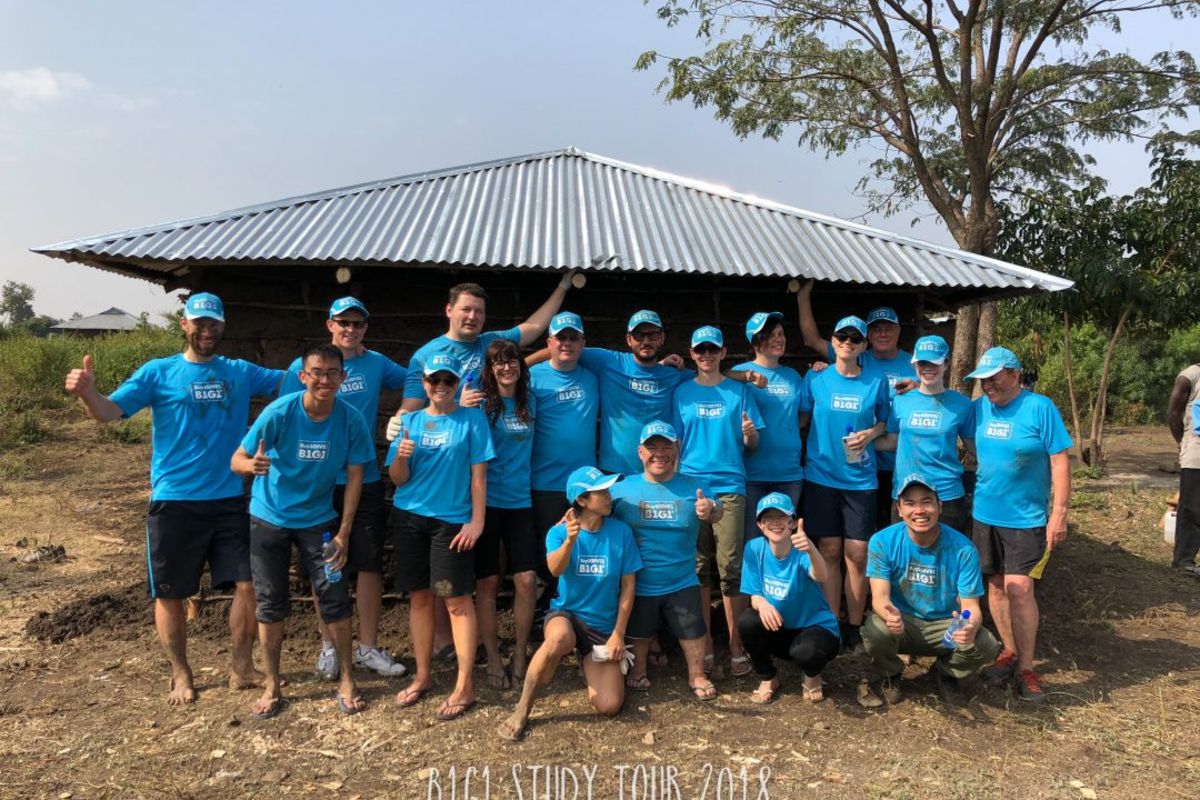 HAVE A STORY IDEA?hello@b1g1.com