NEW STRAITS TIMES: THE WOW OF GIVING
B1G1 was interviewed by New Straits Times. The article titled "Interview the experts" focused on the importance of giving and the story of B1G1.
Read the full article below: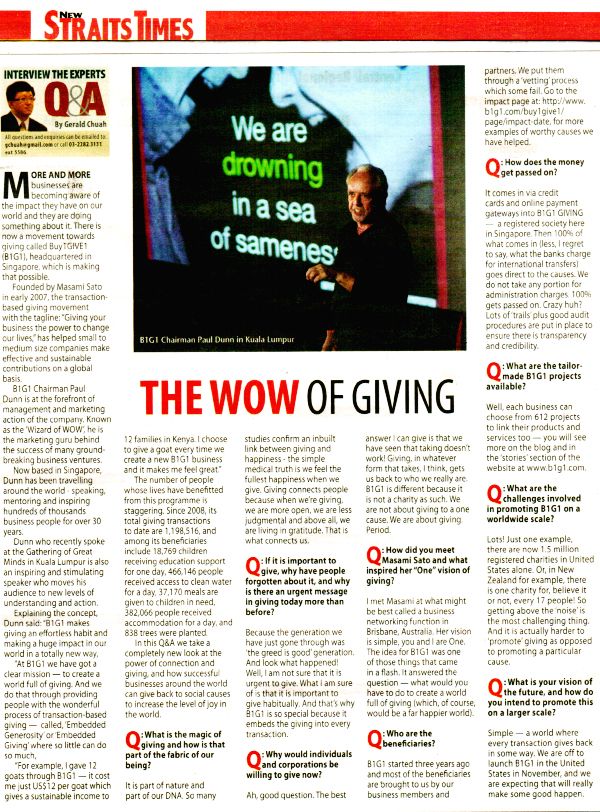 Written by: Gerald Chuah
More and more businesses are becoming aware of the impact they have on our world and they are doing something about it. There is now a movement towards giving called Buy1GIVE1 (B1G1), headquartered in Singapore, which is making that possible.
Founded by Masami Sato in early 2007, the transaction-based giving movement with the tagline: "Giving your business the power to change our lives," has helped small to medium sized companies make effective and sustainable contributions on a global basis.
B1G1 Chairman Paul Dunn is at the forefront of management and marketing action of the company. Known as the 'Wizard of WOW', he is the marketing guru behind the success of many ground-breaking business ventures.
Now based in Singapore, Dunn has been traveling around the world — speaking, mentoring and inspiring hundreds of thousands business people for over 30 years.
Dunn who recently spoke at the Gathering of Great Minds in Kuala Lumpur is also an inspiring and stimulating speaker who moves his audience to new levels of understanding and action.
Explaining the concept, Dunn said:
B1G1 makes giving an effortless habit and making a huge impact in our world in a totally new way.

At B1G1 we have got a clear mission — to create a world full of giving. And we do that through providing people with the wonderful process of transaction-based giving — called, 'Embedded Generosity' or 'Embedded Giving' where so little can do so much,

For example, I gave 12 goats through B1G1 — it cost me just US$12 per goat which gives a sustainable income to 12 families in Kenya. I choose to give a goat every time we create a new B1G1 business and it makes me feel great.
The number of people whose lives have benefited from this programme is staggering. Since 2008, its total giving transactions to date are 1,198,516, and among its beneficiaries include 18,769 children receiving education support for a day, 466,146 people received access to clean water for a day, 37,170 meals are given to children in need, 382,066 people received accommodation for a day, and 838 trees were planted.
In this Q&A we take a completely new look at the power of connection and giving, and how successful businesses around the world can give back to social causes to increase the level of joy in the world.
Q: WHAT IS THE MAGIC OF GIVING AND HOW IS THAT PART OF THE FABRIC OF OUR BEING?
It is part of nature and part of our DNA. So many studies confirm an inbuilt link between giving and happiness – the simple medical truth is we feel the fullest happiness when we give. Giving connects people because when we're giving, we are move open, we are less judgmental and above all, we are living in gratitude. That is what connects us.
Q: IF IT IS IMPORTANT TO GIVE, WHY HAVE PEOPLE FORGOTTEN ABOUT IT, AND WHY IS THERE AN URGENT MESSAGE IN GIVING TODAY MORE THAN BEFORE?
Because the generation we have just gone through was 'the greed is good' generation. And look what happened! Well, I am not sure that it is urgent to give. What I am sure of is that it is important to give habitually. And that's why B1G1 is so special because it embeds the giving into every transaction.
Q: WHY WOULD INDIVIDUALS AND CORPORATIONS BE WILLING TO GIVE NOW?
Ah, good question. The best answer that I can give is that we have seen that taking doesn't work! Giving, in whatever form that takes, I think, gets us back to who we really are. B1G1 is different because it is not a charity as such. We are not about giving to a one cause. We are about giving. Period.
Q: HOW DID YOU MEET MASAMI SATO AND WHAT INSPIRED HER "ONE" VISION OF GIVING?
I met Masami at what might be best called a business networking function in Brisbane, Australia. Her vision is simple, you and I are One. The idea for B1G1 was one of those things that came in a flash. It answered the question — what would you have to do to crate a world full of giving (which of course, would be a far happier world).
Q: WHO ARE THE BENEFICIARIES?
B1G1 started three years ago and most of the beneficiaries are brought to us by our business members and partners. We put them through a 'vetting' process which some fail. Go to the impact page at:http://www.b1g1.com/buy1give1/page/impact-date, for more examples of worthy causes we have helped.
Q: HOW DOES THE MONEY GET PASSED ON?
It comes in via credit cards and online payment gateways into B1G1 Giving — a registered society here in Singapore. Then 100% of what comes in (less, I regret to say, what the banks charge for international transfers) goes direct to the causes. We do not take any portion for administration charges. 100% gets passed on. Crazy huh? Lots of 'trails' plus good audit procedures are put in place to ensure there is transparency and credibility.
Q: WHAT ARE THE TAILOR-MADE B1G1 PROJECTS AVAILABLE?
Well, each business can choose from 612 projects to link their products and services too — you will see more on the blog and in the 'stories' section of the website at www.b1g1.com
Q: WHAT ARE THE CHALLENGES INVOLVED IN PROMOTING B1G1 ON A WORLDWIDE SCALE?
Lots! Just one example, there are now 1.5 million registered charities in United States alone. Or, in New Zealand for example, there is one charity for, believe it or not, every 17 people! So getting above the 'noise' is the most challenging thing. And it is actually harder to 'promote' giving as opposed to promoting a particular cause.
Q: WHAT IS YOUR VISION OF THE FUTURE, AND HOW DO YOU INTEND TO PROMOTE THIS ON A LARGER SCALE?
Simple — a world where every transaction gives back in some way. We are off to launch B1G1 in the United States in November, and we are expecting that will really make some good happen
---