FOOD, SHOES, AND RAINCOAT FOR KIDS
If you hear that thousands of children were indeed turning up at school cold, wet and hungry because their parents were struggling to make ends meet, what would you do?
Ten years ago in Auckland,New Zealand Julie Chapman and Carl Sunderland were listening to yet another media report about local children going without the basics. Schools reported that these deplorable conditions were having a major impact on children's learning ability, self esteem and health. Children who miss out on the basics get sick more often, do worse at school, and when they become adults they're more likely to be unemployed and have children who will also grow up in poverty. In fact, one in four New Zealand children – 260,000 of them – lived in poverty, going without the basics most of us take for granted.
Here's Julie Chapman's account of the story:
We decided to do something about it, and we started right away getting organized and raising funds. We called our little group the KidsCan Charitable Trust, and we started with a generous $40,000 grant from Guardian Trust.
Since 2005, KidsCan Charitable Trust has been successfully supporting disadvantaged Kiwi kids. Through B1G1 you can do your part to change things for the better and support the education, health and well being of children in New Zealand who simply want to learn, but can't focus on lessons when they're hungry.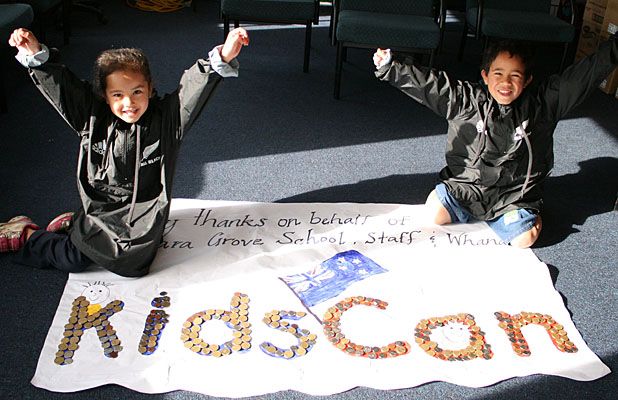 Today KidsCan is a B1G1 Worthy Cause project, supporting the education of thousands of children in 499 schools in 15 regions throughout New Zealand, providing food, shoes, socks, fleece-lined raincoats and basic hygiene items. Their programmes ensure disadvantaged children arrive at school ready to learn.
As of today KidsCan supports 15,056 hungry children a week with food assistance," Julie reported. "Over 49,000 raincoats were distributed to children in need, more than 25,000 pairs of shoes and 51,000 pairs of socks were provided to keep little feet warm. Sick kids had their prescriptions funded too…1,010 of them in 2014 alone!
"We need your help," co-founder Julie Chapman stressed."Together we can have a significant impact on reducing social issues, increase participation in class, and in raise the self-esteem of children who feel they have no hope."
Child poverty is a real issue that exists, even though we don't see it every day. But it's there, and it's having a terrible effect on children in New Zealand. Every dollar you contribute through B1G1 will help…because Kids Can.
---