200 Million Impacts - Impact Beyond Measure
200 MILLION IMPACTS
As we count down to the end of year, we have some really great news to share with you: The B1G1 Community has just crossed 200 million giving impacts!
This would not have been possible without you and you can now watch and share the milestone video to celebrate this special moment with us.
We thought you'd love to see some of the impact figures in a variety of infographics too.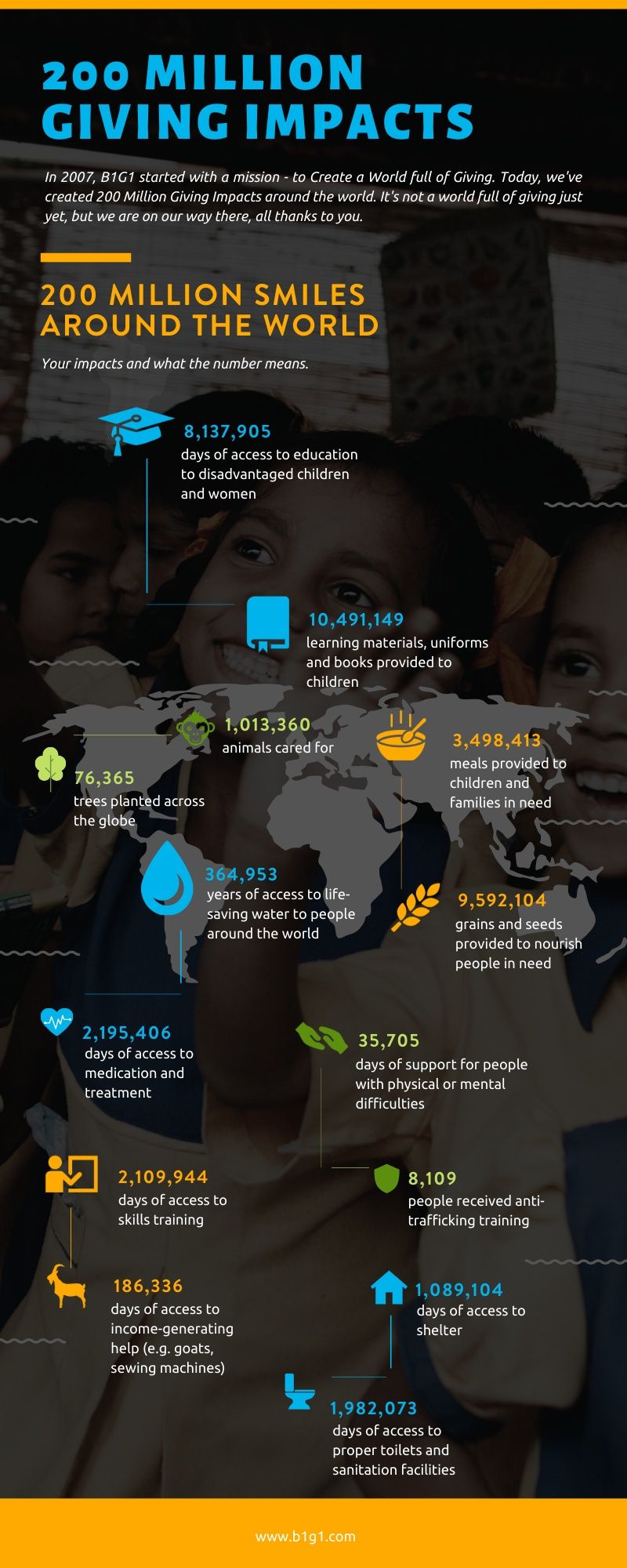 You can also see the support level for each of the top UN Sustainable Development Goals (SDGs) in B1G1. The great thing about using the SDGs is it allows all businesses working with B1G1 to align with the Global Goals — what we refer to as a 'pathway for humanity'. It gives our 'Power of Small' focus additional relevance.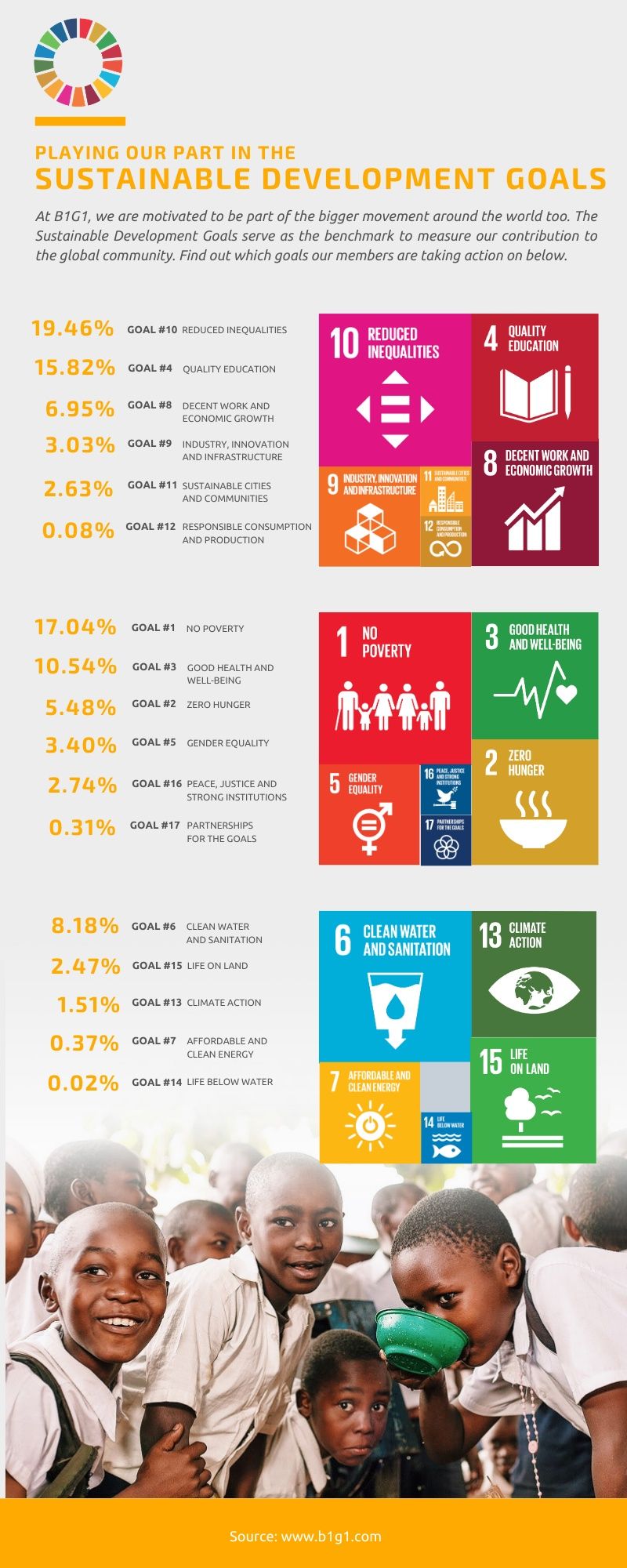 SEEING THE IMPACTS IN A NEW WAY
200 million impacts can sound distantly impressive for small businesses B1G1 works with. So to help you get a different sense, we also want to convey how these numbers are specific acts of help that improve lives of real people. They are indeed smiles being created. So, let's delve deeper into some of these impacts together.
EDUCATION IN RURAL COMMUNITIES HAS BEEN TRANSFORMED BEYOND MEASURE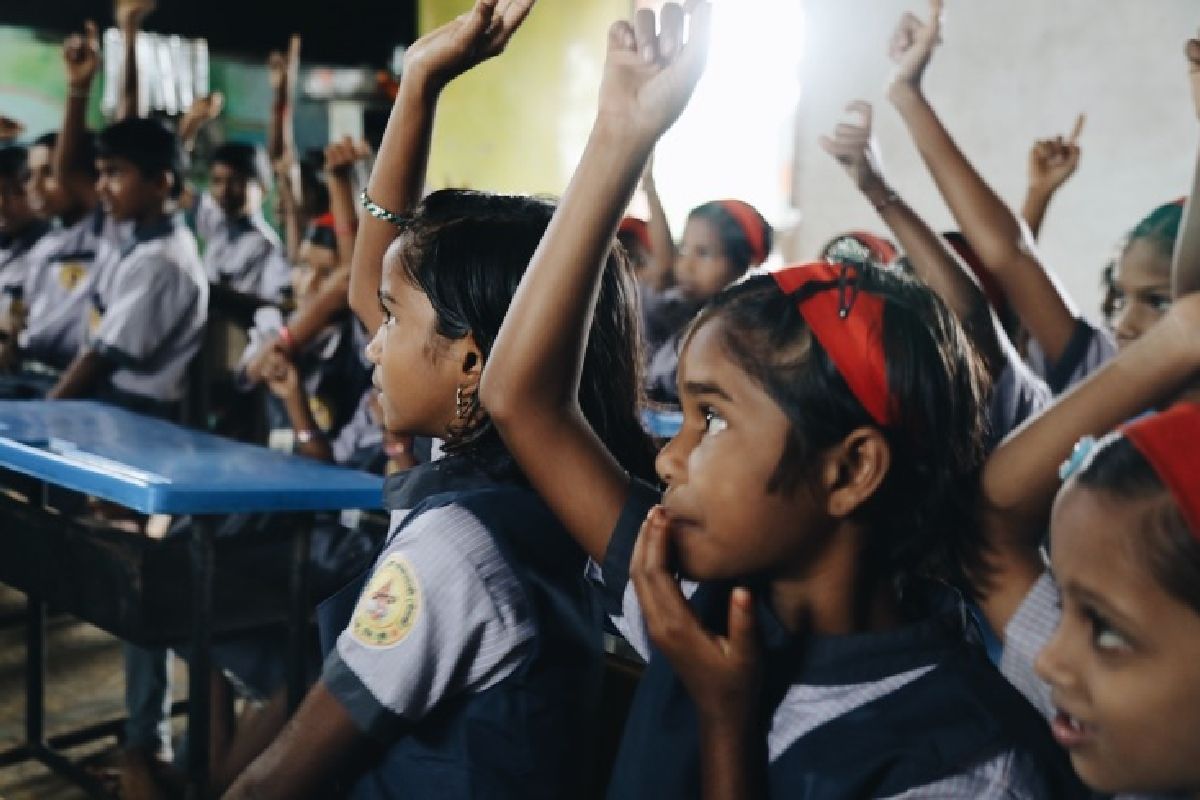 280 rural schools in India are now equipped with computer education by B1G1 Worthy Cause, the Bombay Mother's and Children's Welfare Society. In fact, more than 40 of those 280 schools' digital learning systems have been funded by B1G1 Members around the world.
The organisation also managed to establish a Sustainable Participatory model in each community, earning trust and buy-in from villagers. This means that families in those communities invest small yet regular amounts to bring these programs to their communities. And the school participation rate of children is now close to 100% in those schools. This was unheard of before the implementation of these unique curriculums.
'CLEAN WATER FOR ALL' NO LONGER OUT OF REACH
We knew years ago that it wasn't acceptable that close to one billion people did not have access to safe drinking water (see water statistics). But that's a huge problem to tackle for anyone. However, the progress over the last decade in B1G1 has been significant. More than 120 communities now have access to wells and other water sources. In these communities, people were getting sick previously because of contaminated water. Now they're healthy and productive, and their children can go to school.
EDUCATION THAT ALSO HELPS ELIMINATE HUMAN TRAFFICKING AND INEQUALITY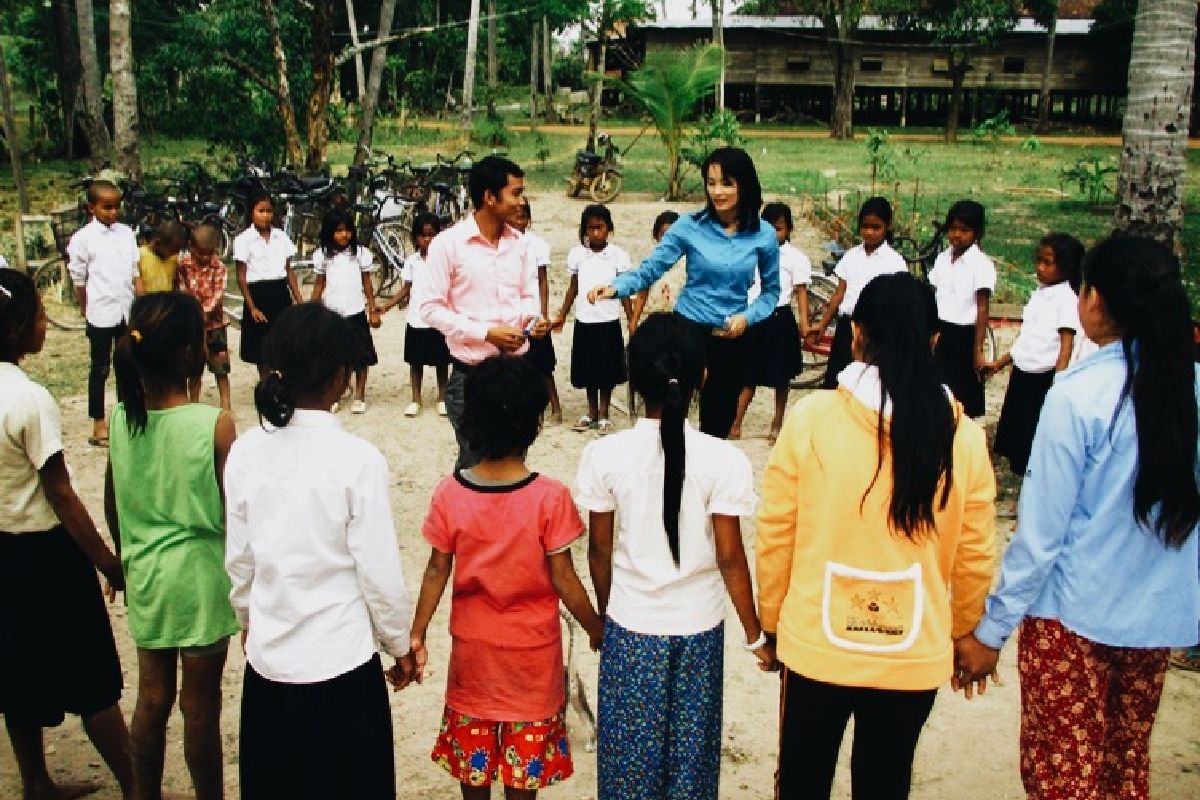 750 girls in rural Cambodia coming from the poorest of families who were previously at risk of being trafficked now receive quality education. And many in Nepal, India, Vietnam and Colombia who were rescued from traffickers and from violent situations have received special support and counselling to be safely integrated back into the society. The families in many of the impoverished communities now have a greater understanding of the importance of education for their children. The impact of these prevention programs cannot be underestimated.
ENVIRONMENTAL EFFORTS CAN COME WITH ECONOMIC DEVELOPMENT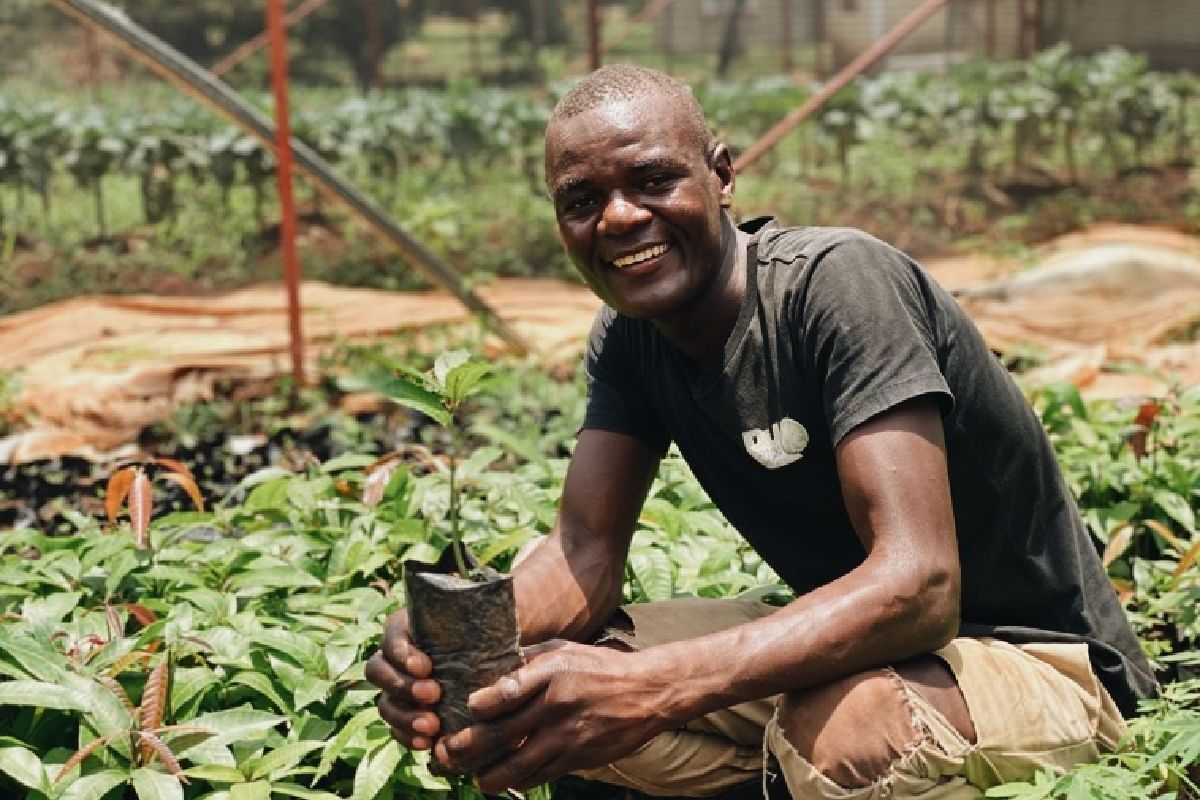 In recent years, over 16,000 fruit trees have been planted in rural Kenya and Malawi via B1G1, enabling more and more families to generate income from selling fruits and as a result, take care of HIV-orphaned children in their communities. The trees do more than what you might expect. Building orphanages wasn't a viable option economically, and it's not a solution that focuses on the true wellbeing of the children. So B1G1 Worthy Cause Partner, the Mango Tree Orphan Support Trust, is now supporting more than 7,000 orphaned children in their support program by empowering their relatives and neighbours to care for them as their own children. Your contributions to these projects are not only generating income for these families but also beneficial for the environment.
BUT……THIS COULD NOT HAVE BEEN DONE JUST WITH AD-HOC CHARITY DONATIONS
As you can see, these changes are driven by the people on the ground working with the communities. And as importantly, these positive improvements could not have been made by one person, one charity or one company. It's the collective efforts of B1G1 Members and Partners around the world and all the people who have volunteered to help along way. Starting with just a simple idea and imagination, B1G1 has grown as a movement. You can see more below about this progress.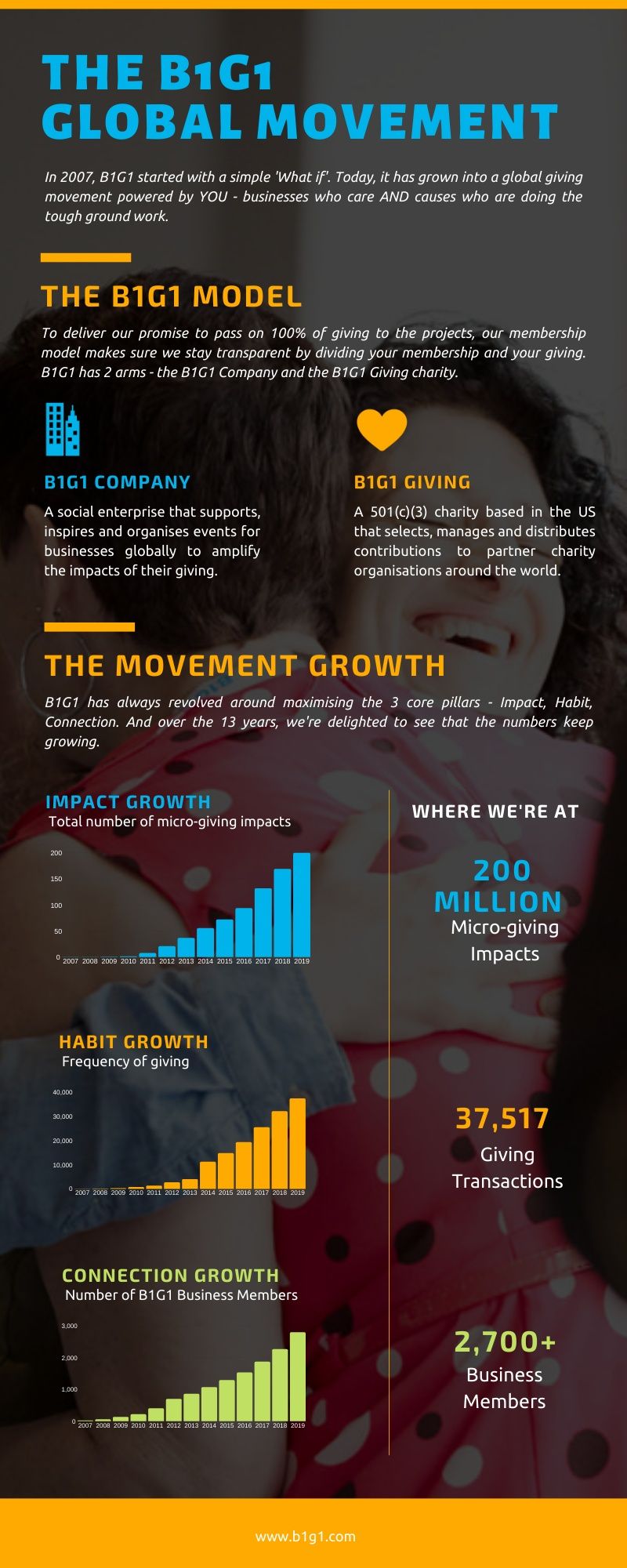 There is so much gratitude to share with everyone who participated in this great progress. So, thank you. We look forward to working with you to celebrate many more milestones…
---