TOP 13 WAYS YOUR BUSINESS CAN GIVE BACK TO COMMUNITY
Every business started for a reason. And while the pursuit of profit has been the key driving force for most, in the recent years,  a new wave of purpose-driven companies have emerged and charted an alternate path. More and more businesses are now realizing the importance of giving back – and how that differentiates them from traditional businesses.
Employee donation-matching programs are an excellent way for businesses to give back. But companies today are exploring new ways to contribute to their communities, simultaneously improve employee (and customer) engagement and create greate impact on the lives of those they support.
There are plenty of meaningful ways to give back rather than a once-off donation or cash handouts. Here are a couple of suggestions for you to try out – some of them may even surprise you!
1. Give away some of your awesome [extra] products
If your company sells a physical good, you are bound to have extra materials and old models laying around. Don't let them go to waste! Find a local shelter for the homeless to give away some products, or an organization that can redistribute the goods to those in need.
Take Orion Labs' as an example: the company now has their second generation of wearable communication devices on the market.
So what happened to the leftover first generation inventory? Operations guru Andrew Sherman saw an opportunity at a local homeless youth organization that could put the product to good use. He provided the devices, and arranged training for the non-profit's team so that these new electronics could improve communications within the program and help it run more seamlessly.
2. Offer pro-bono services to non-profit organizations
Just like business, each non-profit organization has accounting, finance, marketing departments that keeps it running. And it needs a team well-equipped with skills and knowledge to run them, but often lacks funds to support skill development. This is where your business expertise could be of great help. If you run a business that specializes in any of those areas, offering pro-bono consultation is a wonderful way to engage with non-profit, support their growth so that they can work their magic on the ground.
3. Schedule an extra job on the house
If you don't own a consumer service business, chances are there maybe people in the community who would appreciate your help (yet cannot afford it).
One tiny extra job for your team could go a long way for someone without the means to hire you otherwise. GreenPal, a company that connects customers with lawn care professionals, sends their team out to mow a lawn for free every month. The team is even involved in the giving process by nominating the homes they feel are most in need of the free service.
As an added bonus, you can turn this donated time into a team-building event!
4. Donate your space to a cause that could use it
Nonprofits and charities are often looking for space to use for meetings, events and fundraisers… so why not let them use your empty after-hours workspace to do so?
Chanson Water USA lets charitable organizations use their office space for events, giving back simply by not letting their space go to waste. On top of donating their unused space, they also donate their product, water ionizers, to cancer patients!
5. Add a giving to every product you sell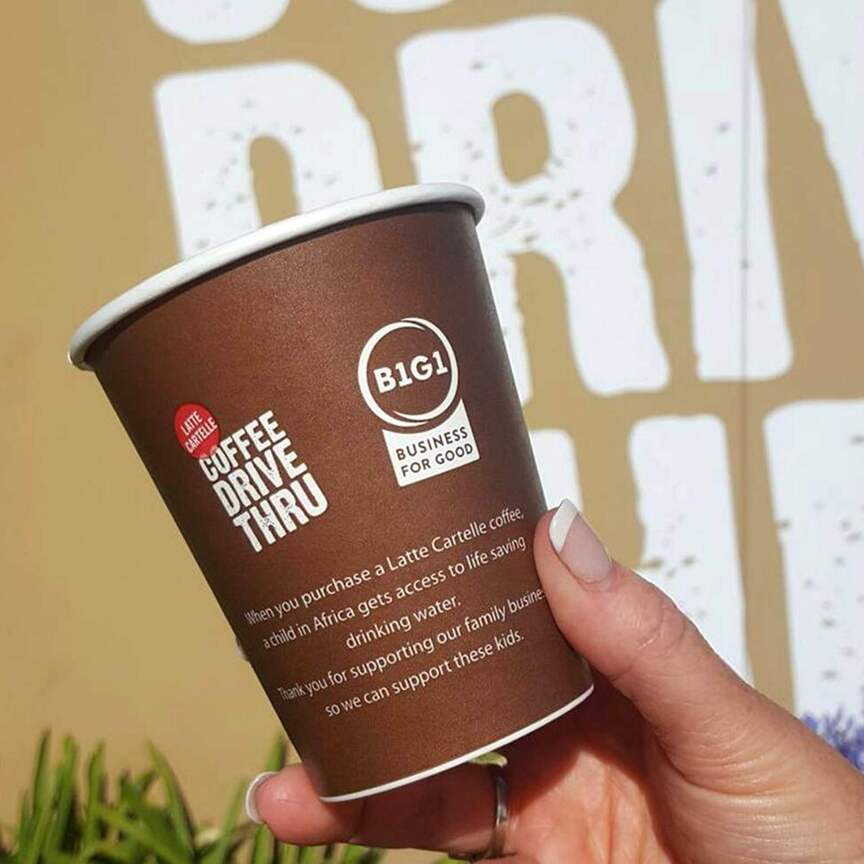 This may sound new to you, but in fact, many businesses have been doing that. Started with the well known one-for-one model by Tom's shoes, many find the idea easy to implement and communicate.
You need not give away a product that you produce. It could be something as simple as every time you see a cup of coffee, you give access to water to a person in Africa. Or every meal you sold, you give $1 to a non-profit organization that gives meal to the homeless in your community.
This idea makes giving back a part of what you do, provides sustainable funding to organizations you support and gives you another reason to work harder every day. Explore how you can do so with B1G1 here.
6. Better yet, incorporate giving back into other activities in your business
Imagine, every time you send an email, a tree gets planted to save our planet. Or every time you complete a project for your client, a child somewhere gets to go to school. Now, everything you do has an extra layer of meaning.
Reo Group –  a recruitment agency based in Australia has committed to giving 50 days of technology education to children in remote Australian communities every time they place a candidate. They also set a broader giving goal to provide 50,000 days of education to underprivileged children by 2021. This commitment to giving back becomes the driving force behind what they do everyday.
7. Turn your product into a cause-evangelizer
Adding information about a cause you care about to your product marketing toolkit is a great start, but embedding a giving function straight into your product is even greater.
Swift Passport encourages passport applicants to register as organ donors, just like how the DMV asks those who are filling out driver's license applications to do the same. They are taking something familiar, in this case identifying as an organ donor, and using the product to move people to action.
8. Hire locally, in an underserved community
Providing a job opportunity is one of the most valuable resources a business can offer for getting people off the streets and back on their feet. Eighteen Chefs in Singapore offers former convicts and troubled youth much-needed second chances by bringing them on to their team.
While it might take a little extra vetting, this is a truly commendable way to help your community grow.
9. Let your employees volunteer while on the clock
Allow your employees to take some time away from the daily grind to give back, either individually or as a team. Black N Bianco organizes volunteer opportunities as team-building events, often serving meals together at a local shelter.
Alternatively, give your employees the option to volunteer for a cause of their choosing. Employees at small business, Amplify Relations, have collectively volunteered 160 hours, which has simultaneously increased and diversified the business' giving portfolio.
10. Set aside some budgets for employees to give to causes they care about
This is a great way to encourage your employee participation. If you're wary of the credibility of causes chosen by your employees, work with a credible third party charity-listing that already help you do the vetting, then provide a lists of variety of causes for your employees to choose from.
11. Organize a volunteering event for your company
Volunteer can turn out to be a great team bonding activity too. If there are local non-profit that organize such event, don't hesitate to sign up.
But if you don't know where to start, organization like Benevity does help you look for such event too.
12. Adopt sustainable practices in your business
When we talk about giving back to community, it doesn't just limit to your local community. The world is one community and we are all facing one commo problemn – climate change. There's no better time to start adopting sustainable practices than now.
From small changes such as using your own cups and containers for take out, encouraging your customers to bring their own bags to extensive programs like carbon offset, there are plenty od ways for you to start making you business more environmentally sustainable.
13. Select suppliers that care
All the good you are doing can be wiped away in an instant by suppliers that don't share your socially conscious vision. Ensure that your raw materials are produced ethically, and become a more sustainable business in the process.
Starbucks makes it a priority to source their raw materials from local suppliers that have proven that they care about their communities. And that contagious, caring disposition trickles all the way down from the coffee beans into their customers' cups.
13. Celebrate special milestones with giving
Be it team member birthday celebration, anniversary or your business special milestone, each ocasions can be extra special with giving.
Jane Burns of Lighthouse Health Group has her employees designate their cause of choice during each of their birthday months. Lighthouse then uses the B1G1 business-giving platform to contribute directly towards their employees' selected project(s). This kind of 'giving gift card' could be replicated for employee (and customer) engagements, weddings and birth announcements!
Giving back brings greater purpose and meaning to your business, and creates better connections with your team, your customers, and most importantly, with yourself. Interested in making giving back a part of what you do every day?
---