How to Start Building a CSR Strategy
It's important to not view Corporate Social Responsibility (CSR) as a PR effort but instead, treat it as a part of your business. And when you're in it for the long-run, CSR has the power to improve not just your business, but also influence your customers, clients, suppliers, community and the lives of those you support.
Here are some key steps to help you get started.
Step 1: Determine the purpose of your CSR strategy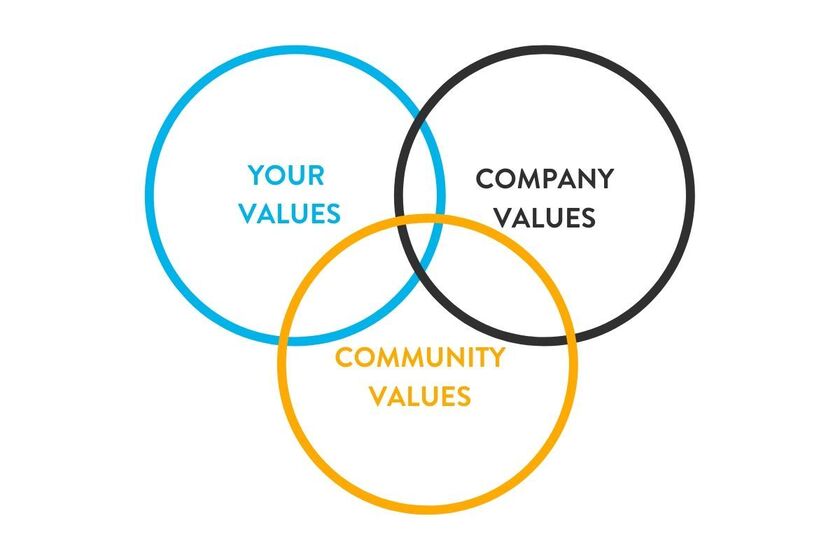 First, look at your company's values and your personal values.
What is it that you care about? Whether it is advocating for equality, providing education, eliminating hunger or tackling climate change, noting down the things you and your team are passionate about is a good start.
Then, look into what your community values or what the priority needs are. Knowing and aligning these values will give you a better idea of the kind of activities or causes will be most meaningful to all parties involved.
Reo Group, a recruitment consultancy in Australia, dedicates their work to 'elevate human potential'. CEO Stella Concha shared with us that Reo Group always includes at least one 'wild card' candidate in its submission to a client to help level the playing field. This wild card might not precisely or completely fit the profile requested for the position, and is meant to challenge clients to be more inclusive in their hiring.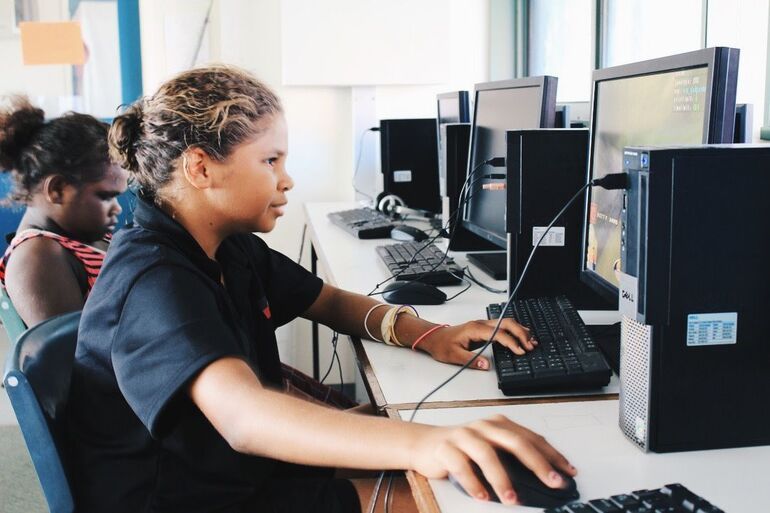 And their giving activity also reflects this belief. For every candidate successfully placed, they give access to e-learning to children in Australia's most remote regions. By doing so, they are also 'levelling' the playing field for these children.
Step 2: Involve your team and customers in the creation process
CSR is a lot about personal beliefs and values. Your CSR program will be most successful if you get your team and customers on board. Do your best to involve them early in the creation process.
Making them feel heard is important. The better they feel about your initiatives, the more involved they will be, and the more invested they become once your program is launched.
To get your team involved, consider running an internal poll, having an all-hands team meeting to discuss first ideas and action plans, or creating a new team that runs the program bottom up.
To involve your customers, you can run a social media campaign to let your customers decide by voting which causes your business will support. Or, you can ask them directly in one of your newsletters. Giving your clients a voice in these decisions is also a great way to bond with them (and get them excited about your initiative).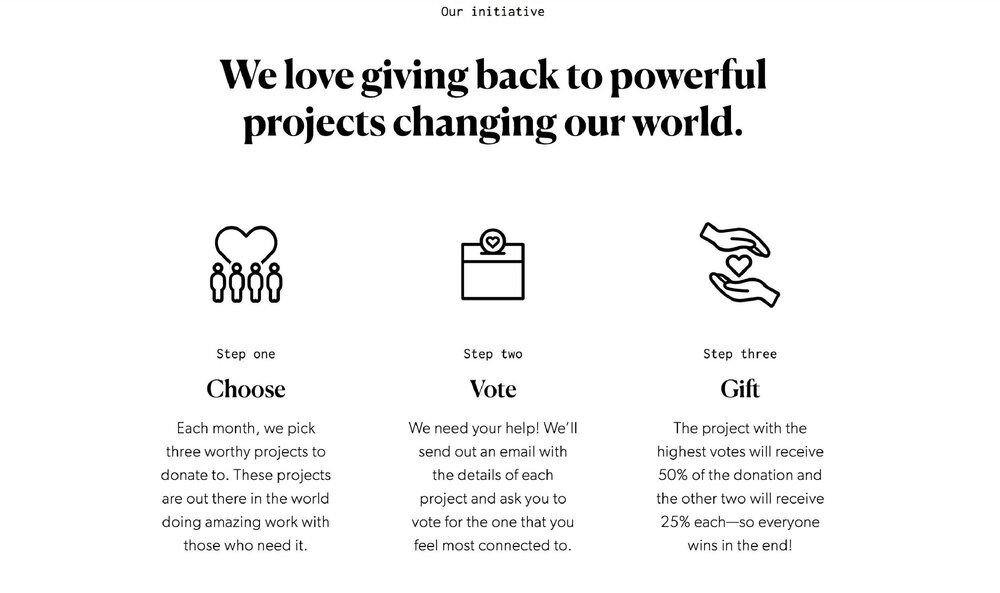 CSQD, a marketing agency in Australia, involves both their team and clients in their initiative. Every month, their team gets to select 3 causes to give to, and their clients are then given a choice to support one of these 3 causes. At the end the month, CSQD gives towards all three causes, with the most popular cause receiving 50% of the total giving.
Step 3: Draft out your plan
Think about the execution of your program in detail. Here are a couple of questions to get you started: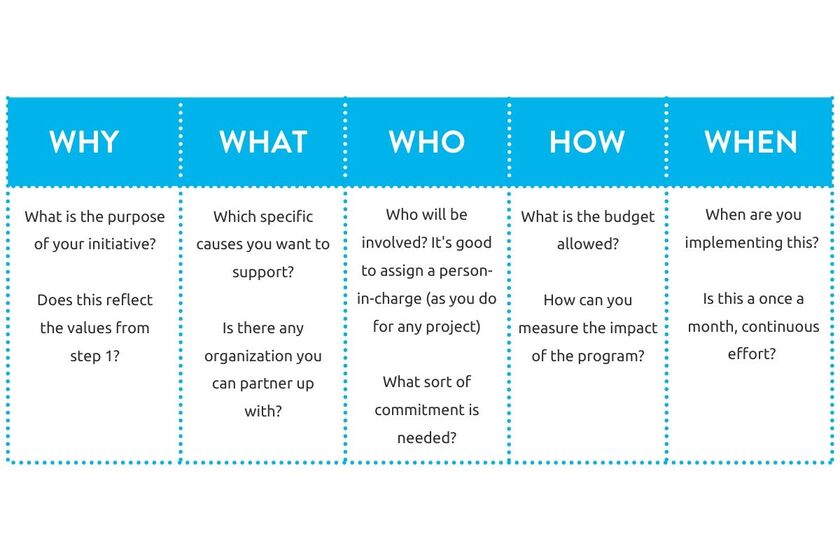 Step 4: Start small and work from there
We all know this situation: we start a new project, we define big goals, but then life gets in the way. Or we realize that we lack the resources to follow through. Eventually, we drop the project entirely.
To avoid this moment of disappointment, it is important to be honest about what you can and are willing to do when you are planning out your program. Giving or volunteering should ideally enrich your life and business, not burden you or your employees.
Start small and let your initiative grow naturally. If you want to end world hunger, start from giving a meal (through a non-profit organization) to a child in need for every product sold. If you want to tackle climate change, start from encouraging sustainable practices in your business.
Every action counts, no matter the size or amount, as long as your engagement is consistent and sincere.
Step 5: Keep track of your impact
One of the most important things about CSR is measuring the impacts – not just on your company but on the wider community and on the people and causes you support.
Choosing a good partner for your giving activities can help you make sure that you are achieving the desired impact with your actions. There are several organizations that help you track exactly the impact you are creating (e.g. the amount of CO2 you're offsetting, the number of trees planted, the number of meals distributed and so on). But if the organization you want to support doesn't do so, consider asking if they give regular updates on the initiative you support. No matter which form of 'tracking' it is, transparency is key.
Through its partnership with B1G1, consulting firm BlueTribe Co. has been tracking their impacts by geography and by the impacts created towards each Sustainable Development Goal. Check out their Impact Page here.
Step 6: Communicating the impacts
We encourage every business to communicate their motivation to give. Doing so inspires others to begin giving as well.
However, this does not necessarily mean that all businesses should trumpet how they carry out their CSR initiative. Some businesses prefer to keep details about their business' giving activities private – which is perfectly fine. Other businesses choose to share their joy and gratitude of being a socially responsible business with their teams and clients, appreciating the roles that they play in enabling the business to grow and create greater impacts together.
It's not necessary for you to communicate the impacts to your customers all the time – you can include that in your Annual Report, or keep it internal and use it as an internal goal. Every business is different, so stick with what works best or your business.
Coming up with a CSR program can sound like a tedious process. In fact, it all boils down to supporting something you truly care about. It's as simple as that.
Start small and start today. You'll be amazed by how small actions can result in huge impacts.
---