IDENTIFYING YOUR COMPANY VALUES AND COACHING YOUR TEAM THROUGH THEM
The following is an excerpt from Buy1GIVE1 Founder Masami Sato's latest book, Giving Business. It's available for sale on Amazon.
In any game you play, there will be a set of rules and useful guidelines. These rules and guidelines do not exist to constrain or micromanage the players of the game. They exist to enhance the effectiveness and enjoyment of the game.
As a sports player, having a good coach who gives you useful guidance and encouragement helps you become a better player. You need great team work to be successful, and good competitors to continue improving yourself. You can't just become a better player by practicing alone day after day with no guidance, support or encouragement.
In business too, having experienced coaches and clear guidelines helps the growth of the team's players. As the team gets bigger, having clear structure helps new team members understand the game, helping them contribute positively to the team dynamics. If a company without structure loses track of what happens in the first few weeks and months of the newest employees joining them, they are likely to get painful surprises later on.
THE TALENT YOU INVESTED A LOT OF TIME AND MONEY TO FIND MIGHT LEAVE BECAUSE THEY DON'T FEEL INSPIRED.
So, before you get into that kind of challenge, you can map out your values clearly and involve everyone on the team to identify with the values, so that the words you choose are the ones that resonate with your team.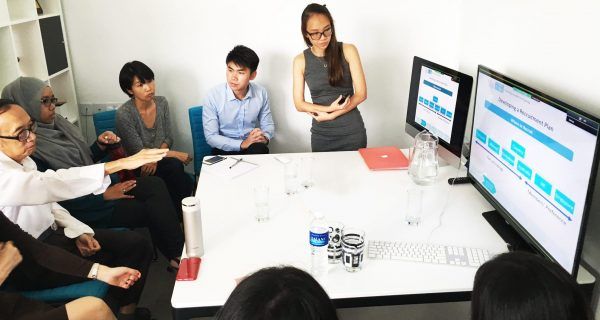 At B1G1, we created a set of values with the acronym 'DO CARE' – we believe that doing and caring together create great outcomes and positive impacts. Great ideas without actions, or many actions without clear intention do not create a real outcome we desire. This acronym emerged accidentally when we were asking our team members to list out all the values they thought we had to embrace individually and together as a team.
After jotting down all the words (we had at least 60), we combined the similar items, crossed out those that were nice to have but not critical for everyone to have. As we continued crossing out more words, we realized that there were certain items remaining on the list that every one of us felt we must have to achieve our objectives together.
HAVING CLARITY AROUND THE KEY VALUES OF YOUR COMPANY HELPS ALL YOUR TEAM MEMBERS ACT WITH MORE CONFIDENCE.
✽ ✽ ✽
Download the free E-book "Secrets from the Family Business" and learn how to build strong company values that resonate strongly with your team.

HAVE A STORY IDEA?hello@b1g1.com