The Buy One Give One Model
Buy one give one done right and how every company can apply it.
Almost everyone has heard of the buy one give one model or encountered it in some capacity. From planting a tree with every purchase of an upcycled wooden timepiece to removing a pound of trash from the ocean for every bracelet sold, more businesses today are trying to involve their customers in creating a positive social impact.
In reality, this model has seen its share of skepticism. Customers often wonder about actual impacts and if businesses are sincere in wanting to make a difference.
Fortunately, the buy one give one model has seen many improvements. It is now a sustainable model for both businesses and the causes they support and even presents great opportunities for businesses to creatively collaborate with non-profit organizations.
This guide will explain:
What it looks like in today's context
How it differs from other giving models
And why it's a great way to give through business.
What the model is… generally
Generally, the buy one give one concept is straightforward. Every purchase from a company results in a donation to a chosen recipient community. (Typically individuals residing in a less wealthy country).
Early conceptions of this model generally involved the donation of a similar product. For example, TOMS Shoes' original 'One for One' campaign donated a pair to a needy child for every pair of shoes sold.
The model has since transformed after concerns around dependency and impacts on local businesses. Donations are made more mindfully with consideration of recipient communities' needs. Causes have also expanded to include environmental issues and animal welfare.
Buy one give one is also no longer limited to product-centric businesses or dependent on business performance. Some businesses have even integrated the buy one give one model into their everyday business activities.
For example, for every email sent to an external customer, a business can give a day of clean drinking water to a child in the Philippines. Or for every successful campaign, a business can provide micro-loan for a family in Kenya.
This approach opens up endless possibilities for all businesses to make great impacts.
How it differs from other models of giving through business
From annual donations to matching gifts, businesses have plenty of options when it comes to giving. However, ad-hoc efforts can leave team members feeling disconnected from the cause while the actual impacts of annual events may be questionable as well.
Other approaches are dependent on employees' personal commitment to altruistic action. Volunteer leave and matching gifts are all passive actions that only take place when employees choose to do good. While this communicates the company's support for altruistic efforts, it also reveals a passive stance.
The buy one give one model is different from the approaches mentioned above in two ways:
It motivates sustained action for long-term impacts
Regardless of how this model is applied in a business, it results in a consistent stream of contributions towards the chosen causes. This is far more impactful as charities and recipient communities will have a reliable pool of resources to work with, allowing for certainty in making plans for progress in the various issues they are tackling on the ground.
It facilitates a culture of deeper purpose
When the buy one give one model is part of your business, each employee's work supports your chosen causes and becomes far more meaningful. Instead of solely serving your customers, the company now plays an active role in being a force for good in the world.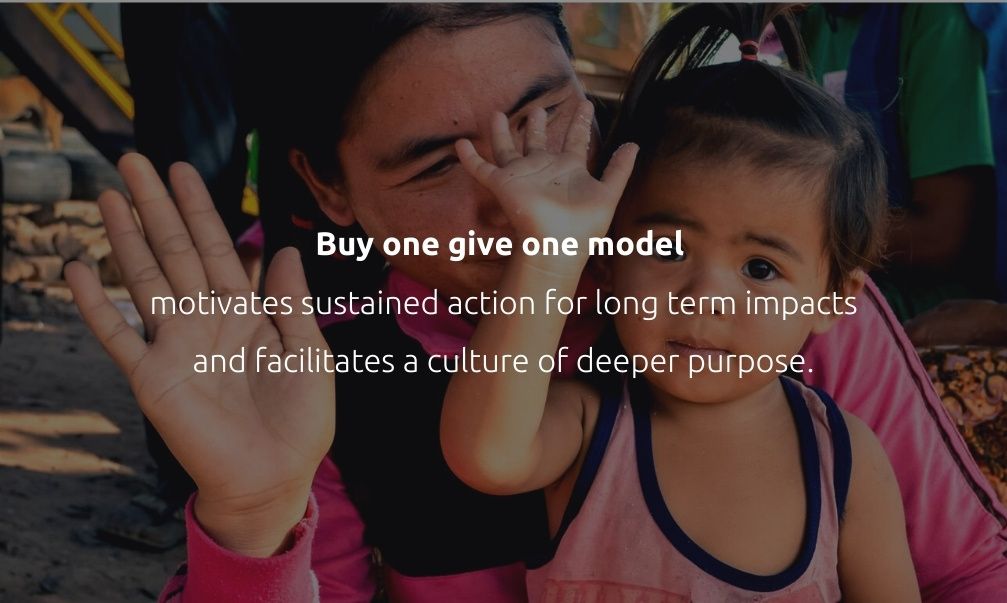 Why the Buy One Give One model just makes sense
If your company has yet to decide on how it would like to give back, the buy one give one model is a great way to instill a deeper sense of meaning into your business. It also presents small businesses with the option of giving back sustainably.
Furthermore, regular giving in small amounts is far more beneficial as compared to lump sum donations. This model also keeps your giving in tandem with the growth of your business, ensuring its viability in the long run.
In today's landscape, consumers and employees are looking to support businesses that do their best to operate ethically and with transparency. It is no longer enough to deliver quality and affordability. Businesses need to show where they stand on key issues and how they are using their influence and resources to contribute to worthy causes.
Here are some buy-one-give-one businesses and how they have adapted the model to suit their company philosophy:
Eat My Lunch NZ

Eat My Lunch has made doing good so easy through something as simple and essential as lunch. A catering company that also provides breakfast and lunch options, every lunch purchase provides a meal for a Kiwi child who would otherwise go without.
There are also giving options for people who just want to buy lunches for these children. Customers may choose between a once-off purchase or a subscription that provides these lunches on a weekly, fortnightly, or monthly basis.
Take a look at how they do it here.
That's not all! Their volunteer segment invites the community to play a part in fulfilling their mission of ensuring that no child at school goes hungry. A team of volunteers helps to make the lunches every school morning and it has received so much support that there is even a waiting list for volunteering.
Eco Power Market

Despite the positive environmental impacts that Eco Power Market is already making through their solar energy business, they decided to take it one step further.
By integrating B1G1's giving model with everyday business activities, Eco Power Market extends the benefits of solar power to needy communities all over the world. Whether customers request for an energy audit or speak with a consultant, Eco Power Market carries out a specific giving for each of these activities.
This means that just by going about their everyday activities, they are making great impacts in the world, every single day.
Wildflower and Oak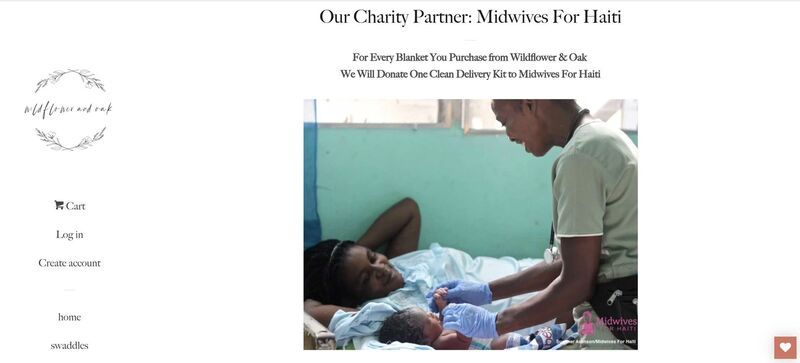 The founder of baby clothing company Wildflower and Oak chose to support a cause close to her heart and aligned with her core business. In partnership with Midwives for Haiti, they provide a clean delivery kit to a mother in Haiti for every baby blanket sold.
In addition, Wildflower and Oak takes pride in their hand-dyed products and commitment to ethical practices. They ensure that every partner engages in Fair Trade practices for equitable and shared value for team members and customers alike.
How can I incorporate buy-one-give-one into my business?
1. Decide on the causes you want to support
Before you begin, it is important to discuss the causes which your business wants to contribute to with your stakeholders. Plan for a series of meetings with your team so everyone can pitch in for the decision.
Here are some points you can discuss:
List some key issues or causes that your team and community care about.
Narrow it down to just 1-3 causes to maximize your impact
Decide if your focus is local or overseas
Tip: If you find yourself with a diverse list of causes, narrow it down by looking at issues that align with your business (eg. If you are in a food business, you could focus on issues of world hunger, malnutrition, or reducing food waste).
Ultimately, choosing causes that you and your team resonate the most with is the key priority here.
2. Independently seek out a credible organization to partner with
Finding a reliable organization whose needs you can serve and is a good fit for your business will take some time. However, the effort is worth it for the impacts you will make together in the long term.
To narrow your choices down, you can set a list of criteria and characteristics of the organization you are looking to collaborate with.
Some criteria you could consider are:
Transparency and accountability:
Dig deeper into the organization's history, reputation, use of funds, and how they choose to be accountable for them
Regular updates to donors and partners:
Look into how the organization ensures that it continues to make good impacts
Viability of minimum giving amount for your business:
Since the giving amount will form part of your buy-one-give-one model, this amount needs to make financial sense for your business while making an impact
On-the-ground impact tracking:
This allows you to attach the impact you're making with every product sold, making each transaction a meaningful one (eg. With every item sold, you provide a child in Cambodia with a textbook)
It is also important to know the degree of involvement your business is planning to have – whether you want to be a donor or if you are keen on doing more.
If your team wishes to do more, here are some additional criteria to consider:
Are there regular volunteering opportunities?
Is the organization open to collaborate and grow together beyond a donor-beneficiary relationship?
What are some ways you can collaborate?
Does your business have professional skills that could support the organization's growth?
3. Reach out for more information
Once you have shortlisted 1 - 3 organizations, reach out to these organizations, express the kind of collaboration you are seeking and engage in further discussion to see if this partnership will be a good fit for both parties.
4. Or simply get straight to giving by working with a third-party organization
If you are a small business that wants to make an impact through a simplified process, you can partner with an organization like B1G1. It has a curated ecosystem of vetted charity partners and projects tagged to the Sustainable Development Goals.
All charities in B1G1's ecosystem have met a comprehensive list of criteria, gone through a vetting process, and are subjected to annual reviews.
Each project is broken down into the smallest unit of impact it makes, encouraging regular giving for long-lasting impacts. The smallest amount of giving to begin making an impact through your business begins from just 1 cent!
The sky's the limit
After the partnership has been established, you are free to explore giving in as many ways as you'd like! Some businesses have gone beyond their initial efforts by extending their expertise pro bono, while others have invited their customers to have a say in which causes to give to.
The buy one give one effort today is vibrant and inviting, enabling companies to make great impacts in the world with their teams and community. Companies of all sizes and types can give! And the sky's the limit when it comes to the number of possible ways to creatively integrate giving with your business.
---