10 PURPOSEFUL COMPANIES AND HOW THEY GIVE BACK
While every business has its very own origin story, the pursuit of profit has persisted as the key motivation for most – up until recently where a new wave of purpose-driven companies have emerged and charted an alternate path. These companies have brought a refreshing change to the business sector, with their socially conscious purposes clearly differentiating them from traditional businesses.
With countless ways to add purpose to your business, here are 10 outstanding companies that may inspire you towards doing the same.
1. PATAGONIA – ALL ABOUT SUSTAINABILITY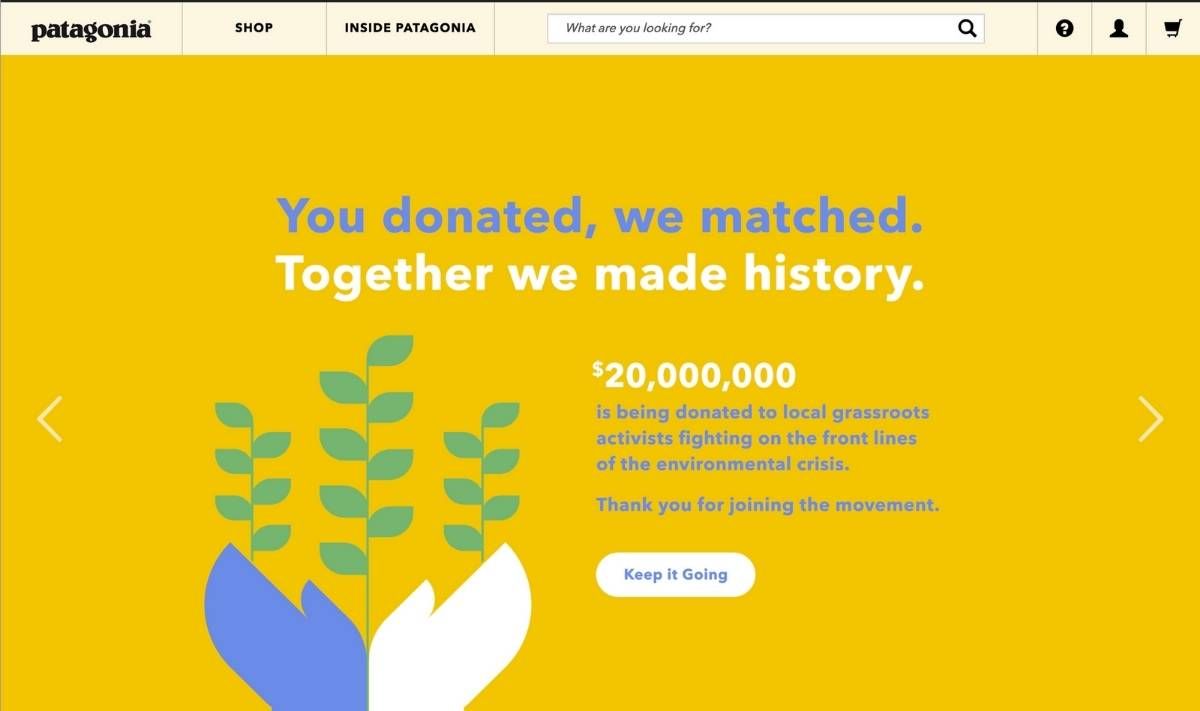 This outdoor adventure brand based in California trumpets a triple mission that revolves around reducing environmental impacts and they sure walk the talk. Since 1985, Patagonia has pledged 1% of annual sales to environmental non-profits. They also gave 100% of all Black Friday sales in 2016 to environmental grassroots non-profits – a whopping $10 million!
On top of its many certifications, Patagonia aims to become carbon neutral by 2025 (and in the future, carbon positive). They are also progressing towards 100% recyclable and renewable materials. From carrying out regular due diligence activities to ensure fair labor practices to creating a program to evaluate their supply chain and work with suppliers on reducing their environmental and social impact, Patagonia shows commitment to evaluating and constantly improving their business to achieve these goals.
2. WARBY PARKER – 'BUY A PAIR, GIVE A PAIR'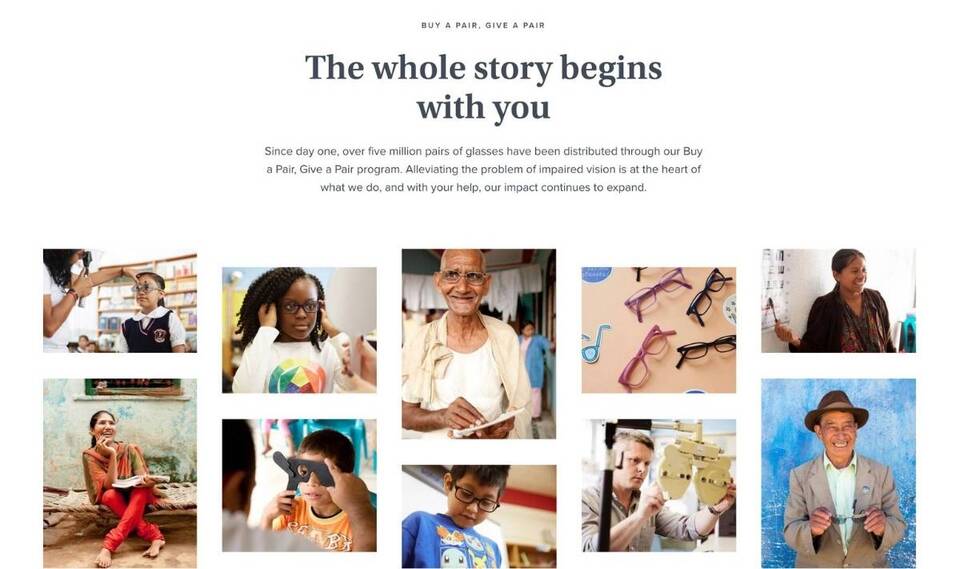 Warby Parker was started with two key objectives: to offer stylish yet affordable eyewear and to be a business that solves problems rather than creating them. Through their international partner VisionSpring, their 'Buy a Pair, Give a Pair' program provides training for basic eye exams and 'ultra-affordable' glasses to low-income men and women. This makes eyecare substantially more accessible in communities with little to no other options, allowing them to make a living and provide for their families.
Their Pupils Project works with many U.S government agencies, providing free eye exams and glasses to school children – with vision disability being the most prevalent disabling condition among children in the U.S, Warby Parker certainly seems to be part of the solution.
3. BIOLITE – INNOVATIVE SOLUTIONS FOR ALL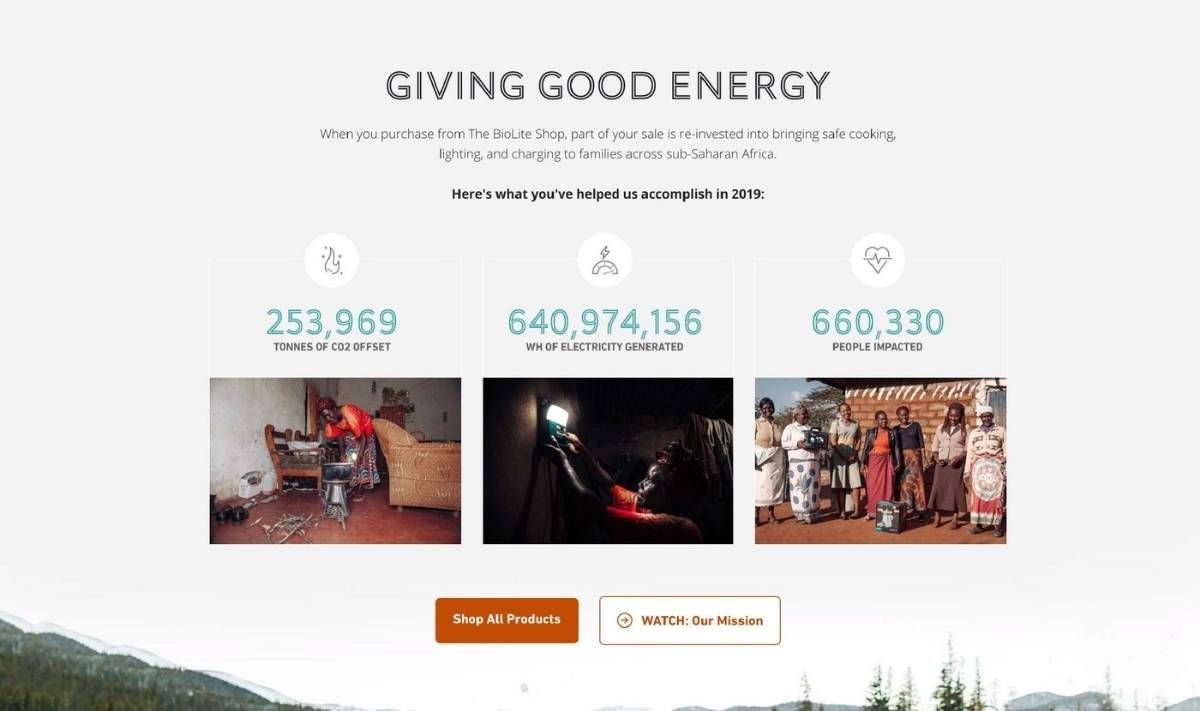 Biolite takes a unique approach towards making a difference by developing technologies that support the use of clean, affordable household energy for two distinct customer segments – outdoor recreation users and rural families with limited access to electricity.
Citing the health hazards and environmental damage caused by open fires and the limited, costly access to electricity, Biolite presents innovative, sustainable solutions that meet the needs of both customer groups. To enhance the affordability of their products, they partnered with Angaza to embed a Pay-As-You-Go system into the hardware of their solar home systems, allowing customers without credit profiles to pay in small amounts over time using a mobile phone. By integrating technology and innovation, Biolite has produced accessible solutions for a wide-ranging audience. Your business could do the same by innovating with sustainability and a broad audience in mind!
4. INSPIRE CA – MAKING GIVING BACK THE ULTIMATE GOAL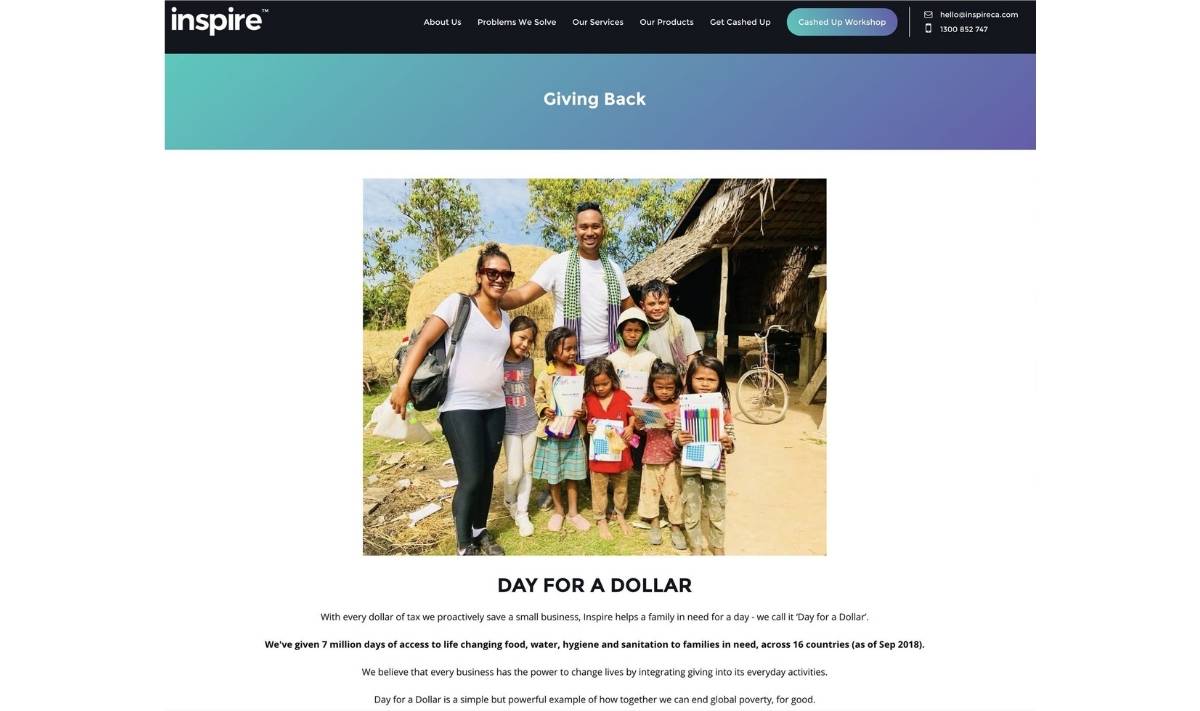 This innovative accounting firm integrates giving into their everyday business activities through their simple 'Day for a Dollar' campaign. With every dollar of tax they help a small business to save, Inspire supports a family in need for a day by giving them access to food, water, hygiene and sanitation through B1G1.
In addition, they set an ambitious goal of giving one million days of support to families in need, incorporating seven different ways through which their everyday business activities would contribute to this goal. This is a great example of how any kind of business can integrate giving into their everyday activities. Have a look at their simple but powerful impacts page here.
5. CSQD – AN INCLUSIVE GIVING EXPERIENCE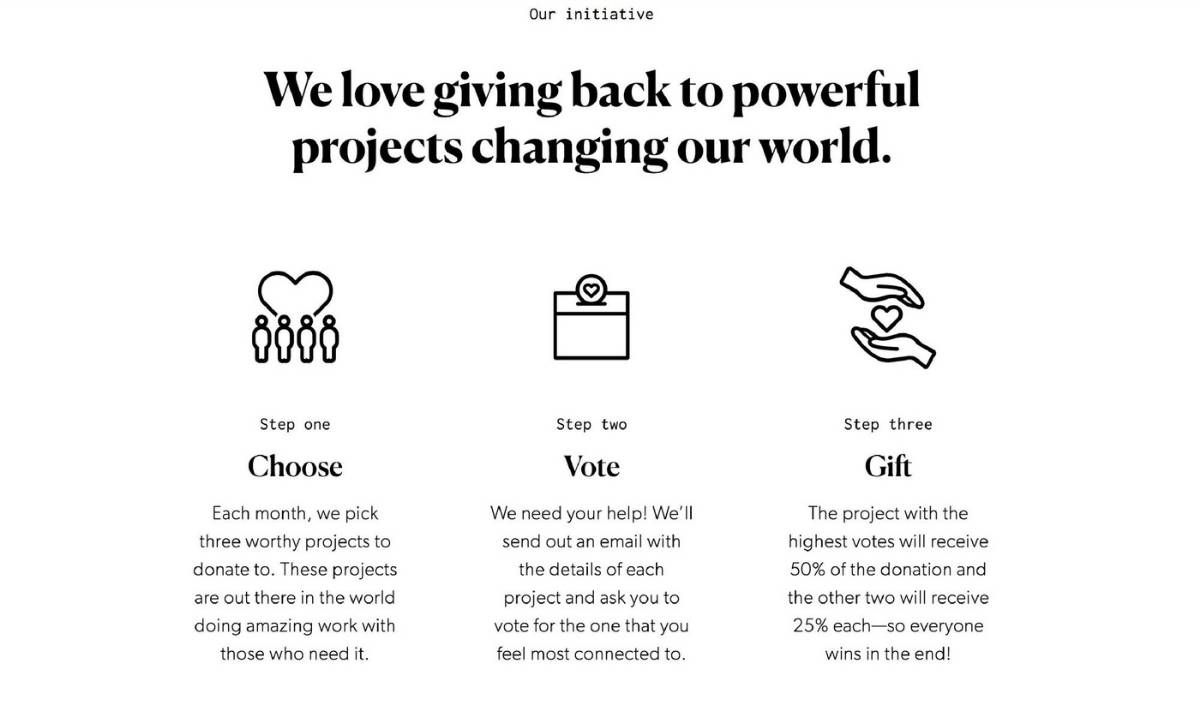 This marketing agency involves both their team and clients in giving towards the causes that they want to support. Every month, their team gets to select three causes to give to, and their clients are then given a choice to support one of these three causes. At the end of every month, CSQD gives towards all three causes, with the most popular cause receiving 50% of the total giving.
This is a great way to give your clients a sense of connection and involvement in the giving that your business is doing. In addition, it provides just enough choices so as not to overwhelm them, while creating a delightful moment of gratitude where clients can make great things happen at no additional cost. Be inspired by the way this company gives here.
6. TENCENT – MAKING GIVING EASY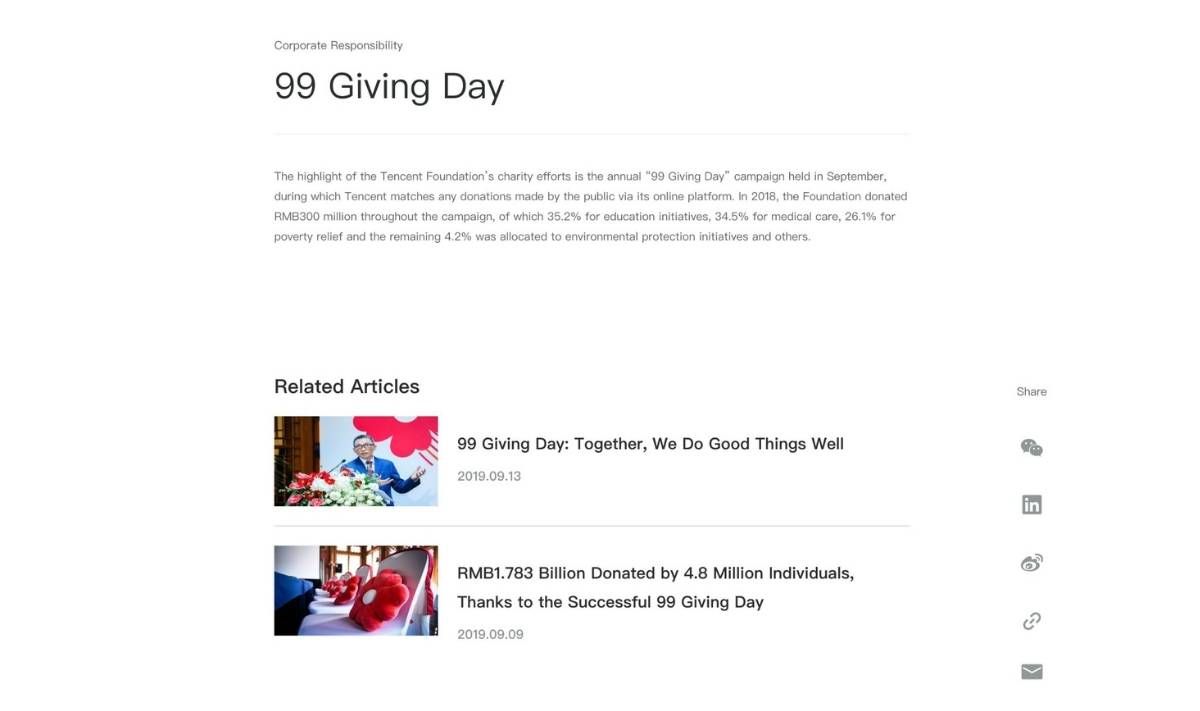 The Chinese internet giant has made giving effortless. For users of their hugely popular Wechat app, giving is even easier than sending a text message. Users only need to click on a cause they want to support, select their desired giving amount and the amount will be deducted from their Wechat wallet. Their annual philanthropic campaign '99 Charity Day' ran from 7 to 9 September 2019, inviting users to give towards public welfare projects and matching the raised amount at the end of the campaign.
The campaign raised 2.08 billion yuan ($295 million USD) from users and businesses alone. Not in it just for the numbers, Tencent encourages 'rational charity' – ensuring that every giving is made through careful, rational consideration. To do so, Tencent added an additional 'cooler' notification to donors that prompts them to doublecheck all the information before they make a payment. With this, Tencent aims to make charity evolve into more normalized, sustainable action. That's a notion we can get behind.
7. COPOTAXI – INVITING THEIR COMMUNITY TO DO GOOD
Copotaxi is an inspiration in how they demonstrate dedication to their simple but powerful creed 'Do Good'. From sustainable product design, care and support for workers in their supply chain and donation of their profits towards poverty alleviation and community development, their dedication to this motto is clear. 1% of annual revenue is awarded in grants to carefully selected non-profit partners who have done excellent work in eradicating poverty, supporting causes such as long-term assistance to refugees and providing crucial malaria intervention services.
Cotopaxi also partners with like-minded suppliers who agree to a rigorous code of conduct – some even partner with local non-profits while others run Fair Trade programs that finance free breakfast and education grants for factory workers. In doing so, they have inadvertently created an entire network that does good together.
8. SALESFORCE – GIVING BACK THROUGH TECHNOLOGY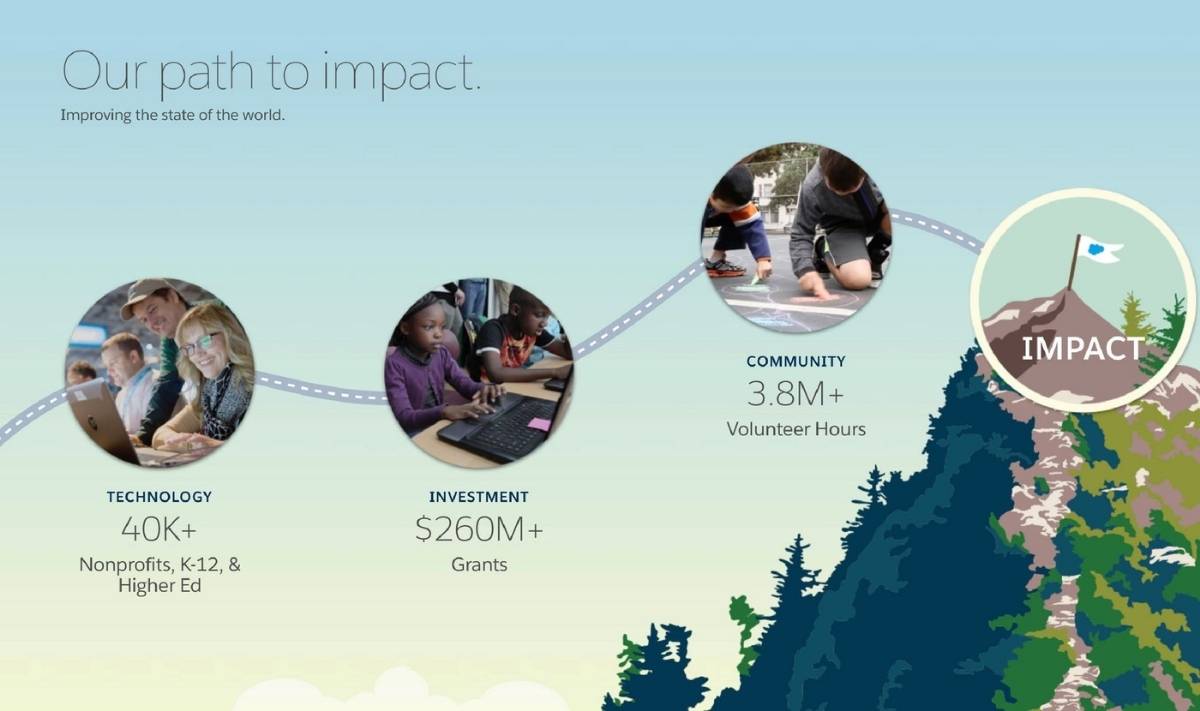 Salesforce has been purposeful in building a culture of giving back right from the beginning. They pioneered the Pledge 1% model of integrated philanthropy, pledging one percent of equity, product and time to charity and invites entrepreneurs and companies to do the same from an early stage of their business. Through their self-sustaining Salesforce foundation, their Future Ready initiative runs programs to equip children, teens and young adults with school and work-ready skills. They also empower non-profit organizations with customized customer relationship management (CRM) tools that are available at a fraction of the market price. Their Impact Labs creates a unique platform for collaboration between non-profits and educators, utilizing the Salesforce ecosystem to brainstorm new solutions and address complex social issues together.
9. TOMS – EVERY PRODUCT WITH A GIVING IMPACT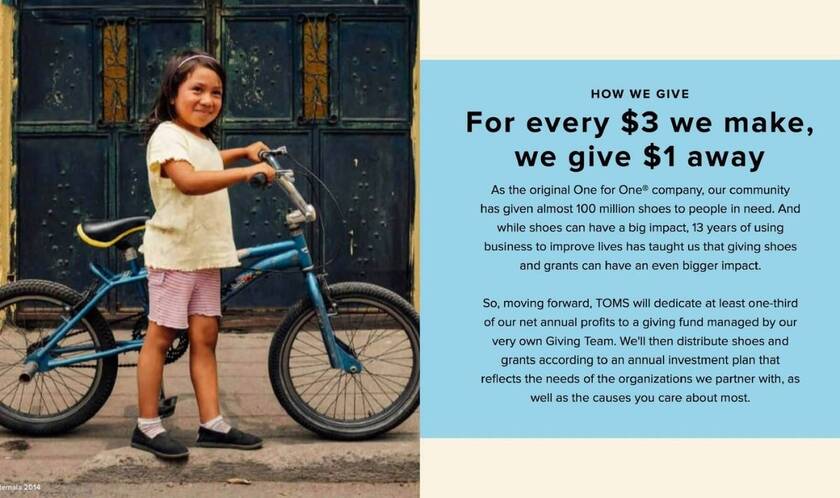 Often credited as the pioneer of the buy-one, give-one movement, TOMS' giving model has since evolved from the simplistic shoes giving model.
To first tackle the criticism associated with the shoe giving model, TOMS partnered with local shoe manufacturers to manufacture a third of their products in the communities that they give to. In addition, recognizing that there is more to be done in those communities, TOMS recently committed one-third of their annual net profits to shoe donations and awarding grants to organizations that focus on physical safety, mental health and equal access to opportunities.
Throughout their journey of expansion into different product markets, TOMS has remained dedicated to their giving purpose – a true pioneer indeed. Each range of retail products they offer supports a corresponding cause – purchases of shoes support shoe donations, purchases of eyewear support eye care and medical treatment, purchases of coffee support safe water and purchases of bags support safe birth services. TOMS has given nearly 100 million pairs of shoes, 780,000 sight restorations and 722,000 weeks of safe water to communities around the world.
10. REO GROUP – ELEVATE A NATION, ONE PLACEMENT AT A TIME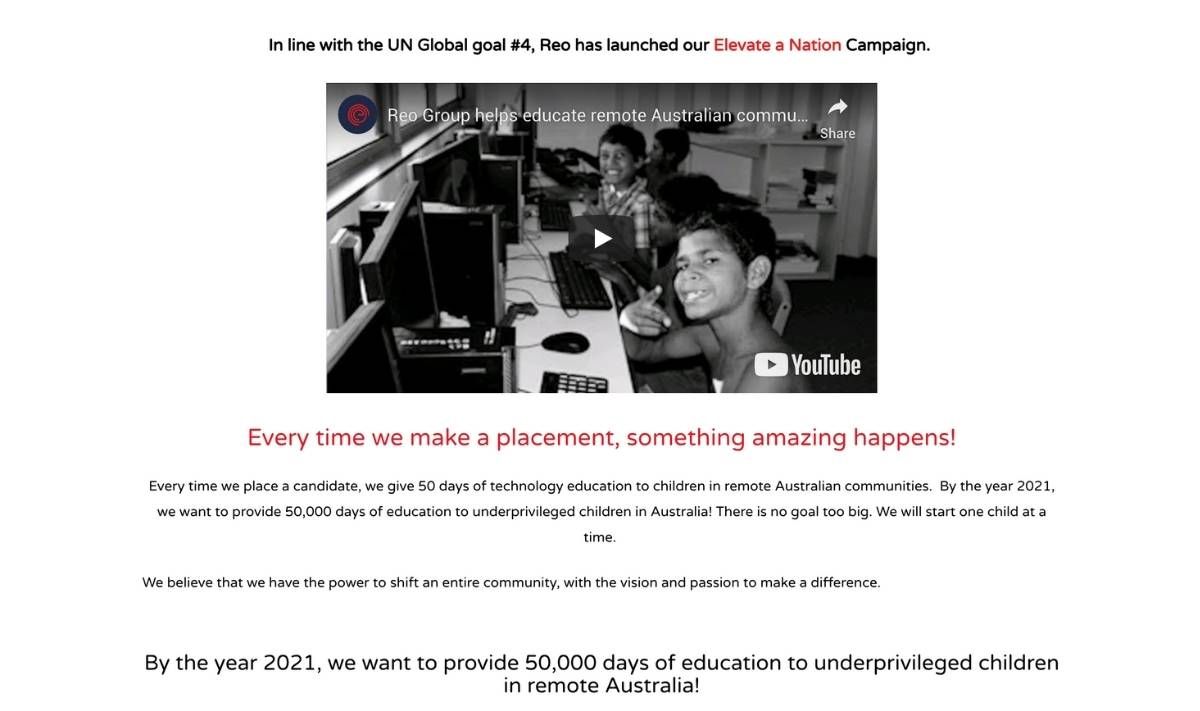 Here's a company which has aligned their giving impact with a UN Sustainable Development Goal through the use of a campaign. Named 'Elevate a Nation', Reo Group –  a recruitment agency based in Australia has committed to giving 50 days of technology education to children in remote Australian communities every time they place a candidate. They also set a broader giving goal to provide 50,000 days of education to underprivileged children by 2021. This is yet another way to engage your clients and team, inviting everyone to participate in the great giving impacts that your business is committed to making.
We are in an interesting era where businesses are awakened to a heightened sense of purpose – to go beyond the traditional profit-driven model, to give back to their community and to play a bigger role in making the world a better place. These are just some of the purpose-driven businesses out there. And as these examples demonstrated, when it comes to giving, you are limited only by your creativity.
We hope they have inspired you and sparked more ideas. And it is our biggest hope, to see more and more purpose-driven businesses sprouting from here.
---