TALENT DYNAMICS – FOLLOWING THE PATH OF LEAST RESISTANCE
"Everyone has a fundamental right to experience Flow…"  That's the major maxim at Talent Dynamics near Preston in the U.K.  'Flow' is the path of least resistance. When you and your team are in Flow, productivity increases, results improve dramatically, you have more fun and you feel more connected to your organization.
Michelle Clarke heads up the company; she's also its co-founder.  She met B1G1 Chairman Paul Dunn at a business school for entrepreneurs in 2006.  "I thought he was superbly inspiring, and I followed the B1G1 story with interest.  I have always given 10% of pre-tax profits from my companies to charities and causes, and that always felt great.  We did it in an ad-hoc way for charities we felt drawn to or that contacted us."
It wasn't long before the penny dropped.
One day Paul explained to me in detail what buy1give1 is all about, and I got it. I wasn't just about giving and making a difference, although it does that -  its about the connectedness of the way it happens. All of a sudden our giving policy at Talent Dynamics changed. Now we only give through B1G1.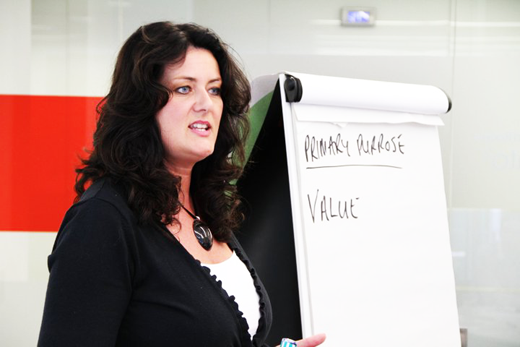 When the company is approached by charitable organizations, they suggest they join B1G1 as well.  For Michelle, it all has a certain…flow.  "Giving through B1G1 is more fun, it's more connected, it's more real, and we can see the impact it has. The B1G1 widgets on our website that measure our impact are cool too!  We just feel much more involved now."
THE GOOD FEELINGS EXTEND BEYOND THE TALENT DYNAMICS TEAM LEADERS TOO.  "OUR CLIENTS AND PARTNERS GET INVOLVED AND THEY FEEL GREAT ABOUT IT AS WELL," MICHELLE TOLD US.
"KNOWING 100% GOES TO THE PROJECT IS REALLY IMPORTANT FOR EVERYONE."
It's all part of flow too. As they tell prospective customers at Talent Dynamics, if you go through your day feeling like you're rowing your boat upstream, it's hard work.  But when you go with the flow, your productivity improves and you start to enjoy doing what you do.
A big part of that enjoyment comes from giving to others.  As Michelle points out:  "Every time someone buys a Talent Dynamics profile introducing them to Flow, a family receives water.  Every time someone does our week-long accreditation giving them a new skill, knowledge and opportunity, we educate a child in India for a month.  Clients love it.  And we look forward to our 'giving day' on the 1st of each month."
At B1G1 we've always said that giving is a natural part of who we are as human beings. The Talent Dynamics team sees that in action every day. And it makes such a difference — just like being in flow.
---