THE EPIC-PHANY JOURNEY: MASAMI SATO'S STORY – PART III
This is a continuation of the 'Masami's Story' series. Read Part I and Part II: From Lamb to Lion.
THE UNSUSPECTING DECISION
There's a little town called Antigua in Guatemala where you can study Spanish. You could get private tutor to teach you 6 hours a day for almost nothing ($1 per hour). I moved to Guatemala and studied for 3 months every single day, speaking only Spanish because nobody spoke English. By doing that, I picked up Spanish quite quickly.
Soon it was time for me to leave. But before that, I just wanted to travel to another country on the way before returning to Japan. I loved animals, and I heard that Costa Rica had lots of beautiful wildlife, so I went to Costa Rica.
SUDDENLY…HAVING NOTHING
I had a nice homestay family in Guatemala, and I left most of my belongings in their house. I only took small items with me to go to Costa rica for 2 weeks.
I hopped on the plane, arrived and headed to withdraw some local currency. I went to the ATM machine and put my cashcard in. A small piece of paper came out saying 'Transaction Failed' in Spanish. Oh my gosh, what's happening? I tried multiple different ATMs. Nothing worked.
In my pocket was about US $5, I had no other cash or things. Since it was a Saturday and the banks were closed, I thought I would just go to a bank on Monday to solve the problem. For now, I just needed to survive the whole weekend with $5. It was alright because at that time you could find an accommodation for just US $2.
Monday morning I rushed to the bank thinking "Oh finally I can eat something!" I went up to the counter, gave my card and asked "Could you tell me whats wrong with this?" The teller at the counter looked at me and said,
"Sorry, your card doesn't work."
"Huh?"
"Your card doesn't work."
"What do you mean my card doesn't work, there must be some money in there."
"Sorry, we cant do anything."
At that moment it hit me that I had no money, no other way to get money, I didn't know anybody in the country, and my Spanish was only basic. The only thing I had was a return ticket to Guatemala.
TAKING A LEAP OF FAITH
Back then, there were no mobile phones. Even emailing was limited to some internet café that charged heaps for very slow connection.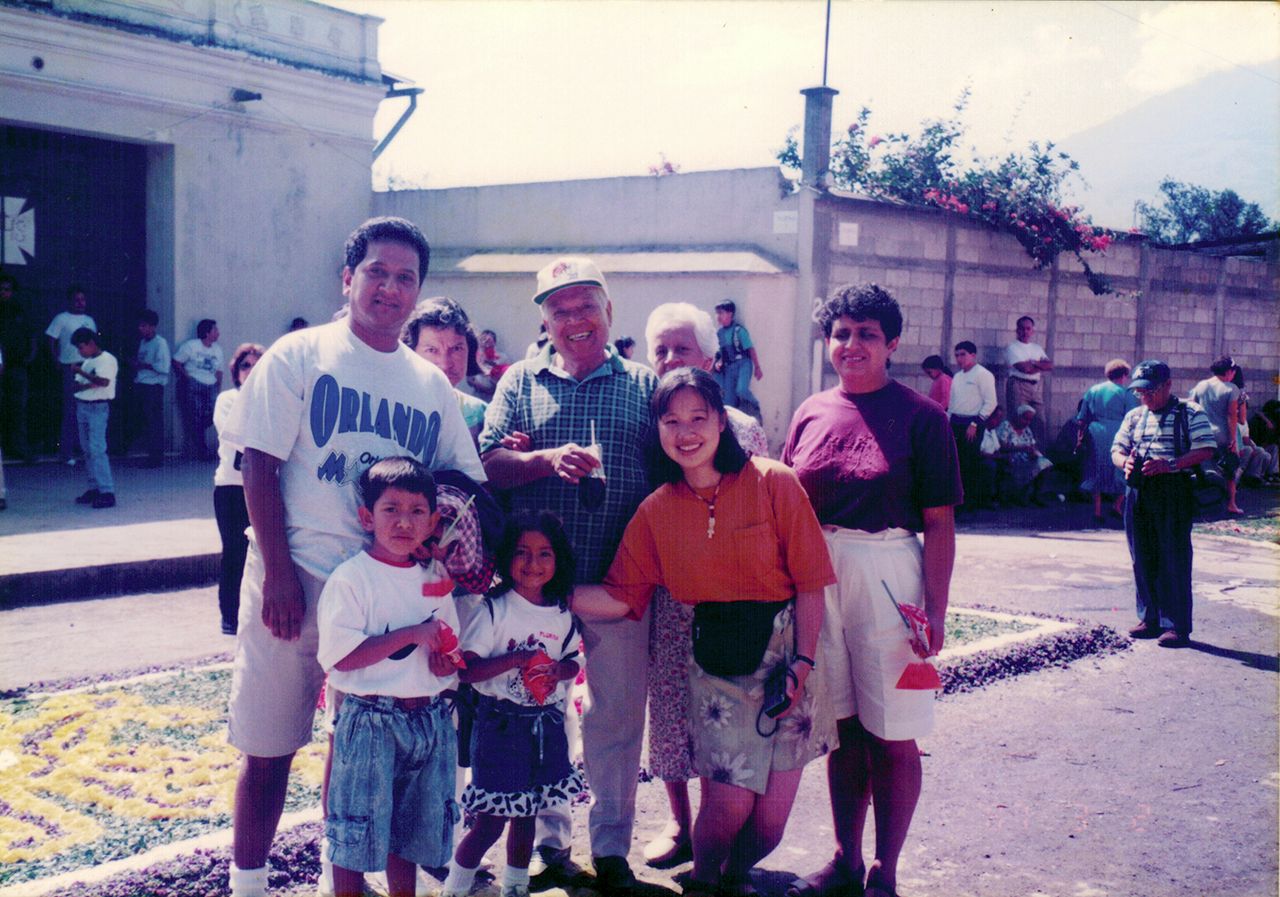 San Jose (the Capital of Costa Rica) was very busy with lots of traffic and lots of crime. I thought if I went to a country side, I would find kind people. So I went to a bus terminal, looked at the signboard. and found a name – Santa Rosa. I thought "That's a beautiful name, I want to go there." I went to the counter and asked for the fare to Santa Rosa. Looking at my remaining coins, I had almost the exact amount of money required. It felt like it was fate. About 4-5 hours later, I arrived at Santa Rosa.
It was pitch black at night when I arrived. There were no streetlights as it was very rural. You could see some houses in the distance, so I walked towards the houses.
I went knocking door to door, explaining with my very poor Spanish that "I'm Japanese and I'm here but I have no money, but I need to be here for 2 weeks before I can go back. So can I have a job? I can cook, clean, look after your kids, I can work on a farm. I can do anything." Everyone went "Oh my gosh, but we are so poor. We have no space and no extra food. But maybe you can go to the other family," and they'd point me to another house. And on I'd go to do the whole thing all over again.
Finally, I arrived at this Chinese restaurant. The owner of the restaurant was very kind. She said her son who went to Europe many years ago had a similar experience. At that time some other people were very kind to him, so she remembered that feeling. She said "Come in, come in. I will give you some food." She made very yummy fried rice and I ate it very happily. As I was nearly finishing the fried rice, I saw this big car coming outside the window. When it stopped, I looked at the side of the van and saw that it was Red Cross coming to rescue me. This Chinese lady had called red cross.
I was taken to this village called the Red Cross headquarters and everybody came up to meet me as I tried to explain my situation. Finally the head of Red Cross invited me to stay with him and his family, so I spent my remaining days in Costa Rica there.
EPIPHANY
I've traveled all over the world, went to so many countries and so many interesting places. But this was one of the best trips, THE BEST 2 WEEKS I ever had in my travelling time.
When you have a lot of money and go to a so-called 3rd world developing country, you might get lots of people asking you for money, wanting you to buy souvenirs you don't want, or get chased by beggars. But when you actually don't have anything, wherever you are whether in a rich or poor country, you become somebody who is more vulnerable than everybody else. People can't help but reach out, they all become so kind and giving.
At first I felt guilty and quite miserable. I thought I was so stupid not travelling with a clear plan and creating trouble for others.
BUT THEN I REALIZED THAT WHEN YOU'RE IN A POSITION TO BE ABLE TO RECEIVE, IT ACTUALLY MADE OTHER PEOPLE FEEL HAPPIER.
Another thing I learnt while travelling through Central America and Asia was that even when people didn't have so much, they could still lead a happy life. They could still smile. When you have a lot, it doesn't mean that you are happier than others. Being able to receive is actually a gift for other people as well.
I REALIZED THAT MAYBE, GIVING WAS THE KEY TO HAPPINESS.
Next Chapter: MASAMI'S STORY PART 4: THE EPIC-PHANY JOURNEY
Previous Chapter: MASAMI'S STORY PART 2: THE TRANSFORMATION
---