COLLINS HUME: THE EYE-RONY OF GIVING SIGHT
WHO: David Keith from Collins Hume
WHERE: Ballina, Australia
WHAT: We provide a broad range of services in business, financial, taxation and accounting consultancy. We have the resources and expertise to meet your specific needs. We work with small and medium enterprises, individuals and families. Farmers, builders, property developers, lawyers, doctors, pharmacists, real estate agents, retailers and more. We work hard to help our clients achieve their personal, financial and business goals. We lay foundations. We tick boxes. We optimize teams. We streamline procedures. We set targets. We raise bars. We build successful, longstanding partnerships.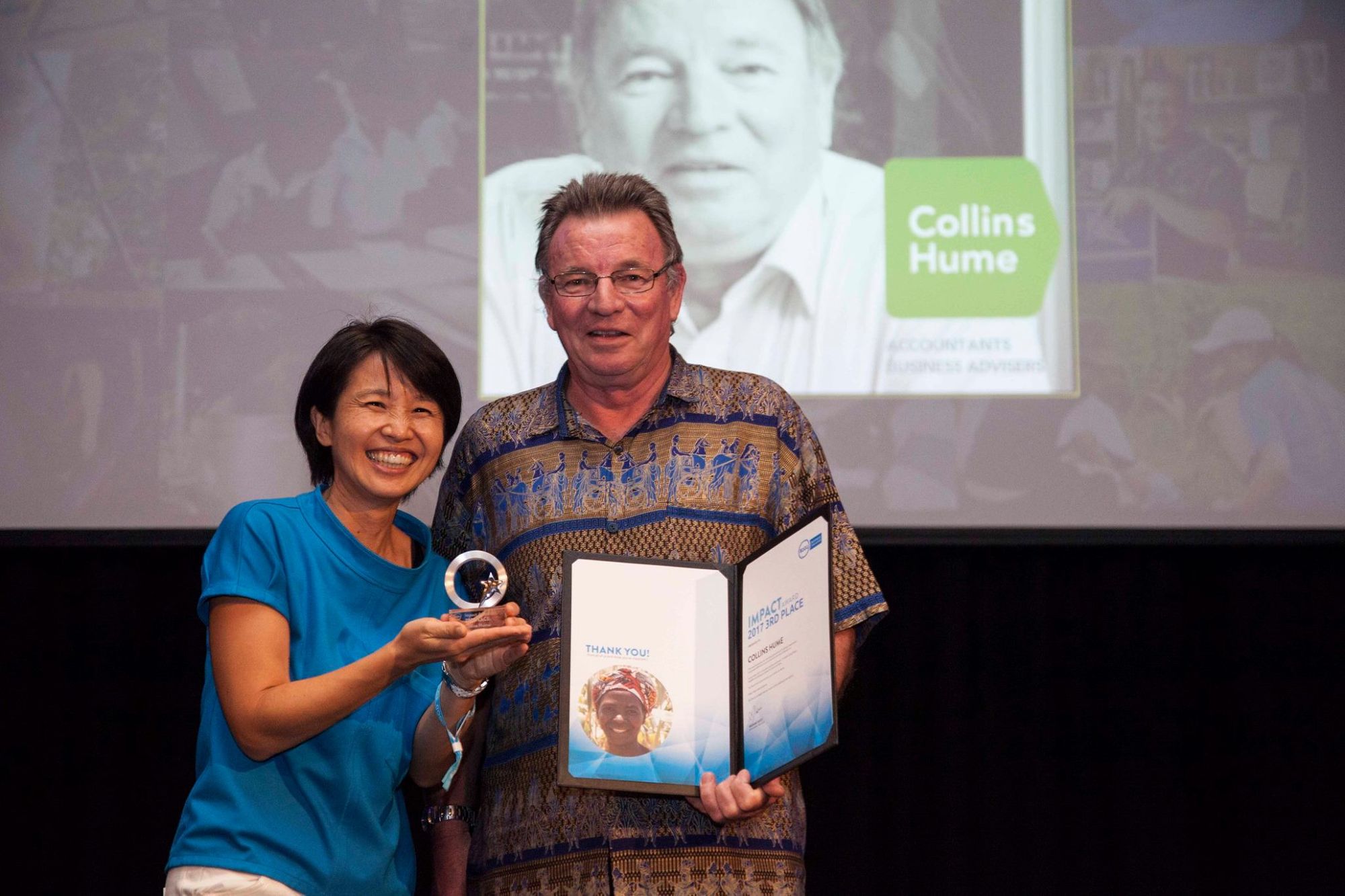 CAN YOU GIVE US A SENSE OF WHY YOU DECIDED TO START GIVING?
We already were giving to local charitable organizations but wanted to broaden our social responsibility on a global basis. We had looked at a few organizations but most of the donations were eroded in admin fees and running costs, so not much actually got through to the people who needed it most. In 2011 I and another Partner of Collins Hume attended a Rob Nixon sales seminar in Brisbane. One of the presenters was Paul Dunn (the wizard of wow). Paul told us all about his favorite sales techniques and then he played the B1G1 Imagine clip. After that, we were totally blown away with B1G1 and all it stood for. Needless to say, we signed on as a lifetime Partner of B1G1 there and then.
WHAT IS YOUR FAVORITE PROJECT(S) TO GIVE TO AND WHY?
Food, water, and education. At Collins Hume, we're privileged to be able to live, work and play in one of the most beautiful and prosperous regions in Australia. On our doorstep we can choose to partake in any number of lifestyle choices, we thrive in our locale and our kids are healthy and strong. Given this, it would be remiss of us not to give and hence play a small part in bringing basics such as clean drinking water, sustenance, and education to people in the world.
HOW WOULD YOU DESCRIBE THE IMPACT B1G1 HAS HAD ON YOUR COMPANY AND ITS CULTURE?
Part of our giving process involves all of our team nominating some B1G1 worthy causes to give to. We then give to those causes and provide regular updates to the team on how our overall giving is going. Some of the team are also involved at a personal giving level, they really love B1G1 and all it stands for. Social responsibility now plays an important place in Collins Hume and its team.
WHAT'S THE BEST EXPERIENCE YOU'VE HAD THROUGH YOUR GIVING ACTIVITIES AND BEING A PART OF B1G1?
Being at the 100 million conference in Bali, meeting so many like-minded people and receiving an award. Especially unforgettable was the trip to the John Fawcett Foundation eye clinic. These memories are something that will stay with me forever.
DOES ANYBODY IN YOUR TEAM HAVE AN INTERESTING GIVING STORY TO SHARE?
Yes, Peter Fowler has one (well it relates to our visit to the eye clinic in Bali). After visiting the John Fawcett Eye Clinic, we left Nirwana and met with some clients at Canggu. Whilst meeting with clients, our driver was waiting for us at his car. I had never met our driver before but his brother-in-law has been a great friend of mine in Bali for well over 10 years. My friend organized for him to pick us up as he was attending a wedding. On returning to the car he indicated that he had read the John Fawcett Annual Report that we left on the front seat of the car. He proudly told us a story about how he and his family had visited the eye center and received glasses to help them read. But more importantly, he told me about how his mother-in-law, who is my friend's mother, had received life-changing cataract surgery from the clinic.
When we told him that we visited and support the John Fawcett Eye clinic he was so thankful to us for how we have helped him, his family and community. Without this surgery, my friend's mother would have spent the rest of her life blind. It's hard to put into words how thankful he was and also how it made us feel knowing that the giving we had provided had directly helped people we knew without even knowing. It was a great moment and something I will remember for a long time to come. The most ironic thing about this story is that if he had never visited the eye clinic he would never have been able to read the annual report to tell us how grateful he was for our support.
---