WHY DOING GOOD IS GOOD FOR BUSINESS
"Never has there been a more exciting time for all of us to explore this next great frontier where the boundaries between work and higher purpose are merging into one, where doing good really is good for business." – Sir Richard Branson
We are in an exciting era where the private sector has been awakened to a greater sense of purpose and meaning – the business arena is no longer just seen as a space in which companies compete to attain the highest profits, but one where each entity is now conscious of the positive social impacts it can move towards making in areas which it chooses. Businesses have begun to act on growing interest in creating meaningful impacts on the world around them by making changes to their operations in a variety of ways.
Some of these include adopting a 'triple-bottom line' accounting framework and engaging their teams and customers in a broader mission of making positive social impacts as they go about their business activities. This constitutes a simultaneous transformation of what a business should achieve to be successful – wherein attaining high profits is no longer the chief benchmark. Instead, businesses' investment and sincerity in organizing their purpose around making real impacts in the world is now a rising priority in the eyes of employees and customers.
Indeed, this study by Edelman and Young & Rubicam reveals that 87% of UK consumers expect businesses to care about their impact on the society as much as they care about their own businesses, and more than 70% of them intentionally purchase from businesses whose perspectives are similar to their own.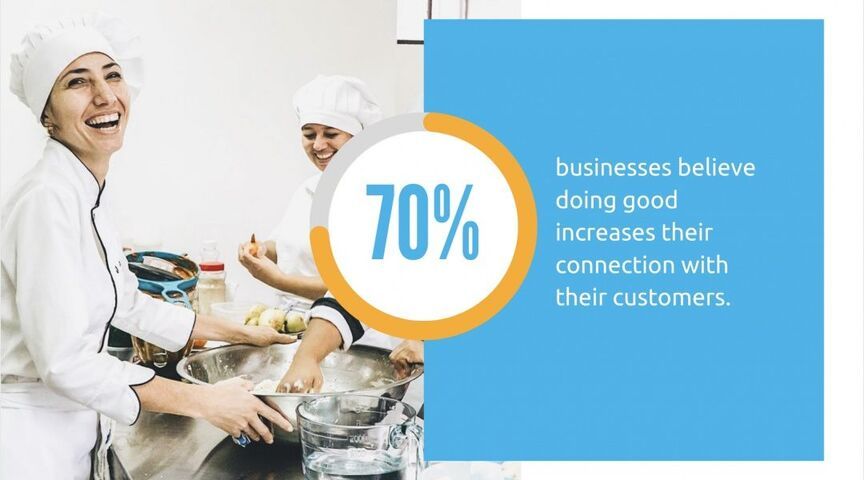 For business owners who are considering if they should embark on a similar trajectory, the chief question in their mind would probably be this: how is doing good good for my business? There are already countless studies that show how doing good improves a business' key metrics – in terms of the premium that customers are willing to pay, or the increased valuation of a company due to the goodwill it garnered with its stakeholders.
We are happy to highlight some of the benefits that doing good can have on various aspects of your business and we are not alone in thinking so! Our survey of 340 business owners revealed that 7 out of 10 of businesses believe doing good increases their connection with their customers; half of them recognise it would differentiate their business and build a strong fan base, and over a third of the businesses see that doing good increases the engagement of their team.
Let's have a look at some of the benefits that doing good brings to your business.
CREATING A LASTING CONNECTION WITH YOUR CUSTOMERS
A study done in the UK revealed that 82% of customers are positively affected by a company's engagement in philanthropic actions. As your company does its part in making a positive impact, customers feel a deeper connection when they know that their purchases and engagements with you contribute towards making broader impacts in the world.
When customers feel good about the brand and the good work it engages in, they tend to stick with it for a long time. Knowing the importance of doing good, many businesses are looking for innovative ways to share their giving stories with their customers to deepen the sense of connection. Some creative ways include giving out "Thank you" certificates with every purchase or sending an email with the details of the causes they contributed to. Still, others create a dedicated page on their website explaining how they give locally and globally.
Letting your customers know they are making a difference to someone else's life not only puts a smile on their face but also keeps them coming back for more.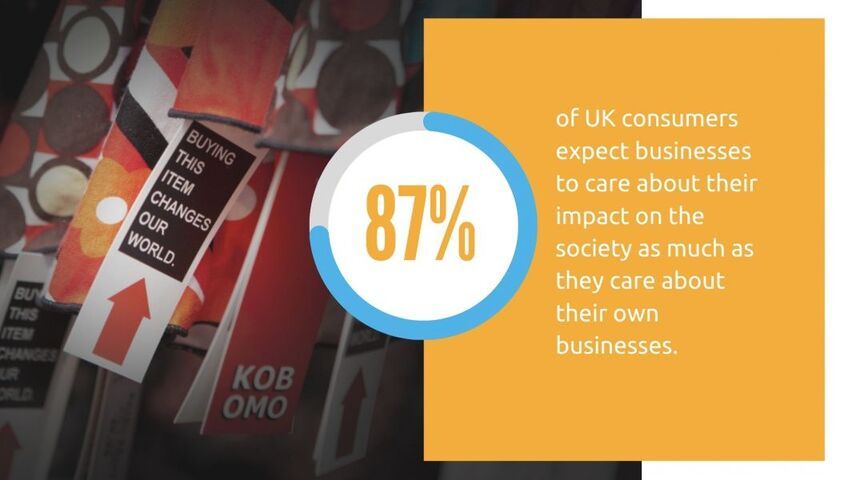 DIFFERENTIATING YOUR BUSINESS AND GROWING A BASE OF FANS AND ADVOCATES
By involving your clients in doing good, your business is no longer just a goods or service provider to your customers. Its role has evolved to being an organisation which enables them to play their part in making a difference to the world through a simple transaction or engagement. In fact, a June 2018 survey done in the US revealed that two-thirds of respondents would be more willing to forgive companies that do good when they make an honest mistake, as well as defend it in the face of public criticism. They would also be more inclined to share positive stories about these companies with their family and friends, enhancing the business' public image and exposure.
In Singapore where B1G1 is based, there are over 700,000 small businesses and an estimated 50,000 start-ups are birthed every year! Your business is likely to be operating in a much larger market and have a long list of competitors who offer similar goods and services as your business. Doing good is a great way to stand out in your industry and build a base of loyal fans and advocates.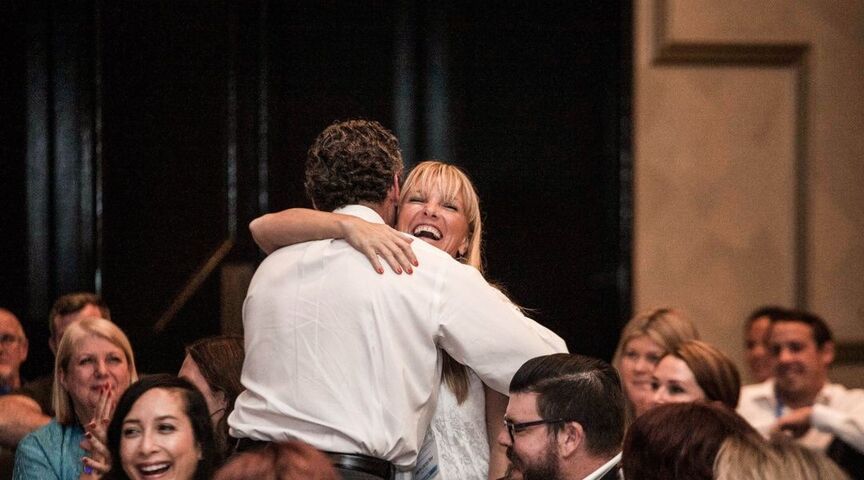 BUILDING A MEANINGFUL ORGANISATIONAL CULTURE
When a business has a compelling purpose, its employees feel that they are making a meaningful impact and doing something good in the world. It creates pride. It creates connection. It is also one of the biggest motivators for them. Knowing that their everyday work contributes to making the world a better place also imbues a greater purposefulness in their work. It makes them proud to be working for a company that cares about the world around them and heightens their sense of belonging to the company.
A business that is committed to making a positive impact also attracts like-minded individuals who are keen to be part of this effort. This means that your business is both able to attract and retain employees who feel connected to and want to be a part of the meaningful work that your company is doing.
A research project led by Verizon and the Campbell Soup Company quantified the benefits to the business in this way: doing good reduces a company's team turnover rate by up to 50%, increases its productivity by up to 13%, and boosts employee engagement and satisfaction by up to 7.5%.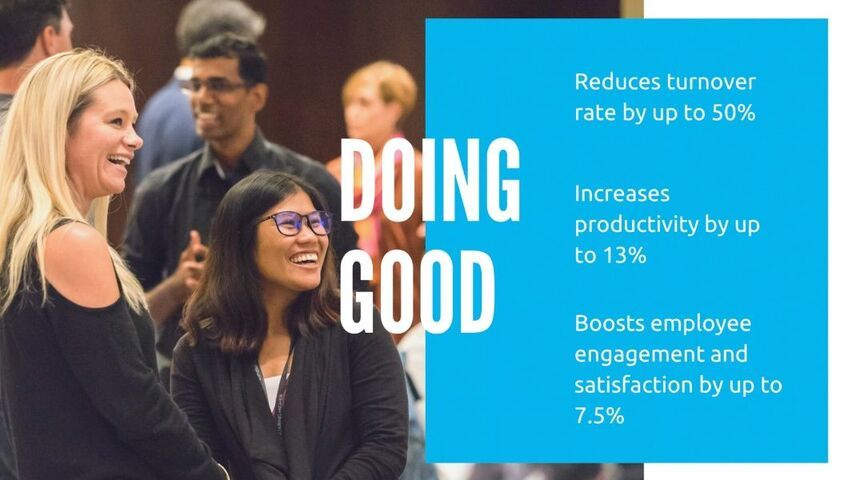 WHAT THE NUMBERS SAY (AND DON'T)
There are already countless studies that show how doing good improves a business' key metrics – even in terms of the price premium that customers are willing to pay, or the increased valuation of a company due to the goodwill it garnered with its stakeholders. Instead of competing by price, businesses today can in some sense compete by purpose.
Yet, what many may not realise is that doing good does much more than improving the bottom line. There are some things that are often overlooked. Here are 2 additional ways that businesses benefit from doing good that B1G1 has learned in our experience:
ACCESS TO A POWERFUL NETWORK OF LIKE-MINDED BUSINESSES
Supporting causes and discovering ways to create a community through giving can also bring businesses together. For example, the B Corp movement attracted many large and small businesses alike with the desire to hold themselves accountable to society and global standards in responsible and ethical practices. It has created a dynamic community of businesses encouraging each other to do better, for themselves and for the world.
Similarly, B1G1 currently works with over 2,500 businesses, all having one thing in common: being a purpose-driven, impactful organisation. Through this mutual understanding, our members love to share their thoughts (on giving and businesses likewise) with each other, often leading to endless opportunities of networking and participating in collaborations. Among the B1G1 Businesses for Good, we see a generosity that is difficult to imagine in the traditional business world, and we are so grateful for that.
ADDING PURPOSE TO YOUR BUSINESS AND YOUR LIFE
As Sir Richard Branson so eloquently puts it:
"How to treat our world is a reflection of our h­­umanity, our intelligence, our conscience and ultimately, our very survival. The way in which we co-exist with our natural environment, strengthen fragile societies, and support vulnerable populations is the very foundation of a sustainable future – business or otherwise."
At the end of the day, when you start doing good in your business, you will realise that it is not just another add-on or additional item on your business' to-do list. Instead, it shifts the trajectory of your business, transforms the culture of your team, everything you do, and ultimately your own life as well. To summarise it in one line: doing good is good for business because it's good for YOU, the business owner and the most valuable asset to the business.
TAKING THE FIRST STEP
When we get to this point, many business owners often get really excited about finding ways to incorporate giving and goodness into their business but are unsure about how to implement it effectively and sustainably. If you are wondering how to add a greater sense of purpose to your business, we have curated the Impact Guide specially for you. In this guide, you will get practical tips (complete with examples) on how you can overcome the common challenges in incorporating effective giving into your business and get started right away. You'll love it and learn lots from it. Start transforming your business today by getting it here.
---