Reinventing Your Thank You Notes
Above concentrating resources solely on making a transaction happen, companies that exhibit sincerity in connection and appreciation for their clients can strengthen relationships in an increasingly disconnected world.
The global pandemic has redefined normal across domestic and work arenas while putting companies' adaptability and customer loyalty to the test.
Necessity has proven itself to be the mother of (re)invention as companies find new ways to demonstrate empathy and remain vital to their clients amidst the cacophony of digital marketing.
From hosting musical performances to design contests, some brands have created new spaces for followers to connect and be part of the brand.
Others have opted to surprise customers by adding a delightful twist to conventional thank you notes in varying shapes and forms.
Here are some creative ways for you to maintain relationships with your customers by showing genuine care and gratitude:
Get acquainted through social media
The social media space thrives on genuine responses and opportunities for participation in wide-ranging dialogue – this applies to companies looking to creatively and meaningfully connect with their existing customers.
Getting tagged in a surprise thank you note on social media is a simple thing that can go a long way in keeping customers delighted and showing your heartfelt appreciation to your supporters as a whole.
Social enterprise Bombas involved customers in their celebration of beating their 10-year goal by posting a thank-you video on social media. Other than marking milestones, companies can also show appreciation for customers' support through featured posts or just by dropping them a personalized message thanking them for their patronage.
Businesses that serve corporate clients can embark on a similar trajectory albeit on professional platforms such as LinkedIn.
Be it a public welcome message for a new client or a monthly personalized thank you note, these gestures can allow businesses to stay in touch with their customers even if the partnership is still ongoing or has recently concluded.
Put the good in goodbye
For businesses that prefer a more heartfelt approach, a handwritten thank you note that goes out with purchases is a go-to method for a pleasant surprise.
First impressions may draw customers to support a brand, but warm goodbyes are the key to creating a special memory that will linger with customers even after the transaction.
This may seem like a Herculean effort with questionable impact, but technology accessory brand HEX has applied this strategy by attaching a personalized, handwritten thank-you note with a unique comment to every purchase they send to their customers, elevating its customer experience alongside competitors such as Tumi.
Furthermore, it can also serve as an opportunity to connect employees to the people they are serving through their daily efforts, regardless of their work functions.
Give thanks by giving back
An extra-special spin on a thank-you note, this approach pairs each transaction with support towards a worthy cause adopted by the business. Knowing that their consumption choices benefit someone less fortunate than themselves is surely a delightful perk for any customer.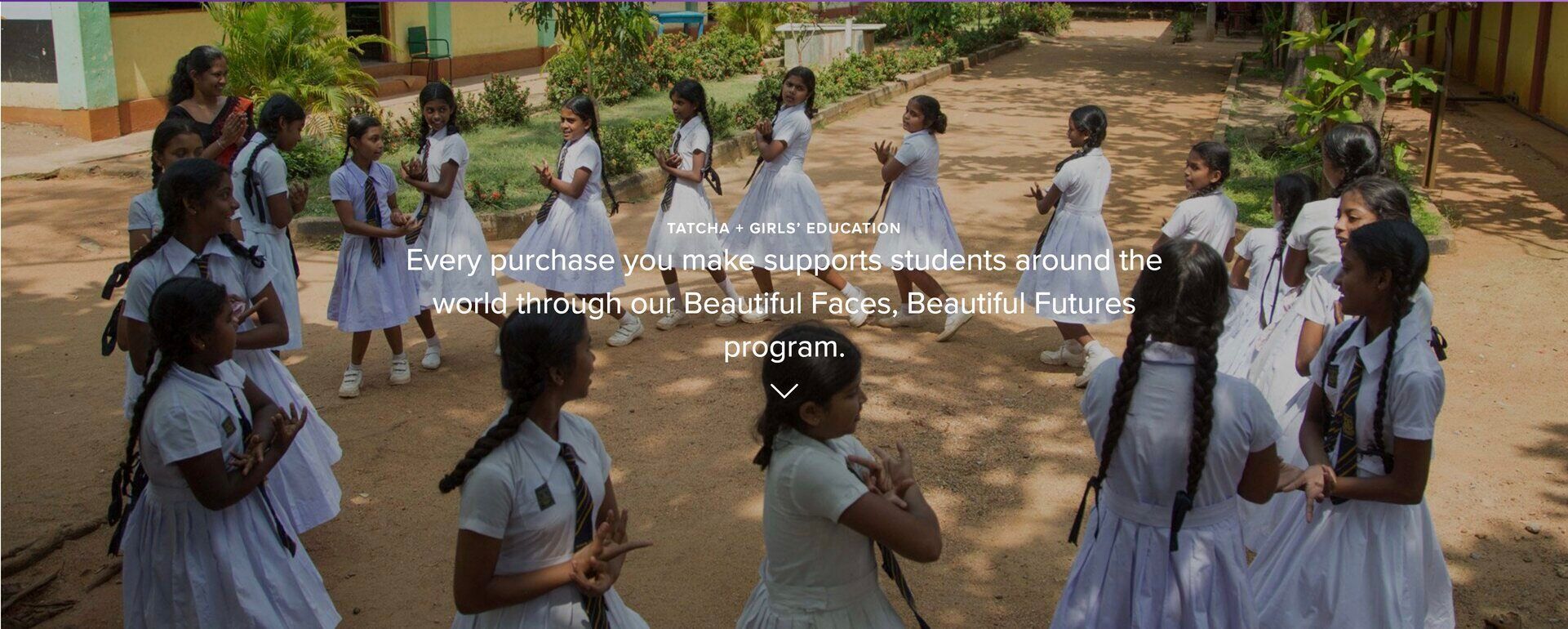 Japanese beauty brand Tatcha donates a portion of every product sold towards funding girls' education and its thank-you notes that accompany each product share this great impact with their customers.
'Every purchase supports students around the world'.
For businesses that may not share about their corporate giving on public platforms, this will surely be the cherry on top for an unsuspecting customer.

Or, let your customers choose what to give to
On top of giving on each customer's behalf, some businesses go a step further by allowing their customers to decide which cause their patronage will support.
Having the opportunity and choice to support a cause they care about while accessing a product or service that they need is a rare treat for a customer.
Chiroworks has proven that this can be a hassle-free addition to existing processes. Before a chiropractic session commences, customers are asked if education, health or the environment matters most to them. When the session ends, the customer is presented with a thank-you certificate that informs them of a contribution that has been made towards their chosen cause.
Mark special events with a special something
Every kind of business can mark special events with their customers – from commemorating anniversaries, marking a set number of transactions made to even celebrating their birthdays with them.
Whether customers are gifted with a discount, complimentary items or if a business performs milestone giving towards their favorite cause on their behalf, marking these moments with something special is a great way to show customers that they are cared for.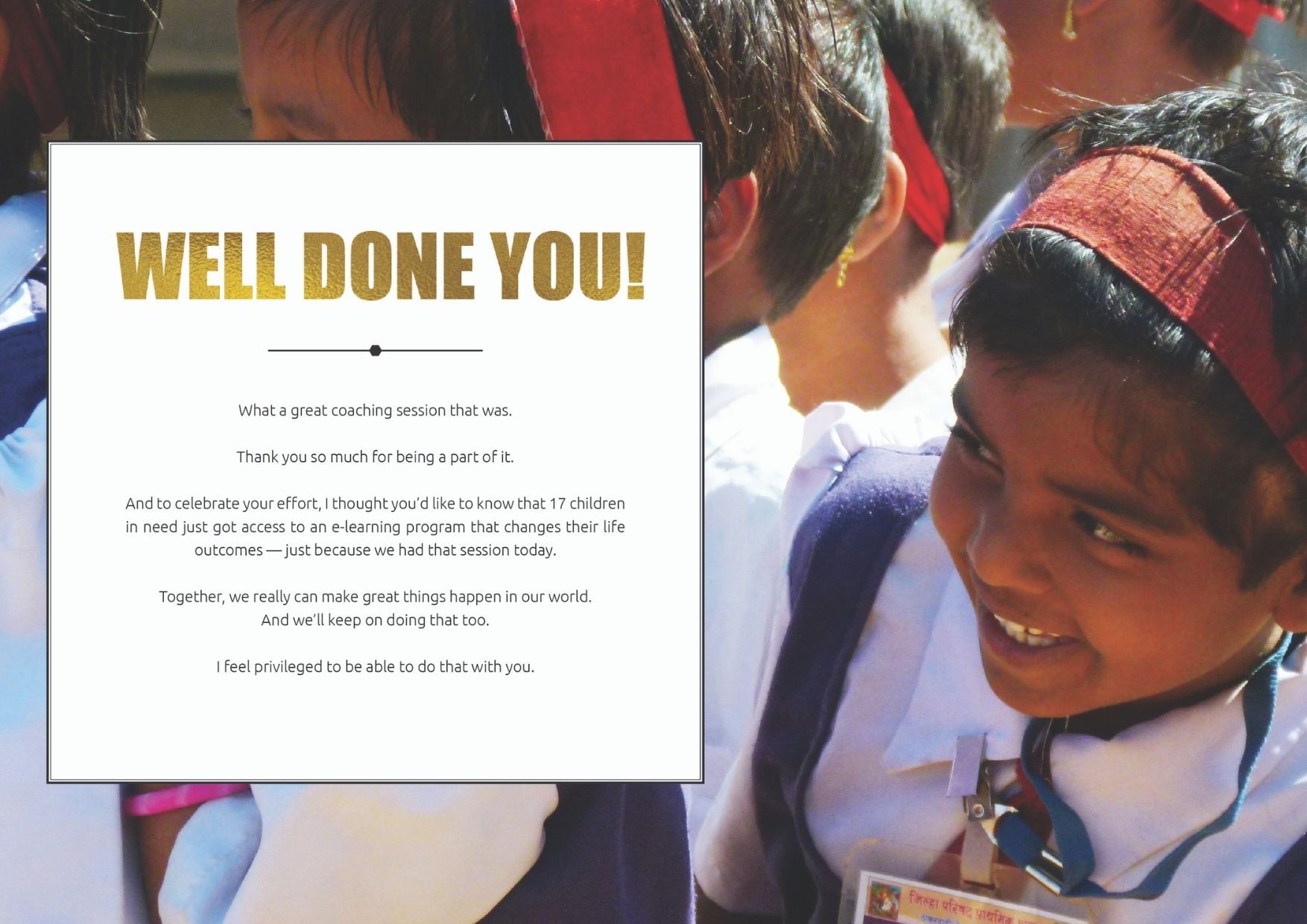 Be grateful and gracious – in all the small things
As with all traits, gratitude and graciousness should be consistently expressed throughout various points of the customer experience and not merely at the beginning or end of a transaction.
Warm greetings and sincere thank-yous in person – even little details such as remembering their names and preferences when they visit again can make worlds of difference to a customer's experience with a business.
Online interactions present a variety of options to thank customers – whether it is done through a special e-mail or expressed through a call, there are so many ways to add that personal touch to remind customers that they are more than just another person accessing your company's products and services.
Freebies… with a little thoughtfulness
With in-store sampling and non-essential activities being discouraged in this season, gifting customers with samples of upcoming products or items which are complementary to what they ordered could be pleasant surprises that arrive alongside their purchases
An option to approach with caution, complimentary items may not always be welcome especially if they are not curated with thoughtfulness for your customer audience. Customers certainly do not want to feel as if they got unwanted stock dumped on them!
Discount codes can serve well as gifts to thank loyal patrons as well although similar care should be exercised to safeguard your brand and company reputation. These gifts should also be exclusive enough for them to retain their special value.  

Showing appreciation for your customers' support is an important and sometimes, underrated opportunity to build a stronger relationship with your customers. While having them at hello may be the goal most companies focus on, rounding up the customer experience with a warm, heartfelt goodbye might just be what keeps customers coming back.
---