10+ CREATIVE WAYS TO INTEGRATE B1G1 INTO YOUR BUSINESS
B1G1 makes it easy for your business to give back to the philanthropic causes that resonate with you most. But it's not just about ease—it's also about creating excitement and enhancing your connection too.
We know that cultivating habitual giving (we call it 'embedding' your giving) is vital for sustainable growth and change. And because every giving impact on B1G1 is EXTRAORDINARY it's important not to let your giving habit become run-of-the-mill or ordinary.
It's also important to get the intent right. Wherever possible, that intent should reflect and express your gratitude for the client doing business with you (as opposed to a conditional position to solicit business).
With that in mind, here are some specific ideas and examples that might just inspire you too.
1. CELEBRATE YOUR TEAM MEMBER OF THE MONTH THROUGH GIVING.
Honor that exceptional team member by letting him or her pick the cause of the month. Have a specific business activity linked to this monthly program, and at the end of the year honor the employee who has made the greatest impact. You could alternatively send them a "giving gift card" with giving credits for the project of their choosing.
2. MAKE YOUR SOCIAL MEDIA CONNECTIONS MORE MEANINGFUL.
Send each new LinkedIn or Twitter connection a message thanking them for connecting and making a special impact as a result. The message can be sent either manually or automatically, but make sure to keep track of your connections and give accordingly!
3. HAVE A QUARTERLY OR YEARLY GIVING GOAL
Take one of your normal quarterly or yearly business targets, and add a giving element to it. Attach a B1G1 project impact to whatever that metric unit is, and suddenly those numbers, well, aren't just numbers anymore. Adding giving to a goal makes it more meaningful because now you are not just chasing numbers anymore.
Reo Group – an Australian corporate recruiting agency not only connected their goal with giving – they added an extra dimension to it. Passionate about helping aboriginal communities in Australia, Reo set a goal to 'Elevate a Nation' by giving towards providing e-learning to children in these communities for every candidate they successfully place.
And it's been the drive for the team ever since.
Check out their 'Elevate a Nation' campaign here.
4. LET YOUR CLIENTS CHOOSE A PROJECT AND GIVE ON THEIR BEHALF
What's better than expressing gratitude through giving back?
Let your clients select a project they'd like to give to and give on their behalf. This not only engages your clients but also makes the work you do together more meaningful.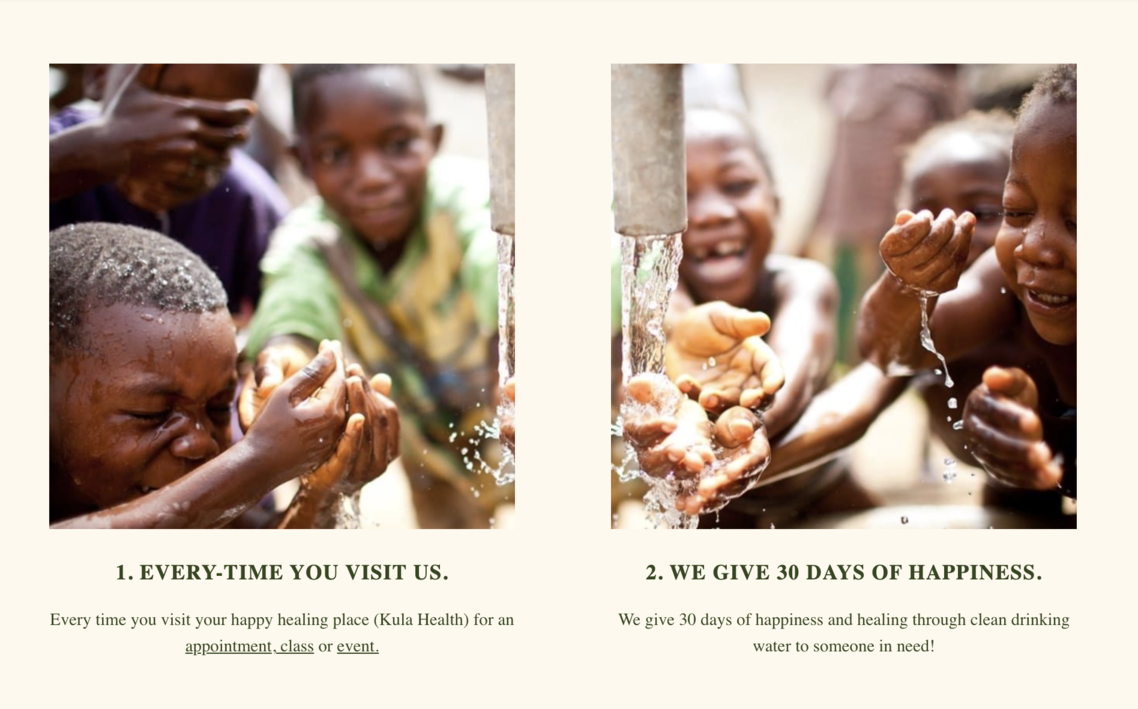 Kula Heath – an Australian wellness center does this particularly well. After a new session, every client is given a pebble and asked to place it in one of the 3 jars placed in the clinic. Each jar represents a project. Each pebble placed by a client results in 30 days of happiness and healing being delivered to the corresponding community in the form of access to clean drinking water. When clients are told what their pebble is for, they smile in joy, as do the team at Kula Health too.
5. HAVE A B1G1 SALE.
Buy1Give1 or Buy1Get1? Why not both! Host a B1G1 sale, and provide your customers with the option to either get their second product for free, or to pay it forward and send proceeds to the project of their choosing.
6. RAISE AWARENESS ABOUT YOUR GIVING ACTIVITIES THROUGH PROMOTIONAL ITEMS.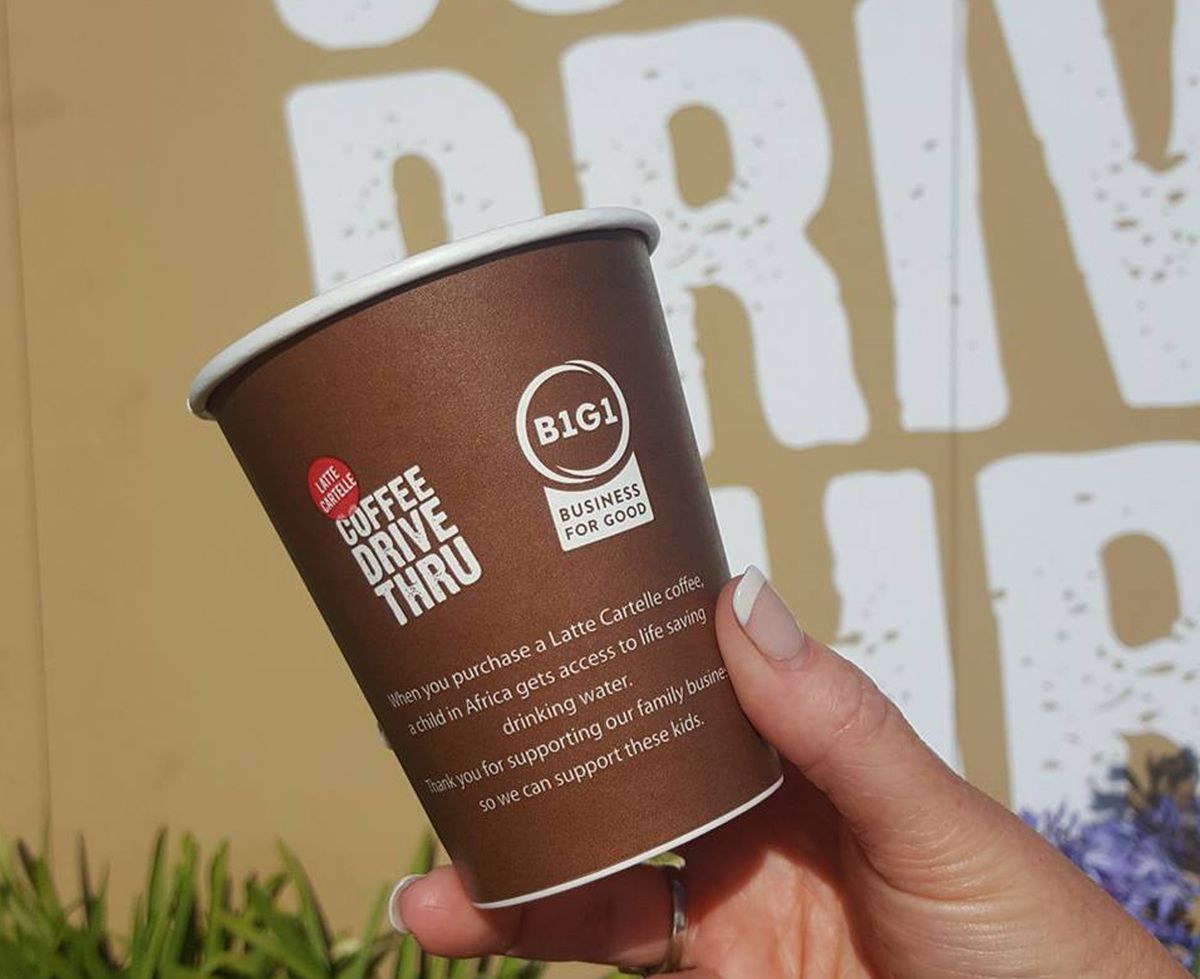 There are a few ways to do this. You could display a poster on your desk for customers to see and receive updates about the company's giving activities. Or incorporate Buy1GIVE1's logo on your coffee cups and pens to peak your customers' interest. Or even explain on the products themselves how purchasing specific items make a difference.
7. ENCOURAGE TEAM VOLUNTEERING AND PROJECT VISITS.
Send a team member or two on B1G1's Study Tour to get up close and personal with some of your favorite projects. Once your team sees your company's impact first hand, your giving culture will be shared and strengthened tenfold.
8. MAKE A LASTING IMPRESSION ON YOUR CUSTOMER THROUGH THANK YOU GIVING.
Whether it's a paper or electronic receipt, let your customers know that part of their purchase went towards a good cause (other than your product)! Thank them for being a loyal customer, and encourage them to continue their loyalty with this added reward.
9. USE QR CODES ON YOUR PRODUCT TAGS.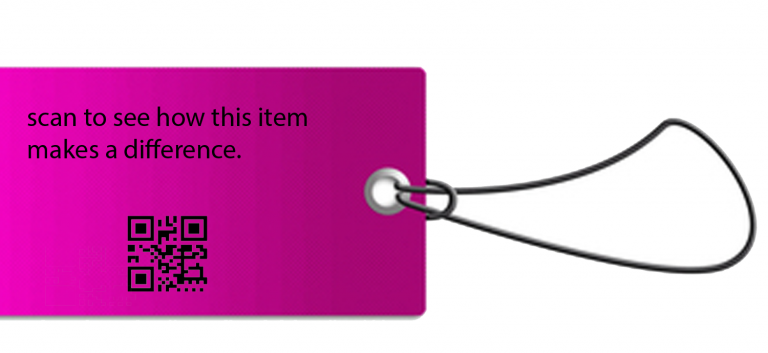 Set up a B1G1 campaign and a corresponding QR code that links to the campaign page. When your customers scan product tags featuring these QR codes on their phones, they can immediately choose to give towards the company's selected projects. Tap into your community's giving spirit, no purchase necessary.
10. COLLECT BUSINESS CARDS FOR YOUR CAUSE.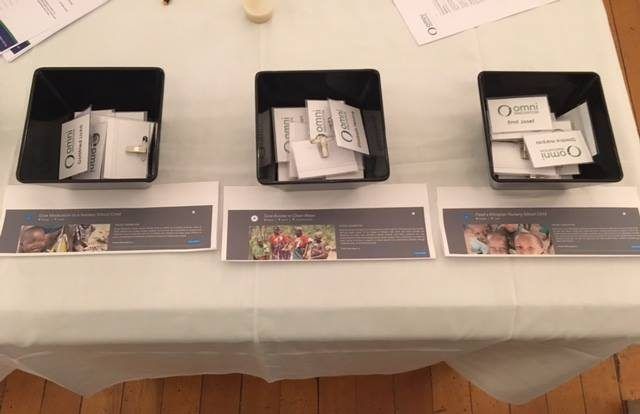 Put out a few mason jars complete with descriptions and photos of your favorite projects, and ask people who drop by to leave their business cards in the jar they like the most! This is a great way to further networking opportunities and also see which projects your potential clients and customers are drawn to. You can also give towards the most popular project at the end of each month (or week!) and turn this into a competition.
11. GIVE YOUR CUSTOMERS THE OPPORTUNITY TO THANK YOU THROUGH GIVING.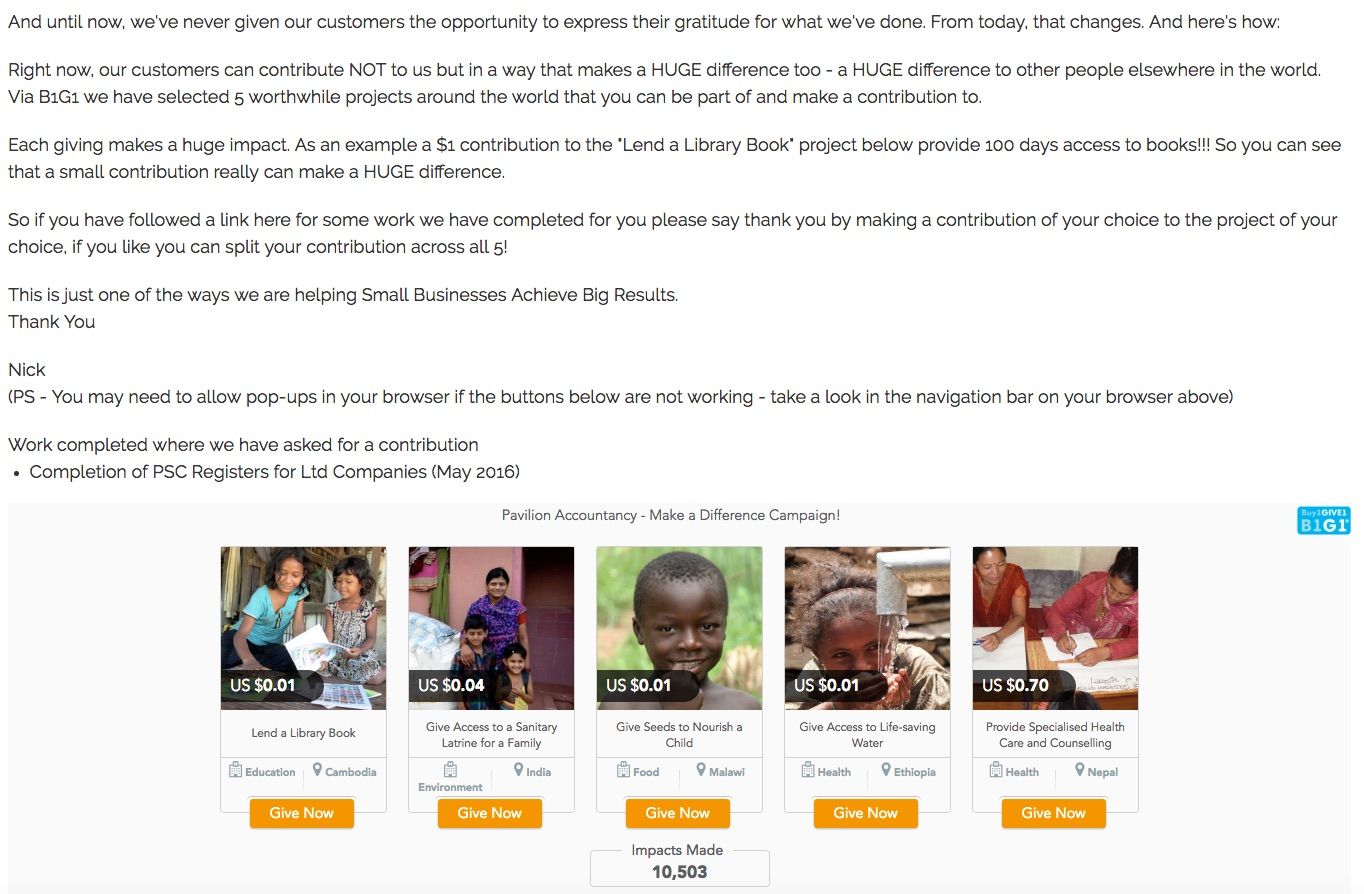 Are you already getting great, positive feedback from your customers about how you do business and how you give? If you get the sense that they might want to give as a way to show customer loyalty and thank you for what you do, this is very easy to do. Just create a B1G1 campaign page on your website, select your favorite projects, and invite your customers to pay their gratitude forward!
12. PROVIDE MEANINGFUL WAITING ROOM THOUGHTS.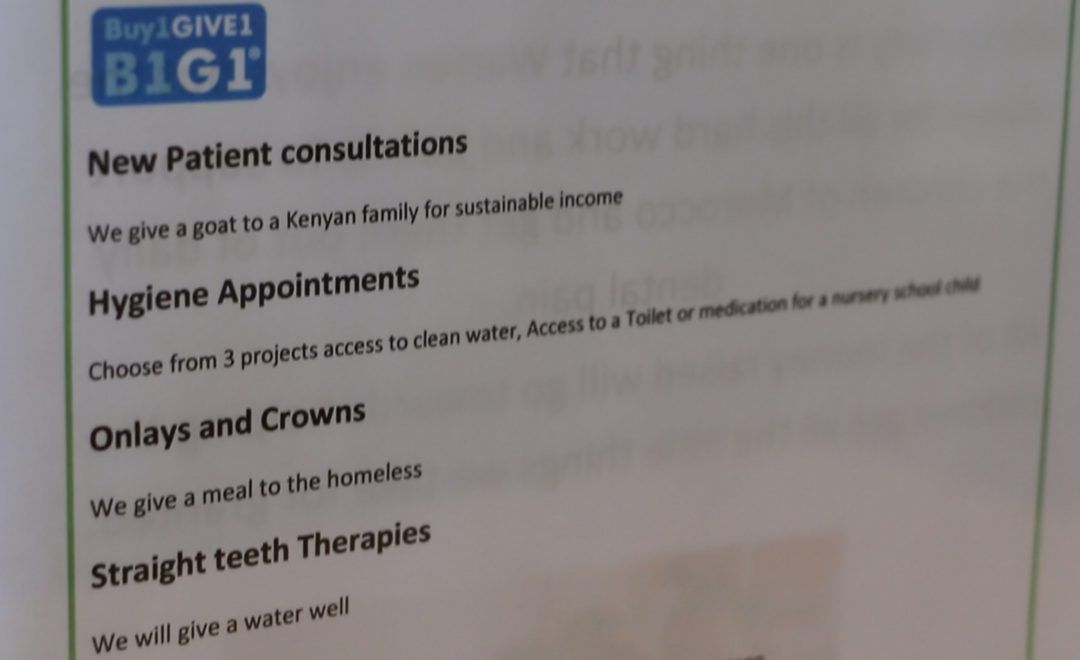 Place a 'Giving Menu' at your reception or waiting room area to let your customers ponder the type of impact they'd like to help contribute to. It'll certainly engage them in a meaningful and different way from the typical style magazines from 5 seasons back.
13. BOND OFFICES ACROSS SEAS THROUGH THE COMMON MISSION OF GIVING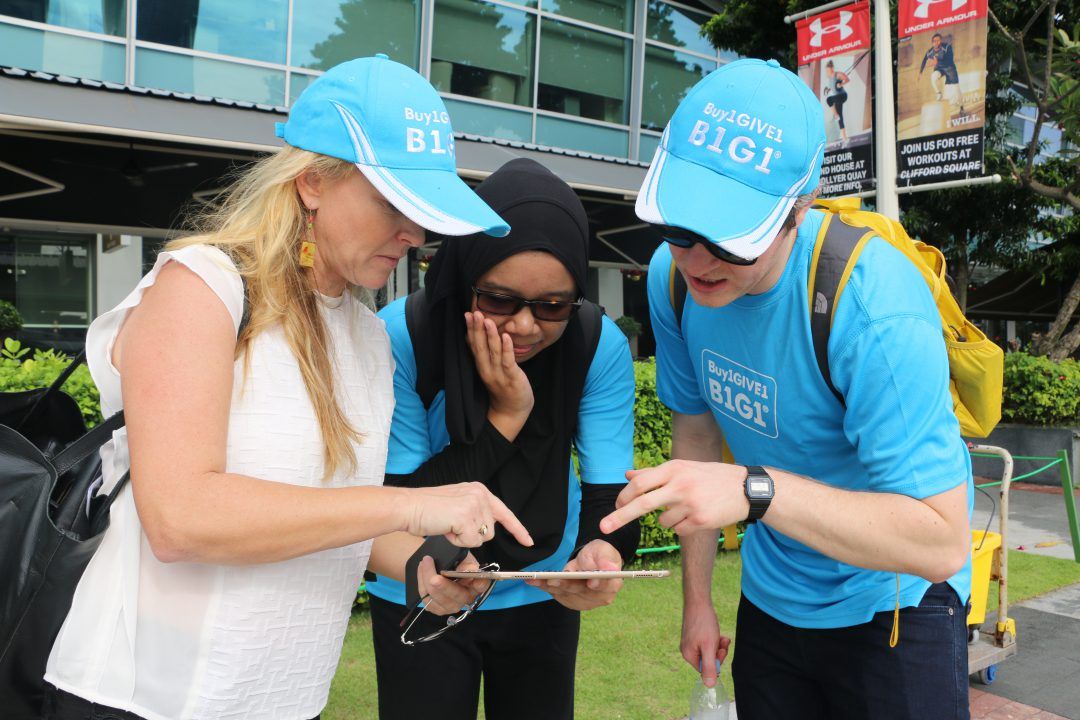 If you have offices situated globally around the world, here's a great way of keeping the sense of connection strong amongst your varied teams – instill a strong sense of Giving and pride amongst everybody in your team no matter where they're located. Better yet, organize a mass team bonding event that transcends boundaries; such as Catalyst's Global Go Give treasure hunt that saw Catalyst partners from around the world simultaneously participating in team-building events that give back.
Please share your ideas and suggestions below in the comments section, or send them to team@b1g1.com Make sure to check back for more ideas of how to integrate B1G1 into your business!
---