FROM HUMBLE BEGINNINGS TO HERO: THE STORY OF BLUE DRAGON
Michael Brosowski knows what it's like to struggle as a child in poverty. When fate brought him into contact with poor and at-risk children nearly 5,000 miles away from his home, what he saw led him to eventually start the Blue Dragon Children's Foundation, an organisation dedicated to rescuing children from crisis situations.
The son of factory workers, Michael grew up first in the hardscrabble urban environment of Sydney, Australia. Later, his family relocated via motor coach (known in Australia as a "caravan") to a more remote and isolated area of New South Wales. There they had to develop their own water supply and had limited connection to electricity. Essentially homeless, they struggled through some difficult times as Michael's father built a house for them over the course of several years.
These experiences remained with Michael throughout his life. "I remember as a child often thinking if only someone would come and get me out of this situation, I knew that I could do something with my life," he says.
After high school, Michael returned to his Sydney roots to become a teacher. This eventually led to an opportunity to teach abroad at the National University in Hanoi, Vietnam. When Michael witnessed the plight of Hanoi's numerous impoverished children working in the streets, it immediately hit home.
Unable to sit idly by seeing so many young people in difficult circumstances, especially considering his own history, Michael began doing what he could to help. Being a teacher, he thought he could help some of the children expand their opportunities in life by teaching them English, which he did free of charge.
Then, something unexpected happened. As children in the area learned what Michael was doing, more began to come to him to learn. Eventually, his university students were inspired and began getting involved in helping the children themselves.
At that time, Michael didn't plan to start an organisation, but his ad-hoc program helping street children was beginning to grow rapidly. While traveling to other parts of Vietnam, he began to see clear signs of human trafficking involving young children. After investigating further, Michael discovered entire villages of children were being exploited for labour in garment factories or selling flowers on the streets.
Witnessing these heart-breaking instances of hardship, combined with a deep conviction that he could do something to make a difference, Michael founded the Blue Dragon Children's Foundation.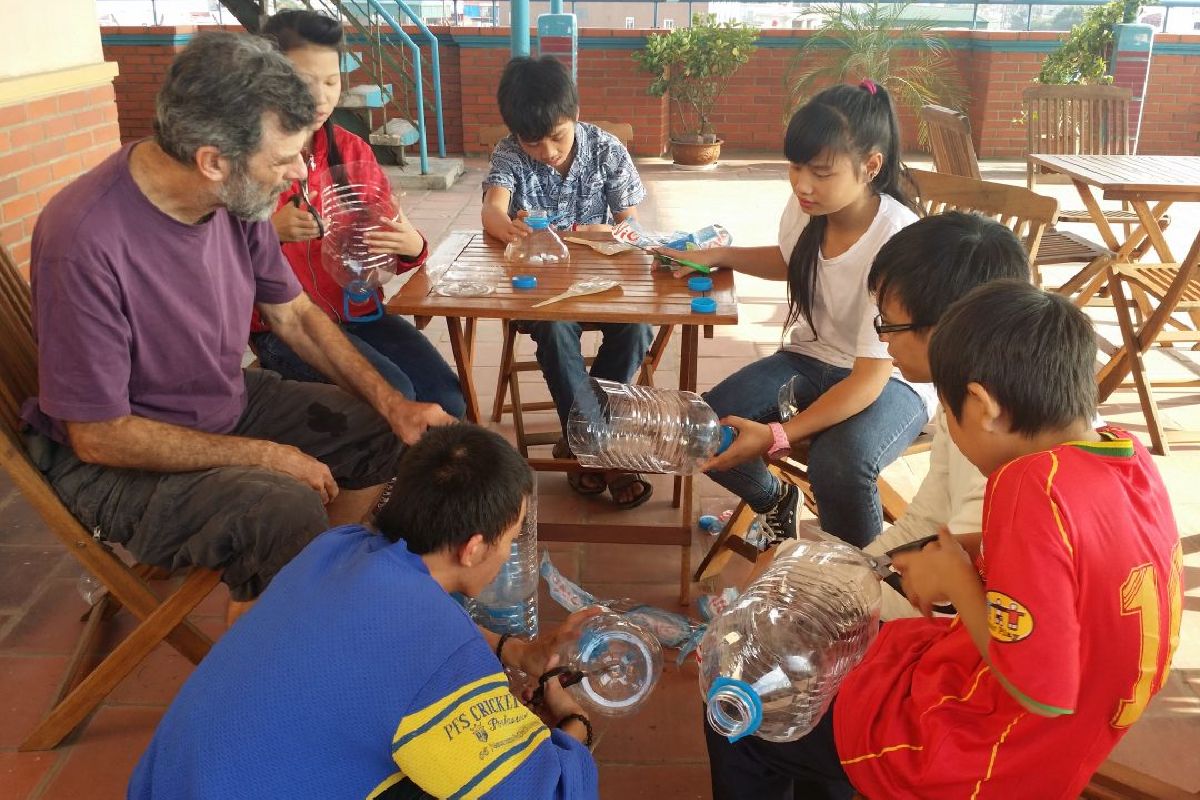 The Vietnamese see the dragon not only as a symbol of fortune and power, but also as a representation of the physical shape of the country. Drawn fittingly by one of the many children it has impacted, the logo for Blue Dragon – a humble, friendly-looking dragon spitting a bolt of fire – is a powerful reminder of the organisation's origins and the powerful impact it desires to create.
In addition to helping the street children that inspired its inception, Blue Dragon funds education, support for victims of human trafficking, and legal advocacy. For example, you can give $1 to enable 1-day's training for a disadvantaged child and give $3 to help a child obtain a legal document.
And when Blue Dragon sets out to help a community, they do not just give out things and walk away. They stay there until the problem is solved, or when the community is resilient against human trafficking or whatever issue they're facing. You can find all the projects facilitated by Blue Dragon here and help transform lives.
Together with the B1G1 Business For Good Community, Blue Dragon Children's Foundation has provided 19,742 days of education to children in crisis to date.
Support more amazing causes like this in B1G1.
---