B1G1 GIVING STORIES: Make a difference with your everyday business activities
Giving Stories are a unique part of B1G1 giving. They help to encourage habitual and intentional giving on a regular basis and have the power to become truly transformational for any business.
As you'll see below, you can create Giving Stories in your B1G1 account by linking ordinary day-to-day business activities to projects that resonate with you. Through your B1G1 Giving Story, any activity now also creates an amazing impact in the world:
And here are some additional ideas that help you maximise the power of Giving Stories – inspired by our amazing B1G1 business community – that you can tap on too.
START SMALL AND STEADY

A common phrase within B1G1 is 'The Power of Small'. Together, the B1G1 movement has created over 170 million impacts. It's an impressive feat that came from every small action by B1G1 Businesses everyday. Small things make a big difference – even the numerous emails you send everyday.
They key isn't in the biggest givings but in the accumulated impact of habitual givings. Start by looking at the smallest things you do and watch how it puts meaning and significance back into the smallest day-to-day activity when you create an impact from it – from every email sent, every positive feedback, every completed project, every meeting you attend.
CREATE MAGIC MOMENTS
– Dent Global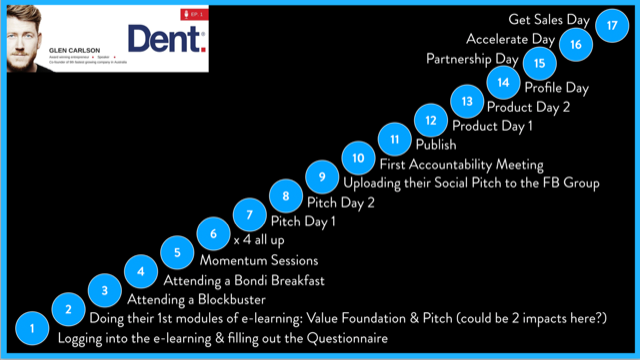 Celebrate the unexpected through little moments. Dent Global found and created 17 moments of the client journey where they could embed an impact. Yes, you guessed it – each moment aligns with a different project of the 17 UN Sustainable Development Goals. These 17 moments didn't happen overnight but it was a progressive work from the team who individually 'owned' a part of the process, including choosing an SDG they're passionate about and each writing up a message to their clients. And the 17 Magic Moments initiative was born.
The Dent team not only shares their giving philosophy from the get-go, but they deliver new giving moments throughout the journey consistently. As a result, many of their clients end up joining B1G1 too.
BRING GIVING TO YOUR TEAM
Giving is not just a way to celebrate your clients, but to celebrate your team wins too. True to their name, Inspire CA breaks the perception of the traditional accounting business in inspiring ways. Just visit their 'Impact' Page and you'll see just how they're not just simply talking about being a giving business, but living it.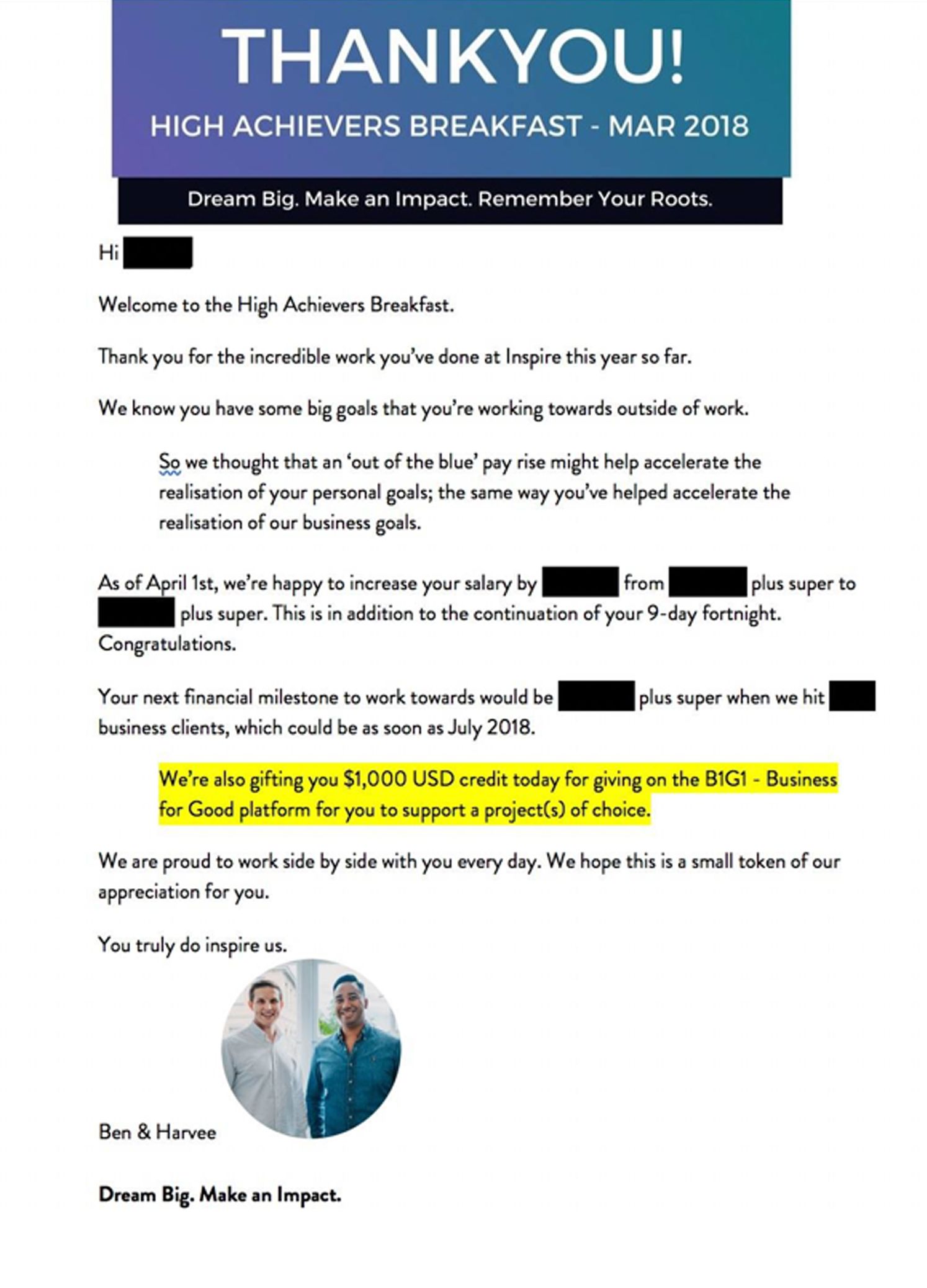 A great example is this extraordinary letter they handed out, which rewards work achievements of a deserving team mate and instills a deep sense of gratitude and giving spirit. Here's a business where the joy and importance of giving is encouraged not just in words, but in habitual action that becomes a culture.
CELEBRATING WITH YOUR CLIENTS
Here's an idea inspired by Dr. Gary Tho of Chiroworks: Aside from letting your clients know they have made a difference, let them make a difference because they choose to. The key is to make the experience one that connects your clients to something bigger than themselves through your business.
Here's how Dr. Tho did it: On International Women's Day, he offered free chiropractic adjustments to his clients. All he requested was that they would contribute to a project he chose. It's a simple yet powerful way for your clients to choose to give without it simply being another "charity" initiative. It's a moment where the joy of giving is extended to others.
SWITCH IT UP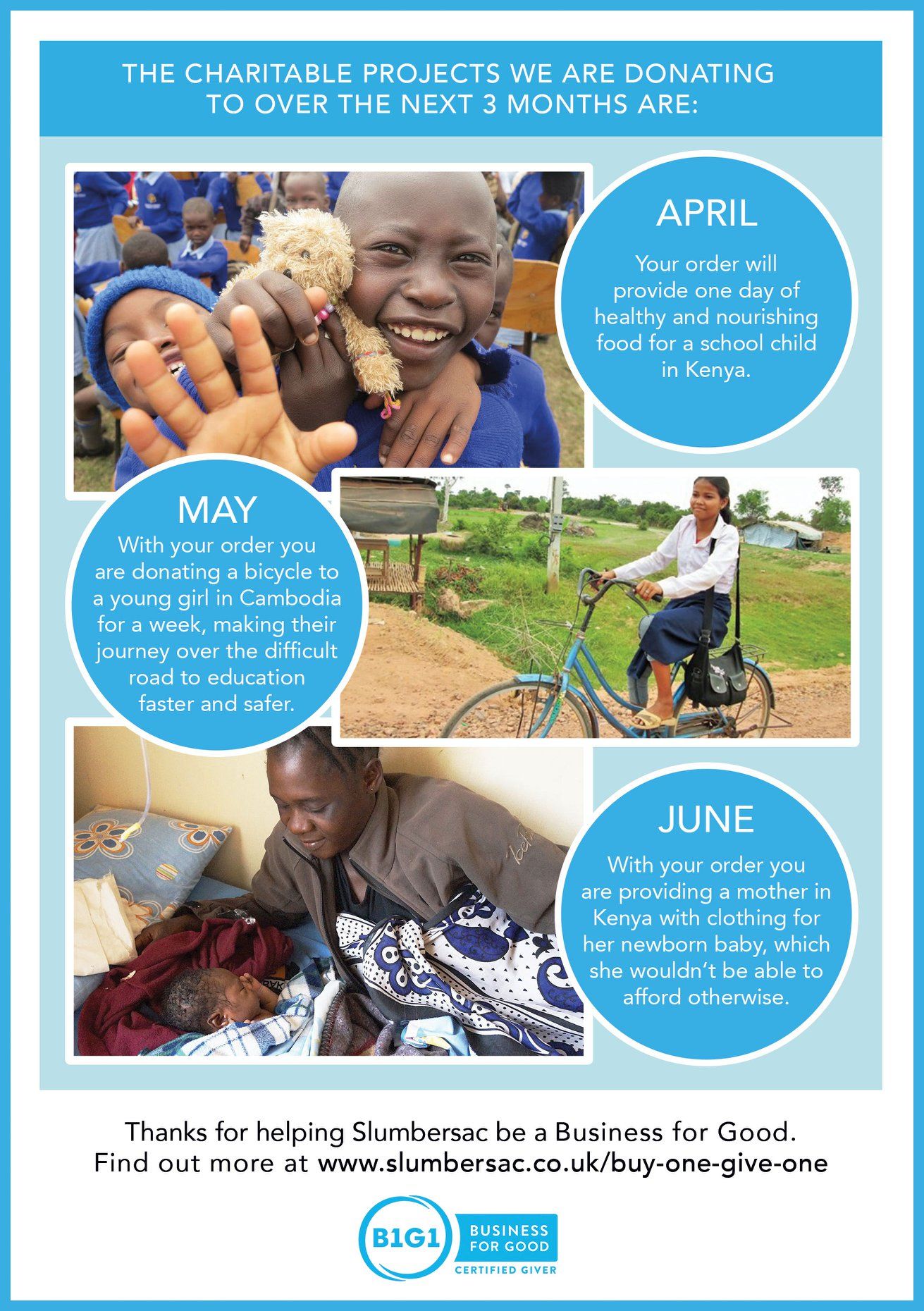 Check out how Slumbersac switches up their projects every month so they get to impact a variety of causes that resonate with them. And aside from choosing several projects within a particular cause you may be passionate about, you can explore switching it up so that every team member and every client will have a project supported that resonates with them.
For example,  January could be "education" month, February could be "health", and so on. Or your business can also choose to support projects each team member loves. So, January's giving could go to projects "Helen" loves, February's giving could go to projects "Jack" loves. It's a powerful way to connect with your team and bring a new culture and personality to the business.
I CHOOSE, YOU CHOOSE
– CSQD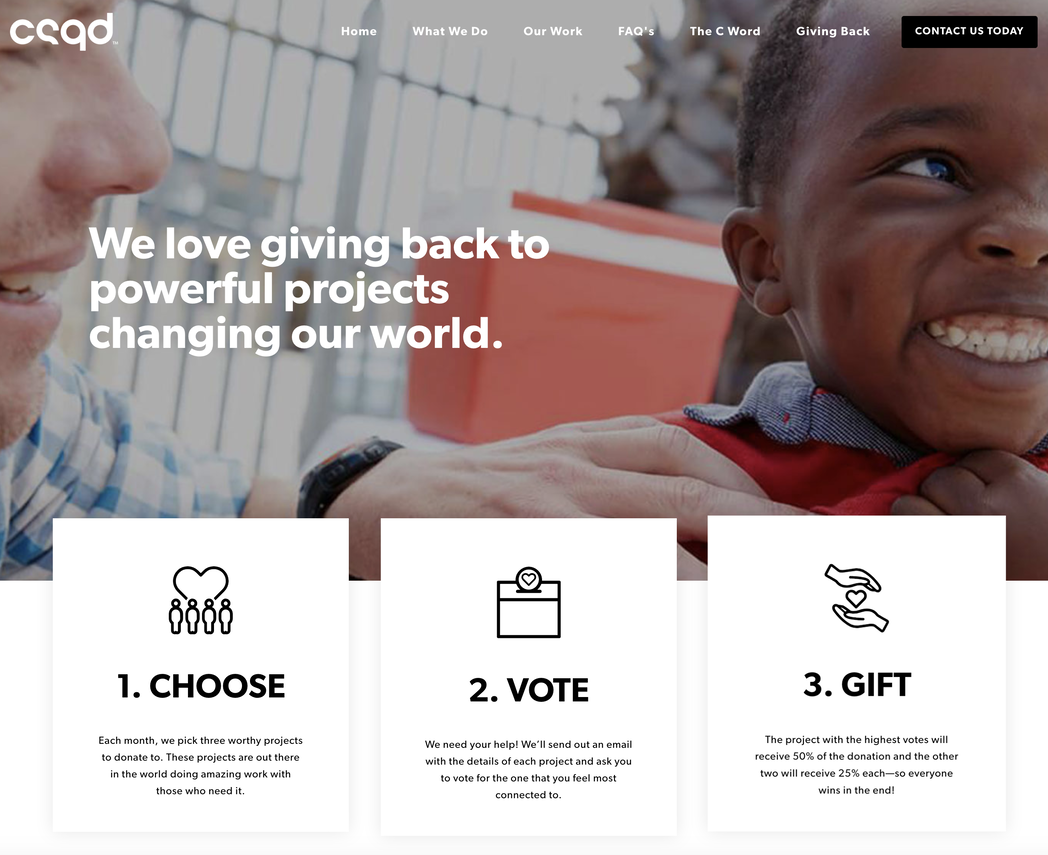 It's a wonderful idea to involve your clients in choosing the projects – ultimately you'd want to be sure the giving resonates with them! Here's a tip: Choose not more than 3 projects that you'd like to support this month, then have them to decide which of these they'd love to support. We always encourage businesses to decide what resonates with their work and teams so it aligns with the brand.
Rather than giving your clients the full list of causes to support (in fact, they may not know where to start!), your clients will find a greater brand association with a business that has its own giving mission. And feel free to switch up your selected projects every month so you get to impact other lives too! CSQD made it quick, fun and impactful for their clients to give too!
MULTIPLYING THE JOY IN JOYFUL MOMENTS
Here's a sweet approach: Sweeten an already happy occasion with the gift of giving. At Ocaquatics, each team member's birthday is celebrated in a B1G1 fashion. If someone is turning 26, Ocaquatics creates $26 of impacts make a difference in someone else's life. It simple, yet it allows every team member feel closer to the causes that they care about and reinforces the business spirit from its teams.
SET A GIVING GOAL WITH YOUR CLIENTS
Within the first year of joining B1G1, Kulahealth created and exceeded their goal of creating 200,000 days of impacts with their clients, literally. The entire experience takes place at each appointment, where every client is given a pebble where they get to place in jars, choosing which project they resonate with.
The shared goal aligns the business and the team, keeping everyone motivated and involved to achieve it together. It's a simple way of enhancing and gamifying the client experience while sharing the joy of giving, and simultaneously empowering your team to be individually part of spreading the giving word. A year on, Kulahealth is now looking to create 10 million impacts by 2030 together with their teams and clients.
BONUS: "JUST BECAUSE" GIVING STORIES
– Tim Wade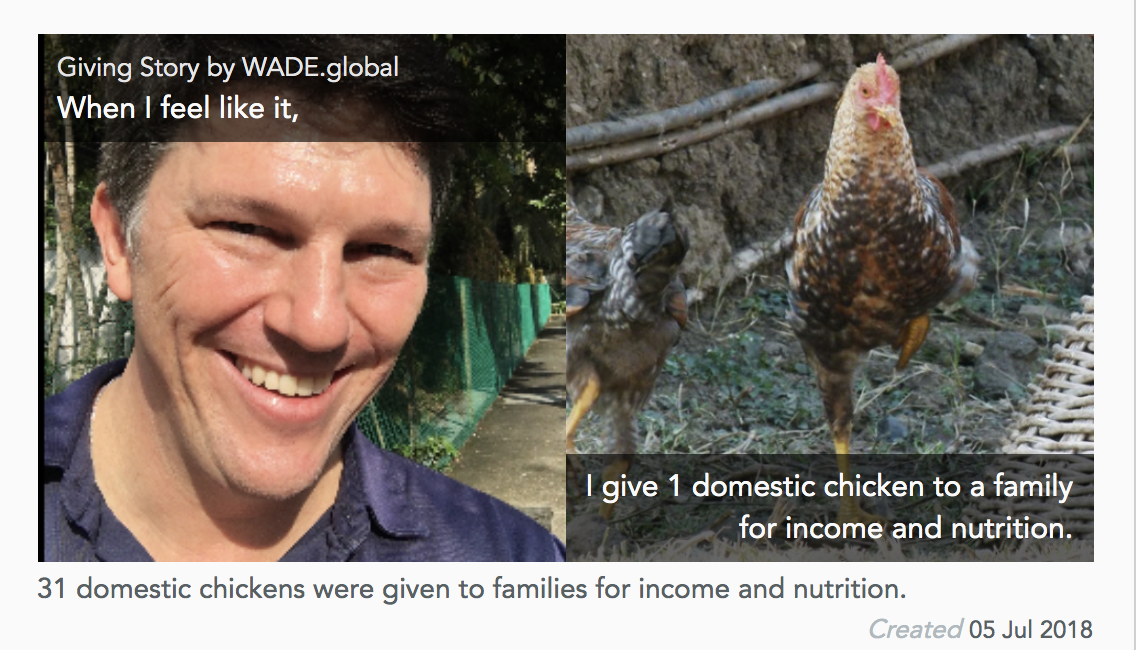 Giving doesn't always have to be a serious subject. Check out how Tim Wade does it.
---
MAXIMISING THE POWER OF GIVING STORIES
Many businesses wonder if giving can be sustainable if it's not based on transactional activities such as every product/programme sold or every invoice paid. But you'll notice that the successful B1G1 stories shared all began from the smallest ideas, and when executed with joyful intention every day, they are transformational for the business in immeasurable ways.
A great giving habit to adopt is to complete your givings weekly or monthly (or at least, quarterly) – you can do so right after you're reviewing the monthly business performance. Just watch how your impact figures change at the end of the year.
Happy Giving!
---
IMPACT NOW APP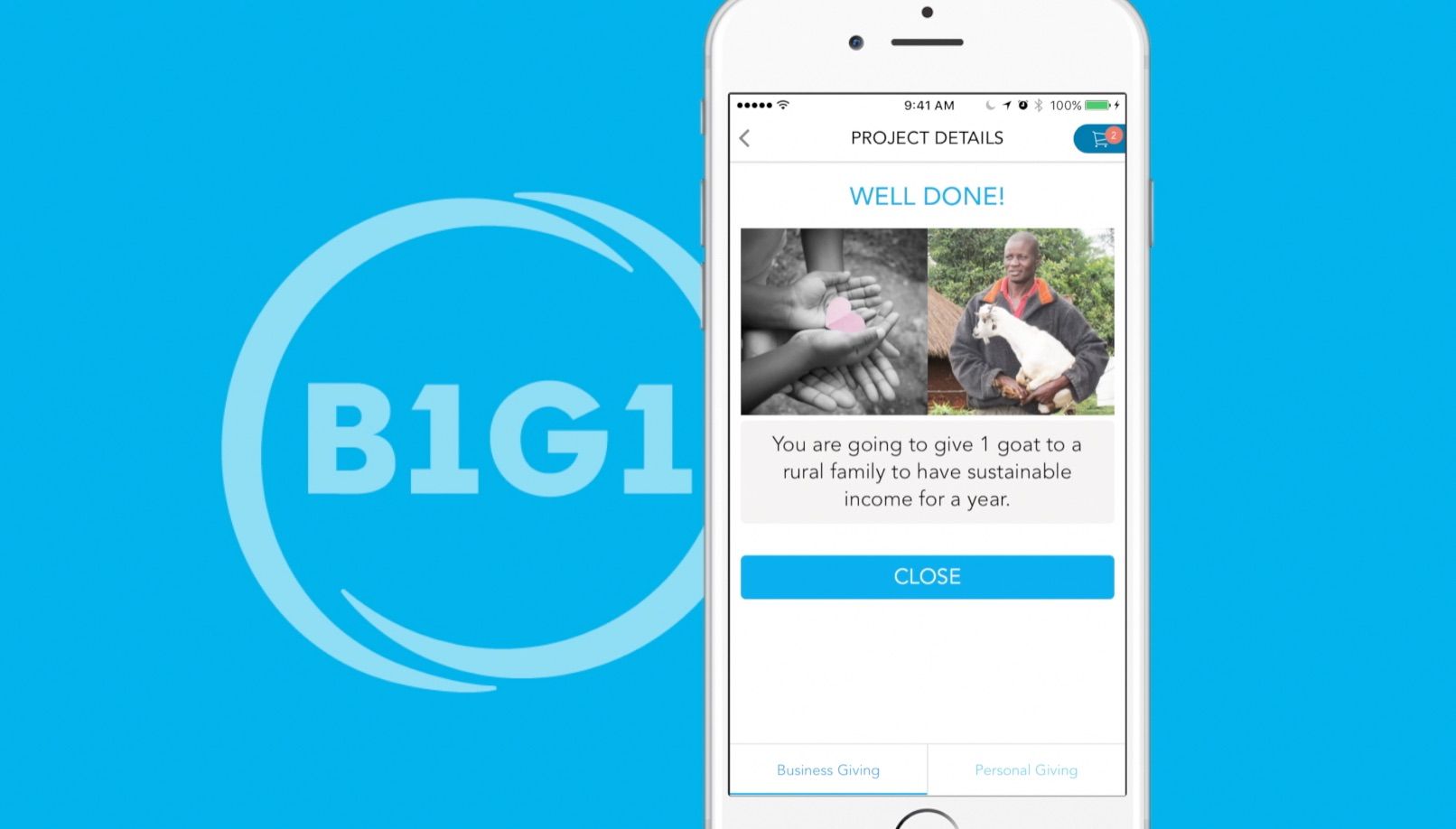 The Impact Now app makes giving on the move so much easier for you. Now you can easily embed giving into everything you do in business...and in your personal life too.
Show your Giving Stories easily to others through your phone and add giving impacts into your giving cart on the go.
Impact Now is available for download on both the Apple App Store and Google Play.
---