Preparing for a world that's hungry to give: What's changing in B1G1
As we wrapped up 2020, the B1G1 team's hearts were filled with gratitude because of the record giving levels we witnessed during the giving season and the amazing work that our Worthy Causes delivered on the ground despite the challenges the pandemic brought.
We're deeply humbled by the strength of this global business giving movement, and we're so proud of each and every one of you who make up this tremendously inspiring community.
One of the ways that the world has changed in the last 12 months is the increased consciousness that businesses have the responsibility and the power to make a real difference. We've noticed that many more businesses are searching for ways to give. And here at B1G1, we've been preparing for a world that is hungry to give, more than ever before. That preparation has thus far culminated in a redesigned B1G1 giving system that we launched last November – and there is so much more in store that we can't wait to share with you.
We will also be retiring the old system on February 15 so that we keep moving forward in empowering you to create more impacts through your business.
In this blogpost, I will be sharing with you the full details of the system redesign, including why we made certain decisions, what it means for you, and what we're doing next.
For the B1G1 members who are still going through a challenging time, please stay with me and read on – it'll be valuable for you to know what you can look forward to in your new B1G1 account when business resumes and you're ready to give again.
The Deep Dive: What's changing in B1G1
A new home for your B1G1 system and widgets
A smarter way to organize your giving tools
Giving Stories take center-stage, and are now easier to use
You can now give automatically on a monthly basis
Streamlining the giving experience – 4 things we're retiring and why
Summary and what's next
A new home for your B1G1 system and widgets
The first thing you'll notice that's different about the new B1G1 system is its location – instead of logging in at www.b1g1.com, you'll now log in at account.b1g1.com. The full project list, individual project pages, and your impact widgets are also hosted at this new subdomain.
While we understand that this would cause some inconvenience for the lovely B1G1 members who have included B1G1 links in their communications, the subdomain move was carefully considered to structure our web pages more efficiently, help search engines read our site more easily, and ultimately allow us to serve you even better in the long term.
Besides the giving system, we've also moved the B1G1 blog. If you haven't visited it in a while, do check out the inspiring stories there and share some love. :)
Action required: If you embed any widgets, Giving Stories, or Giving Campaigns on your website, please replace the embed codes with those from the new B1G1 system before February 15 so that your website will not be affected by the retirement of the legacy system. We've included a step-by-step guide here in case you need it.
As you replace the widget codes, you may also notice that the impact counts on your new SDG widgets look different. This is not an error – instead, the B1G1 team and B1G1 Giving Board had recently made a decision to amend the impact counting methodology, where each impact you create is now equally divided across the relevant SDGs instead of 'double-counting' on all the relevant SDGs. This was done to address previous concerns of over-reporting and confusion among B1G1 members, and to uphold the accuracy of impact reporting among all our businesses.
You may also notice that the embedded Giving Stories and Campaigns look sleeker now. :) We hope you'll love the new look, and we can't wait to see your updated impact pages!
A smarter way to organize your giving tools
Over the years, we've received feedback that the B1G1 giving system was too complicated to use, and even long-time B1G1 members get lost in their account sometimes.
In the new B1G1 giving system, this should now be a thing of the past. We've consolidated and simplified the navigation menu so that everything that matters to you is accessible within two clicks, if not one.
Relatively new B1G1 members will also notice that the dashboard behaves dynamically, prompting you to create your first impact or to invite your team if someone else is managing the giving for you.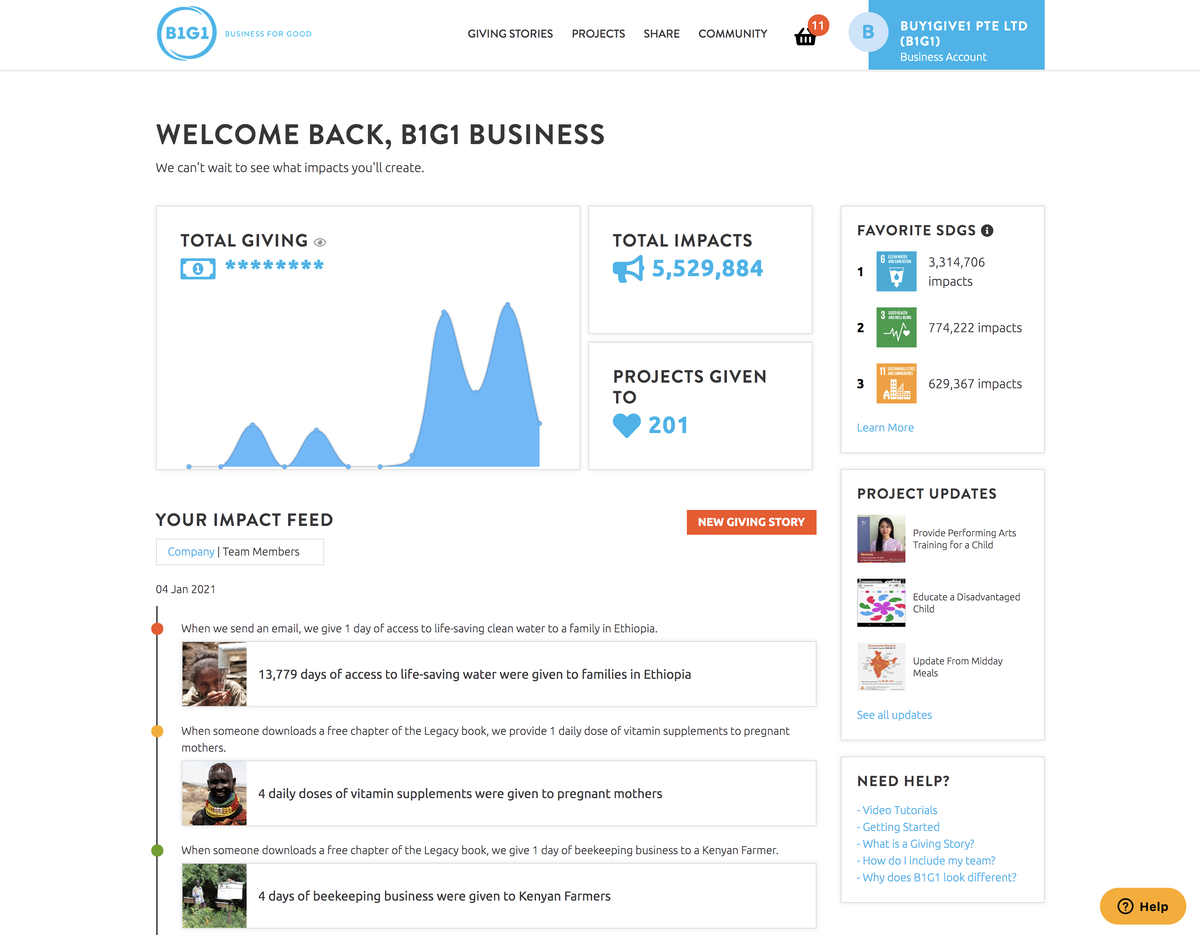 We've also built in a 'stronger' guidance mechanism to help familiarise you with the key concepts in B1G1 from the get-go.
For example, we now encourage all members to favorite at least one project first before allowing access to the Giving Stories, Giving Cart, and the connection resources in the "Share" menu.
The intention of this is to avoid having members get overwhelmed by the world of giving possibilities that B1G1 has to offer on Day 1, and to simply focus on the immediate steps that one can take.
So, if you are a veteran B1G1 member and are confused at why you have limited access to pages in your new account, simply head to the Projects List and add some projects to your favorites – it'll make your subsequent givings easier too!
Giving Stories take center-stage, and are now easier to use
Giving Stories have always been a central part of B1G1, since its introduction in 2013. After all, it's how the transaction-based giving model of "When x happens in our business, we create y impacts in the world" that is unique to B1G1 really takes shape.
However, we noticed that it wasn't always used by B1G1 members, either because it was difficult to understand how and why to create one, or because it was simply much faster to give directly through the Projects List.
With this conundrum in mind, our team set out to make Giving Stories central by design. From the onset, we establish projects as the building blocks of Giving Stories. The Giving Story creation process is also much more visual, and instead of going through 4 steps, multiple Stories can now be created on the same page within seconds.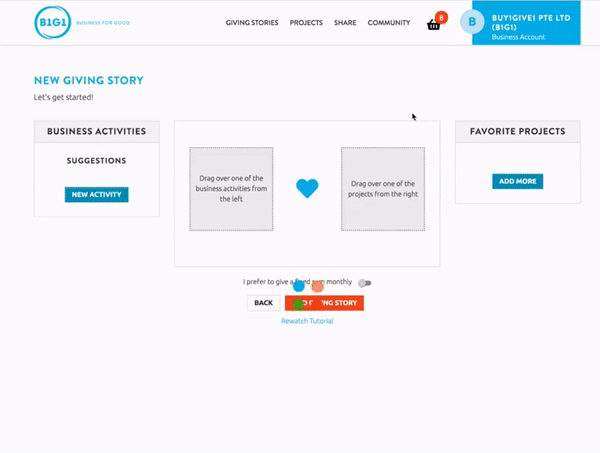 Whether you're completely new to Giving Stories or are too familiar with the old way of creating them, fret not: there's an on-screen tutorial in your B1G1 account that will walk you through the steps. Our Partnerships Manager, Jack Blenkinsopp has you covered too – here's a quick tutorial he made just for you:
It is our hope and vision that every B1G1 business would own an assortment of Giving Stories, each creating impacts on an ongoing basis as the company goes about its everyday activities.
And that brings us to the next big change.
You can now give automatically on a monthly basis
Besides a brand new look, Giving Stories are now much more powerful too – they allow you to say, "Each and every month, we create z impacts in the world".
We call these Auto (Monthly) Giving Stories, or monthly Giving Stories for short. They're designed to make it effortless for you to give on a regular basis; you only need to set them up once, and the contributions would happen automatically in the background for you every month.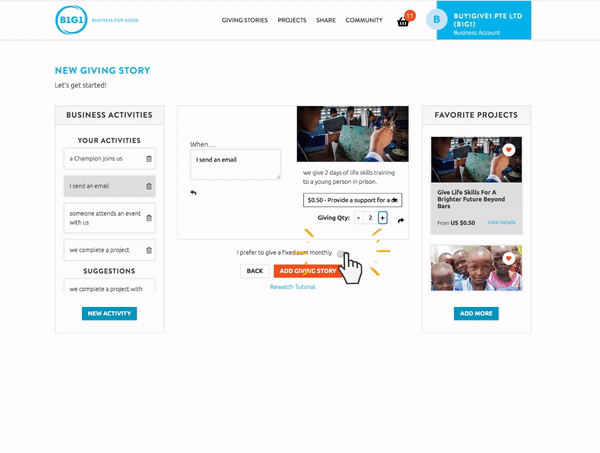 Similar to the regular Giving Stories, you can create any number of these as you like, and let the automations do the work for you.
Each month when the giving is completed, you'll receive an email notification that prompts you to log in to B1G1 and see how your impacts have grown. It's a great way to keep up the giving habit when business gets too busy.
To set up your first monthly Giving Story, simply head to your account and follow along this step-by-step walkthrough.
Streamlining the giving experience – 4 things we're retiring and why
As we redesigned and sought to optimize the B1G1 giving experience, we took a hard look at our usage statistics and asked ourselves difficult questions about trade-offs and priorities.
While saying goodbye is tough, we realised that certain functionalities in the B1G1 system simply didn't spark as much joy as others, and it made much more sense to 'Marie Kondo' the system for a more optimal experience.
These are the features that were excluded in the new system, and would thus be retired along with the legacy system on February 15:
Action required: If you are currently using any of the above features, please copy and move these communications to other channels before this transition. You can click on the links above to see the recommended steps to take for each feature.
And if we had retired something you dearly miss and it's a deal-breaker for you – or if the suggested workarounds do not work well – please reach out and we'll see how else we can help.
The great thing about clearing out old functionalities and having a more lightweight system is that we can now focus our energies on sharpening our strongest functionalities, adding more value to the giving tools you already love and frequently use.
Retiring these features also allows us to take on new product discovery work to understand how we can help you to create an even greater impact and to connect even more. Through the intensive review process, we have also learnt much more about the mistakes to avoid in future iterations of the B1G1 system.
A quick recap + what's next
I hope you found this a useful read. We tried to keep it as short as possible!
To summarise, here's a recap of what's changing in B1G1:
We've moved to account.b1g1.com, and you'll want to update your widgets so they continue displaying your impacts beautifully after February 15.
We're retiring a few of the less-utilised features and focusing on providing you a more efficient and enjoyable giving experience, with Giving Stories at the heart of it all.
If you'd like to give a fixed amount every month in addition to your ad-hoc giving, you can now do so with automated monthly Giving Stories.
As mentioned at the start of this post, the system redesign is only the beginning. We are looking forward to bringing you more updates and enhancements both in the B1G1 product and within the movement – things like game-changing partnerships that will help current and future B1G1 members give even more effectively. So stay tuned, and as always, keep the feedback coming.
We will also be conducting a 30-minute web event on February 17 to take all B1G1 members through the new features, the revamped classics, and other tips and tricks in navigating your new B1G1 account. If you can, please do join us.
We understand that the changes you need to make for the widgets and the retired features could be inconvenient and we deeply appreciate your understanding and cooperation in navigating this transition with us. If there is anything else we can do to help smooth your transition from the old B1G1 system, please let us know.
Thank you so much for your continued support in this global giving movement.
We look forward to creating many more impacts with you!
---