THE RISE OF ECO-FRIENDLY AND SUSTAINABLE GIVING
The United States alone recently reported that approximately 26.8 million tons of plastic ended up in landfills over the course of one year.
Recognizing the dire need to reduce waste and protect our home planet, Aisling Graham, Founder, and CEO of Over The Top Promotions, is continuously exploring sustainable practices that make her business part of the solution – not the problem. Several products that serve as single-use promotional materials for businesses big and small are produced, circulated, and disposed of every day without taking into account the environmental repercussions. And perhaps not surprisingly, on her journey to build a more sustainable business, Aisling also discovered greater meaning and purpose to the work she does every day.
ALL IN THE FAMILY
Giving back is something that Aisling is passionate about. Not only does she give her own time, Aisling also involves her children in supporting local homeless shelters. She puts it this way:
The most powerful thing for me is getting my children involved because the reality is that our future generations are the ones that will make the difference.
Aisling carries the same passion for giving back into her business. She believes it is the responsibility of every business – big or small – to make a difference. She makes sure that her business, Over The Top Promotion, reflects precisely what she believes in.
SUSTAINABLE BUSINESS PRACTICES
Primarily working with clients in the IT field, Over The Top Promotions strives to help their clients achieve a cohesive branding strategy using eco-friendly merchandise, all the while encouraging the clients to incorporate giving into their own business models too. A huge part of the mission at Over The Top Promotions is awareness, and this involves a lot of research. Understanding the difference between what products are considered reusable versus what is actually sustainable can make a great environmental impact.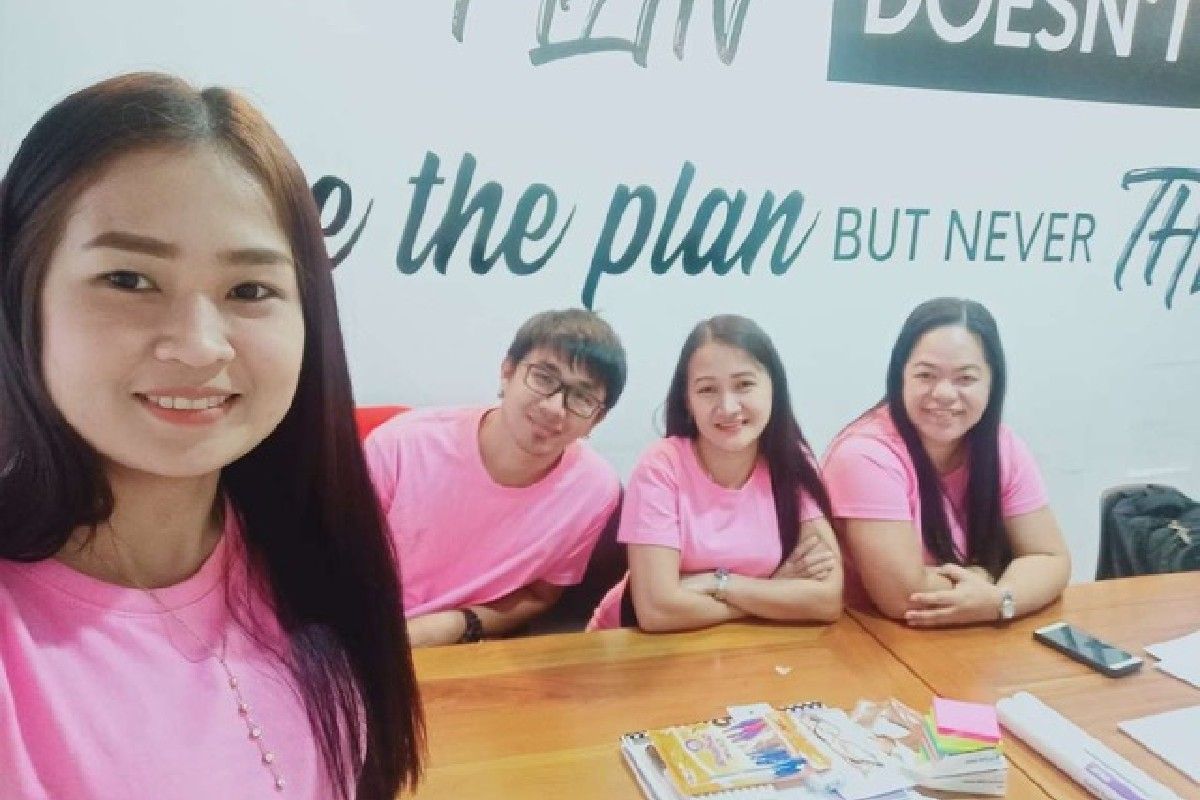 For example, a reusable non-woven tote bag would need to be used a minimum of 11 times the amount of resources needed to make one single-use plastic bag, and a cotton tote bag would need to be used 131 times. So the notion that using a non-woven cotton tote bag is sustainable is not necessarily accurate unless you've re-used it for a considerable number of times. Aisling also encourages other companies looking to incorporate eco-friendly practices into their business models to explore the variety of sustainable products on the market today. Some of these products can include socks made out of fishing lines, notebooks make out of used coffee, bags made out of plastic bottles, t-shirts made out of plastic bottles to name a few. The possibilities are endless.
ABOVE AND BEYOND
Over The Top Promotions (OTT) not only works to produce sustainable merchandise for their clients but also encourages responsible usage of these products by their clients in turn. Since much of the industry relies on the distribution of merchandise, a lot of waste can be leftover from events or get thrown out. As a team, OTT has created a list of charities that would benefit from this extra merchandise and ask their clients to return any unused merchandise to eliminate the spread of more waste. By encouraging their clients to become part of their mission, Over The Top Promotions is going the extra mile in ensuring sustainability from the production to consumption and disposal of their products.
IN THE SPIRIT OF GIVING
Building sustainable practices into the business is just one of Aisling and her team's ambitions. For the team at Over The Top Promotions, it is also important that they give back locally and globally and contribute to the United Nation's Global Goals. And they do that easily through B1G1. This partnership has helped Over The Top Promotions to realize and actualize their desire to give back globally through their day to day operations and grow their social impact.
Last Christmas, Over The Top Promotions gave away power banks with custom sleeves. Each sleeve contained the message: "The Power of Giving." The reverse of the product read: "A Gift that Keeps on Giving… Powering You and Empowering Others in Need." For each power bank distributed, Over The Top Promotions gave one month of access to education, clean water, textbooks and planted one tree.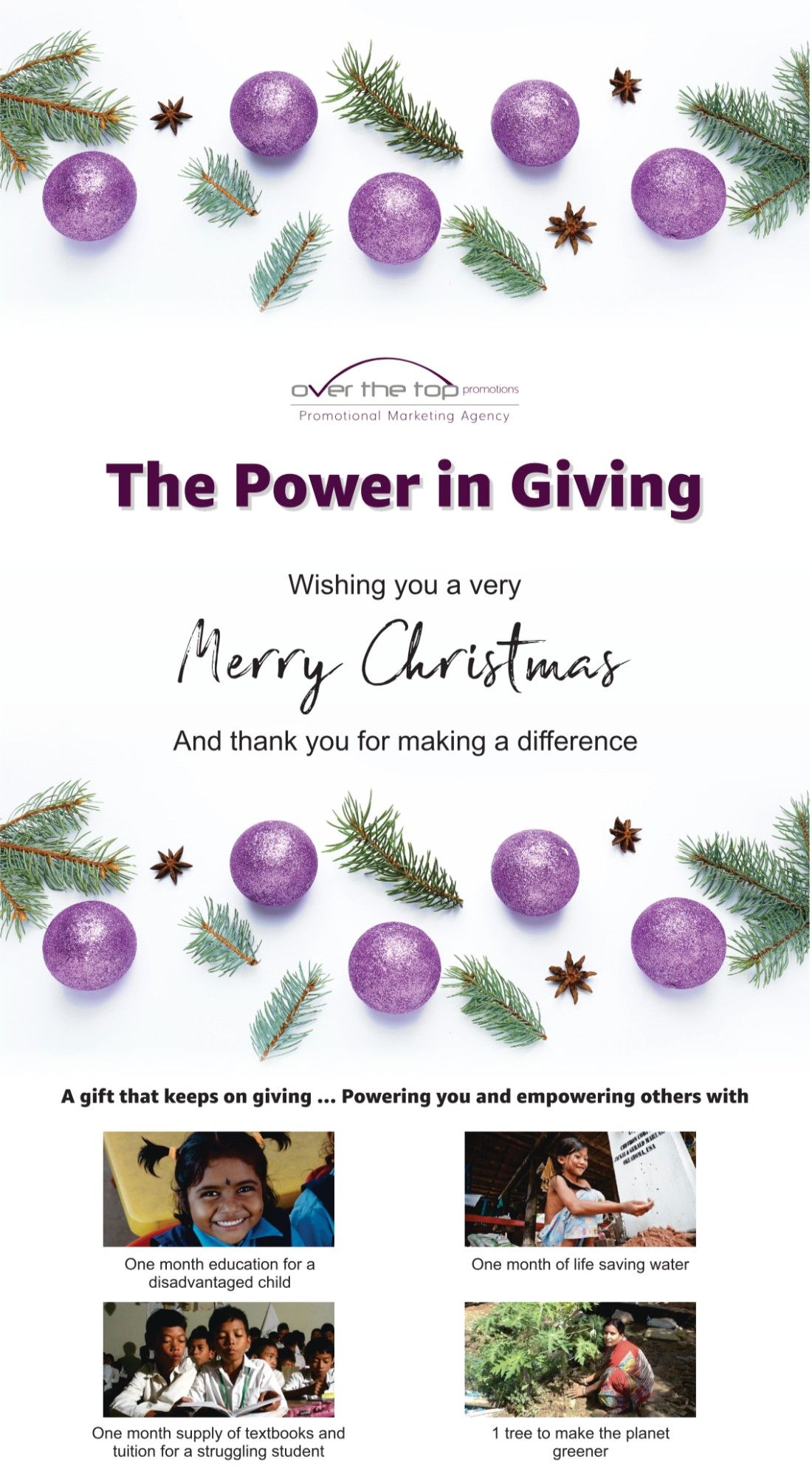 By incorporating giving into their business model, Over The Top Promotions has made a total of 46,241 impacts, and this number continues to grow. Aisling says,
We want to be a company in our industry that has the message that giving back is important, as well as it important to be aware of global goals, and help achieve these goals. B1G1 makes it all possible.
---