Nalu - Teens Making Waves in Fashion
Founded by Dali (15) and Finn (12) Schonfelder, NALU is a hip streetwear clothing company based a few blocks from the beach in Bali. Their storefront is new, but they've been in business for more than two years now, selling apparel, shoes, and a compelling mission to boot.
"We've realized that clothing is about a lot more than style, everything you wear shows something about you to the outside world," said Dali. "From color, to style, to fit, to fabric, every aspect of your clothing has the potential to make your day really great or your day really bad. NALU products take it one step further in that every time you wear your NALU t-shirt, you know that kids are staying in school because of you."
The Nalu Story
The NALU story begins a few years back on a family trip to India. Dali and Finn's parents are chiropractors, and started volunteering at a local school, bringing their kids along who were eight and 11 at the time. Dali loved experiencing the local food, language and culture.
"We loved it so much that every year we just wanted to go back there," she said. So the Schonfelders made it an annual trip.
"One year when we came back, our friends weren't there anymore. We asked everyone in the village 'where are our friends, where are our friends,' and they said they had to leave because they didn't have a school uniform."
Students aren't allowed to go to school without a uniform, so many stop attending after they turn 12 years old because that's when the government stops paying for school fees and uniforms. Not only that, but the schools also provide room and board. So when the kids can no longer go to school, they miss out on those provisions, and are much more vulnerable to child marriage and labor.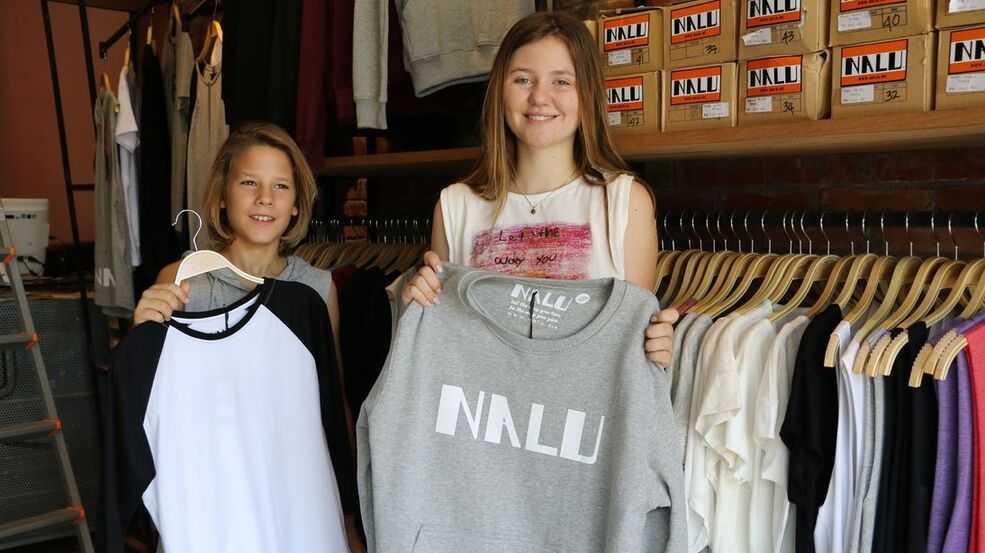 "We couldn't believe what was happening there. That they had to leave school and work in factories the rest of their lives," said Finn.
When Dali and Finn learned of the opportunities that something as basic as a school uniform could provide, they knew they had to take action. Shortly thereafter, NALU was born. Now with both online and retail stores, Dali and Finn give a school uniform to a child in need for every article of clothing they sell.
Their Giving Impact to Date
Today, they have given more than a thousand school uniforms.
"It just feels so great to know the impact, like right now there's been a 78 percent increase in enrolment in the first school that we gave uniforms to," said Dali.
A 78 PERCENT INCREASE IN ENROLMENT. That's astonishing. And Dali and Finn's goal is to eventually give 20,000 uniforms each month. To do that, they discovered a simple and extremely effective tool: global business giving initiative B1G1 (Buy1GIVE1).
"Once NALU gets bigger and we sell a lot more things, I feel like that will be a little too much to handle for our giving. That's one of the reasons why we love B1G1," said Dali. But it's not the only reason.
Doing So Much More through Business
Dali and Finn realized how much more they could do through B1G1, because of the ease of use and huge choice of projects they can now give to: more than 800 around the world.
They don't have to set up their own foundation to be able to give on a larger scale, because through B1G1, they have the projects at their fingertips. And they can be a part of something bigger, a global community of likeminded businesses.
To give uniforms now, all they have to do is enter the number that they wish to give based on how much merchandise they've sold. And B1G1 sees to it that 100 percent of their giving makes it to the people on the ground.
This gives them more time to focus on growing their business.
Dali and Finn have now had a slew of speaking engagements and more and more people are jumping on the NALU bandwagon. Even fashion designer Donna Karan. Dali flew to New York alone, just hoping for the chance to meet her fashion icon; she had no idea how successful the trip would be.
"I think I really inspired her [Donna Karan] with NALU. She bought all of the few thousand dollars worth of products," Dali said. Karan also introduced Dali to other designers, and the NALU network is so much stronger because of it.
It's hard not to be mesmerized by these kids and their passion, making it so easy to imagine that as NALU grows and the B1G1 model spreads, a world full of giving can create a more wondrous world for us all.