THE DENTIST YOU CANNOT WAIT TO VISIT: GREYHOLME DENTAL SUITE
" I was absolutely petrified of the dentist," Lydia told me. Yet she now works as a receptionist and as a 'smile consultant' at Greyholme Dental Suite in Cheltenham, UK.
And she is being completely honest about how scared she was of the dentist. It probably resonates with you too, not many people like to visit the dentist.
She remarked that she felt surprisingly comfortable while in the hands of the reassuring and friendly team at Greyholme Dental Suite during emergency treatment. She left pain-free. That was 18 months ago, and she's since decided to join the Greyholme team. One key reason she chose to work for this dental practice: the team's 'giving spirit'.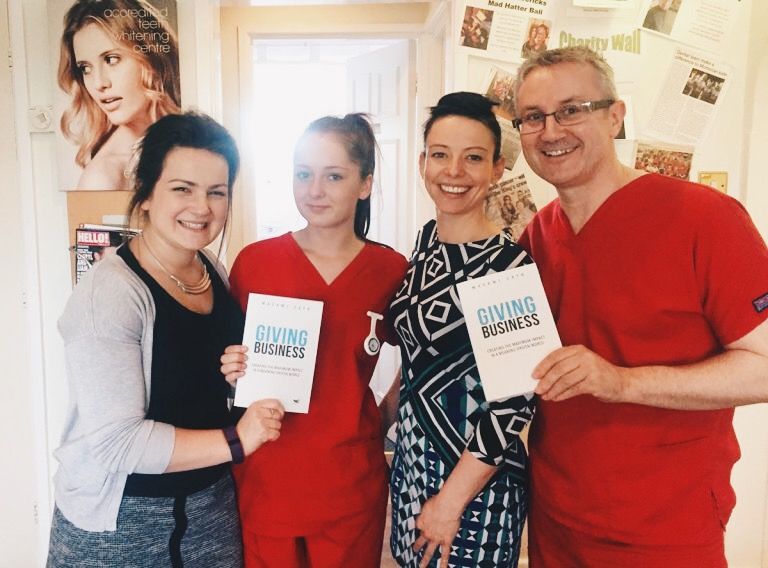 Dr. Warren Martin, owner and principal dentist at Greyholme, first came across B1G1 in 2012 and immediately jumped on board. The firm has given actively ever since. Remarkably, this tiny practice has created tens of thousands of giving impacts in the short timespan since joining.
These 'giving impacts' include 33,247 days of access to clean, life-saving water for people in Africa. Businesses that are giving through Buy1GIVE1 (B1G1) are creating tangible impacts that are often expressed as the 'number of smiles' they are creating, Greyholme included.
The team members at Greyholme create thousands of smiles around the world through their giving. They also work tirelessly to create beautiful smiles in a small practice that is always full of happy patients.
Lianne, a Practice Manager working for Greyholme for more than 17 years explains the process,
"Every time a patient comes in for a hygiene therapy, they are given a little token to put in a jar to indicate a project they like. We have three projects. We have access to water, medication for a nursery child and building wells."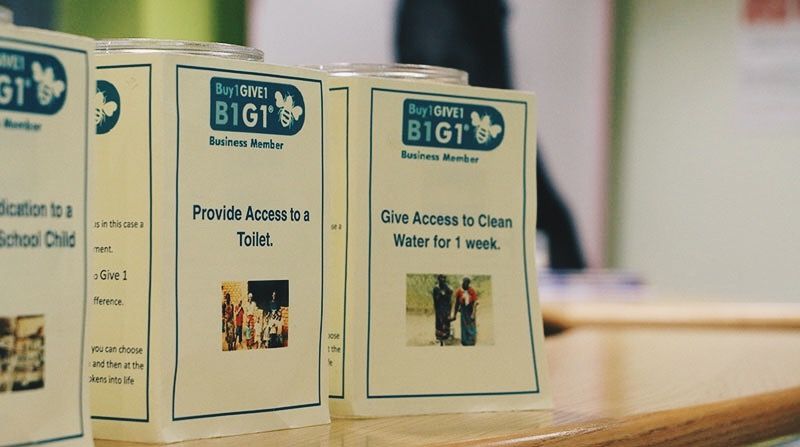 I was very lucky to have the opportunity to visit this team during business hours, while I was in town last week for a conference. The team welcomed me with open arms. In fact, they even prepared a sign to welcome me with flags hanging on the wall!) and even allowed me to step into a treatment room with the permission of the patient.
Tim, who has been coming to this practice since the beginning, was on the chair for a long three-hour stretch of cosmetic teeth straightening. I was invited to go in while they were taking a short break for him to rest his jaw.
He was presented a 'Certificate of Gratitude' by the Greyholme team who gives this certificate at the end of every treatment.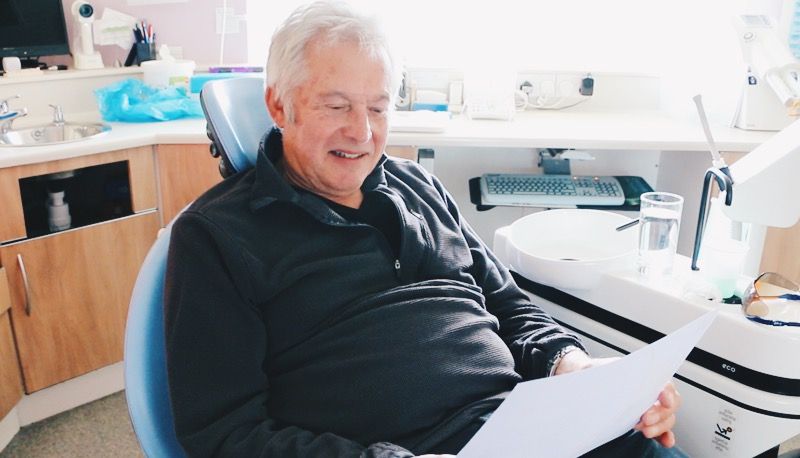 "Tim, this is to say just by having your teeth straightened, you built a well," said Lianne after handing over the certificate. Tim was in disbelief, "No way. No kidding! I want to go to see it." He smiled, and the potentially tiring and painful dental session somehow became cheerful and inviting.
This made me want to become a patient here. You really can feel everyone's joy at Greyholme Dental Suite.
But it was not like this five years ago. "We had a really bad culture. It was not really nice to be here then," said Lianne.
Both Lydia and Lianne repeatedly told me how having a strong mission to give and make a difference transformed their company, and how that now naturally attracts great team members.
"This is what we nurtured throughout the years, having that giving spirit," said Lianne. "No potential team member gets through the door if they don't have that."
Greyholme's reputation as a giving business has certainly spread over the years. Their team is often invited to speak around the UK too.
Giving has so many benefits, but the words of Dr. Martin really sum it up well:
"[It's] so rewarding to see what your effort is contributing towards. And I wholeheartedly recommend everyone to get involved."
If you liked this story, please watch the video, share and spread the spirit of giving among your networks.
And if you are a business owner, we want you to jump on board and become part of this giving movement too! It might just make you and your customers smile even more than they already do.
---