GARDENS FOR GOOD: WHAT'S IN A NAME?
The purpose-driven business series features a different Business for Good to showcase their unique giving stories. We hope these stories inspire you with interesting, new and joyful ideas on how to integrate giving into your business.
This month's featured B1G1 business found that giving was so integral to everything they did, they even changed their business name from 'Outer Space' to…. 'Gardens for Good'
INTRODUCING…GARDENS FOR GOOD!
WHO: Joe Francis from Gardens for Good
WHERE: Oxfordshire, UK
WHAT: We make great things happen near and far, and we also happen to design gardens!
CAN YOU GIVE US A SENSE OF WHY YOU DECIDED TO START GIVING?
Because it's so important that I/we make a positive contribution through what we're doing. I can't explain it. It's just integral to who I am. Besides the world needs everyone to help each other out.
WHAT ARE YOUR FAVOURITE PROJECT(S) TO GIVE TO AND WHY?
Planting trees is one of the most important projects for us as it helps repair and regenerate the environment, provides habitats for so much life, and ultimately creates a healthier planet for us all.
HOW WOULD YOU DESCRIBE THE IMPACT B1G1 HAS HAD ON YOUR COMPANY AND ITS CULTURE?
It has revolutionized how we do things. It's taken us to places we always wanted to go but we're unable to access before. It has connected us with others on such a deep level and helped us communicate what we're about in such an easy and achievable way, which attracts exactly the sort of people we want to work with.
WHAT'S THE BEST EXPERIENCE YOU'VE HAD THROUGH YOUR GIVING ACTIVITIES AND BEING A PART OF B1G1?
One of the most memorable experiences was when B1G1 did the 'Smile for a Smile' – it made me laugh when you put my face next to an Orang Utan, but then it also made me realize how important and significant the impacts are that we're able to make through B1G1.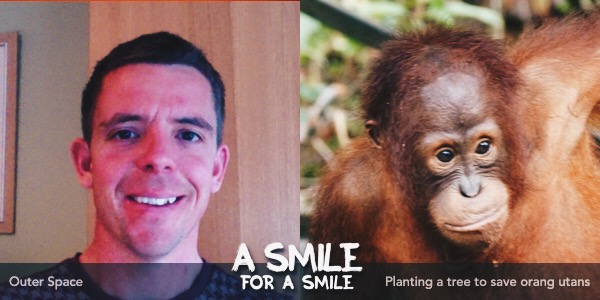 DOES ANYBODY IN YOUR TEAM HAVE AN INTERESTING GIVING STORY TO SHARE?
Only that I once missed a mentoring meeting so we invested in mentoring your entrepreneurs through B1G1 to make up for it.
WHAT QUESTION WOULD YOU WISH THAT WE'D ASKED AND WHAT WOULD BE YOUR ANSWER?
How do you see your business moving forward with B1G1?
A – We're looking forward to building B1G1 into our daily processes more and more so that we can include everyone with whom we've had touch points with, and not just share it with our clients.
---
If you have an interesting Giving Story to share, write to us at hello@b1g1.com to be included in the next feature!