Acacia Training Limited – Team Bonding through Giving
Online meetings and group chats at work are the new normal. Gone are the days where team discussions are always face-to-face or where we can catch up with other colleagues at the coffee dispenser and ask them about their day…
While team engagement is crucial to a company's success, developing and sustaining it is a challenge that has never been more evident in this time of the pandemic with more working from home.
But often, it is such challenging times that spark great ideas. Acacia Training – a training firm based in the UK —  is one such great example. One simple idea created a full-on 100% team engagement.
A PEOPLE CENTERED CULTURE
Acacia Training specializes in health and social care training, with an additional focus on supporting employers to support those with mental health needs or disabilities in the workplace. Their mission is to help those hardest to reach in the UK employment market build a career path and gain employment to better their lives.
Starting out as a small family business, they are still very committed to retaining that sense of family as the team grows significantly in size.
"Our decisions in the business always start with the impact on people from learners right through to our own employees" says Victoria Sylvester, Managing Director of Acacia Training.
As the team grows, they started to have more and more people based across England. Keeping those more remote from their base in the centre of the UK actively engaged was extra challenging.  "We wanted to ensure we maintained that family feel regardless of whether you are in the country or, who knows in the future, the world", she shares.
REIGNITING BONDS THROUGH GIVING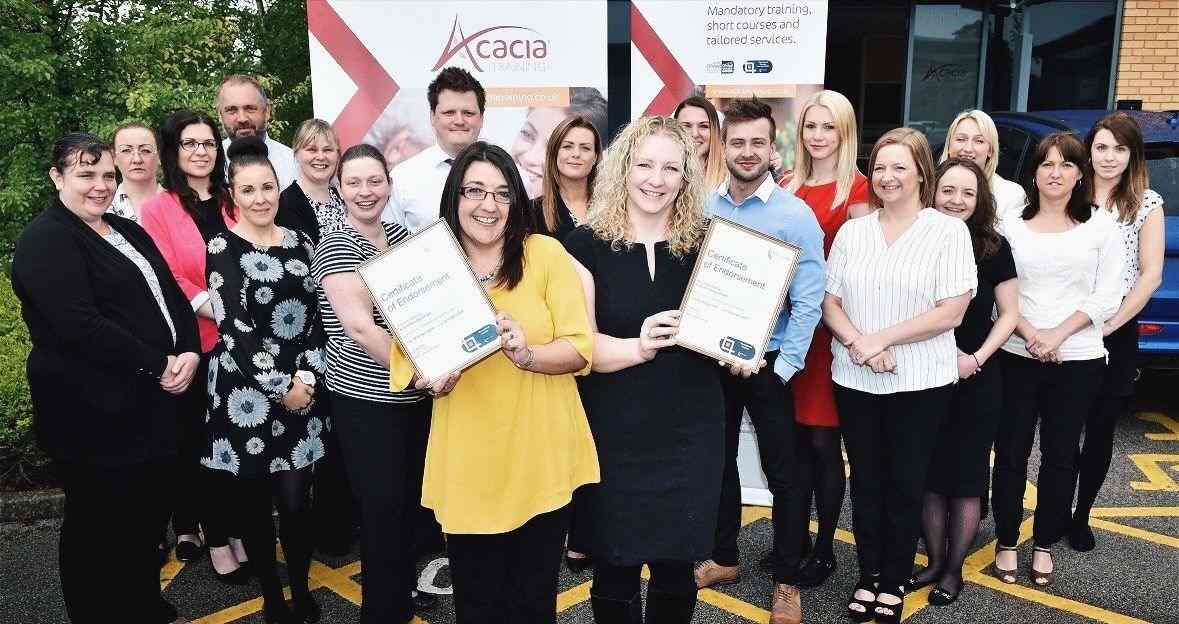 Acacia had an internal communication platform but this was not being used effectively. So they rolled out a staff challenge: Everyone was to post a positive comment for others on the internal channel within a 2-week time frame. Those who did could choose a B1G1 project of their choice to support. The CEO of Acacia Training would then use her salary to fund the cause!
The results have been remarkable. The once quiet chat groups are now bustling with excitement and chatter. This initiative spurred the sharing of inspiring comments amongst the team and people who had never communicated before were starting conversations. Victoria adds, "Everyone had a good laugh about how much of the CEO's money they could spend!". A platform for team members to express themselves was just what they needed to reignite bonds and encourage people to forge new ones.
Remember that good feeling you have in your heart when you do something nice for someone else?
Well, this spirit of positivity within the Acacia community was reinforced when each person saw their contribution to a project appear and as each team member explained the personal reasons behind their choices. To date, and accelerated through this initiative, Acacia Training has made a total of 47,132 impacts!
"It created a really positive vibe in our Acacia community", Victoria describes the powerful change she witnessed from this act of goodwill. By empowering their team members to do something good and spread joy for others perhaps on the other side of the world, they were able to spread joy within the team too.
GIVING FOSTERS RESILIENCE AMIDST A GLOBAL PANDEMIC
Acacia Training achieved a 100% engagement from the team in this process. Even the team members who previously did not know how to download the communication platform took the effort to learn and participate.
Victoria is extra thankful for this experience as a few months later, the world was hit by COVID19 but their internal communications were already all fired up and strong enough to withstand the difficulties that emerged. Everyone in the team was supporting each other, keeping one another motivated and optimistic, and looking out for those who were especially affected in the community.
"Such simple idea had a huge impact." It's another great example of what the team at B1G1 call 'the HUGE power of small'.
Nurturing a culture of giving was so effective towards building team rapport in the long run. Whenever engagement starts to dip a little, which is inevitable for a company, as Victoria points out, the team will come up with new ideas to bring people back to engaging with others.
For example, when the leaders at Acacia Training saw that team members were feeling the impact of lockdown on their wellbeing, they ran schemes like "Hope 4 Hope" where staff members post something positive, then the company will give on their behalf. This has also helped less confident team members build the courage to engage and thus bringing every single member in the team closer, ensuring no one was left behind.
"Their hope can bring hope for others, both in the business and also through the B1G1 projects, to keep us all going through difficult times"
Team engagement remains one of the core pillars that build a strong company. Acacia Training 's journey with B1G1 has highlighted how cultivating a spirit of giving can be an effective way to engage the team and encourage team members to connect with one another, so that they can weather any storm, together as a family.
---