DEBORAH HARRIS – GROWING THE "FIRST FRUITS" OF ENTREPRENEURSHIP
We're often told that history is a good teacher.
So with that in mind, here's a history question for you: what might 3,000-year-old religious practices have to do with fiscal performance indicators for modern businesses?
If Australian philanthropist, public speaker and founder of Grow CFO, Deborah Harris had her way, the answer would be 'quite a bit'.
Consider this for starters: in mankind's long agrarian past, having a bountiful harvest often meant the difference between life and death. Beginning in Ancient Israel, continuing through Classical Greek and Roman cultures, and beyond, many 'tribes' recognised this importance by offering the very first products of the harvest, called the "first fruits", to their respective gods as an expression of gratitude.
Deborah has managed to transform the concept of firstfruits into a philosophy for building business models that focus on the end goal of giving, with traditional considerations like profit being more of a means to that end. In doing so, she has taken a practice that is deeply rooted in human history and put a modern spin on it that allows entrepreneurs to efficiently and effectively realise their visions of a better world.
THE SEEDS OF GROWTH
Deborah's company and brainchild, Queensland-based Grow CFO, offers a wide range of tools and training for smaller businesses looking to expand and grow. In addition to providing innovative services like a 'Virtual CFO', GrowCFO provides valuable consulting and advice with a focus (not surprisingly!) on growth.
Interestingly though, to an increasing number of businesses and entrepreneurs, though, growth isn't just about the monetary bottom line, but about being part of a sustainable future. This is where the paradigm of firstfruits comes in.
Deborah puts it this way, "Although many businesses leaders and their employees are highly motivated by their desire to give it takes more than that to turn your enterprise into an instrument of good. Yet when you build your ultimate giving goals into your core mission, it forces you to set specific monetary giving goals as Key Performance Indicators (KPIs) that get evaluated just like any other measure of success as part of the normal business cycle."
With her accounting background, Deborah is a self-described "dedicated number nerd". And she shows that in this explanation: "Let's say your goal as a business is to raise $1,500 for a particular giving activity (perhaps your favorite B1G1 project!) If your business can afford to dedicate 5% to giving, then you know that it must clear $30k in revenue to meet that $1,500 giving goal. Any less, and you're not meeting the KPI you set for yourself."
This KPI approach to philanthropy ingrains giving into the business model and culture – and as the Grow CFO website says, "culture is king". According to Deborah, it all boils down to gratitude, just like those ancient farmers looking for an abundant crop season.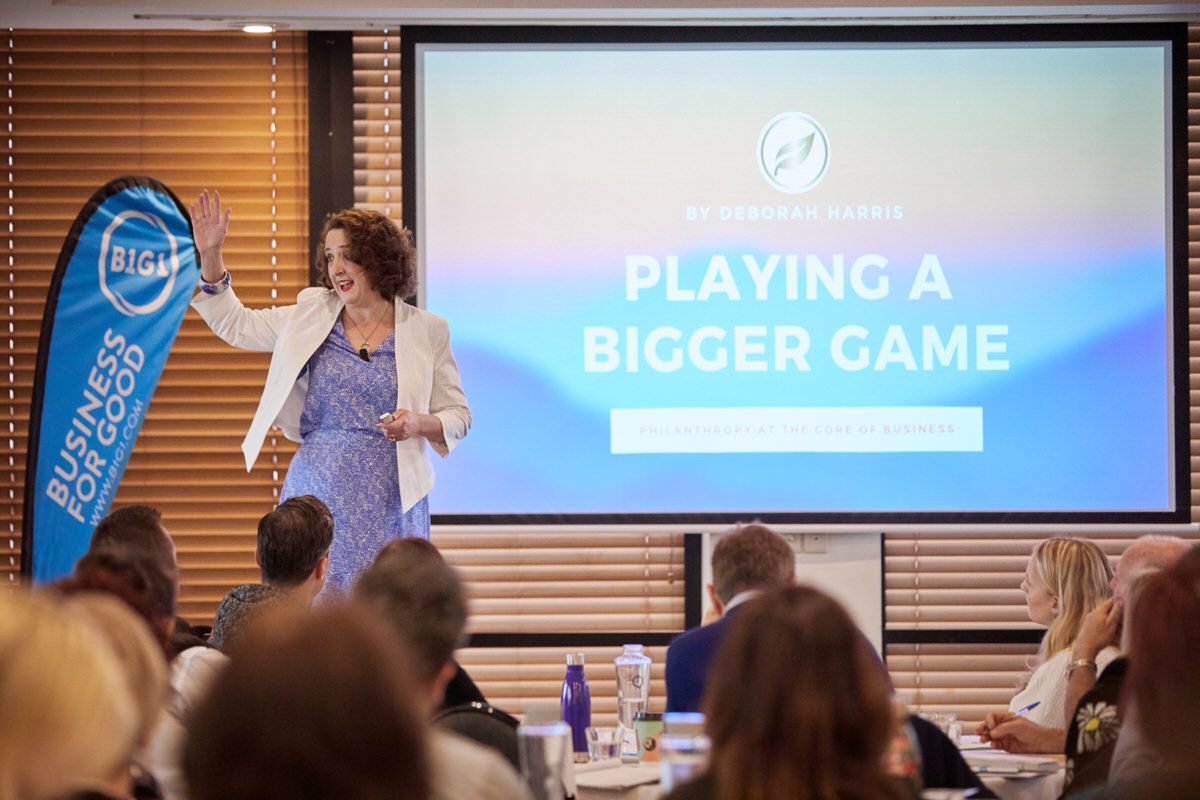 FINDING INSPIRATION AND HUMILITY
As for her own giving pursuits, Deborah is fully on board with the UN Sustainable Development Goals (SDGs), which she believes are so interdependent that they support each other and should always be viewed in aggregate.
"All of the global goals inspire me… because none of them can be fixed in isolation," she says.
Still, she has a particular affinity for SDG 11 – Sustainable Cities and Communities. In a way, SDG 11 is a microcosm of all the SDG goals, since it sheds light on the interdependence and connectedness of people within and between communities across the world. Her favorite B1G1 project provides microloans to women in Malawi in an effort to bolster the long-term stability and sustainability of those communities.
Deborah feels it's also important not to be too arrogant about some of the challenges that developing nations face. In the past, she regrets that she fell for this trap, thinking "Why don't they clean up?" or "Why don't they work together?" But traveling the world and seeing many problems up close gave her a humbler approach and allowed her to view her own experiences in a different context.
"Even in first world communities there are people in dire need," Deborah says – something she knows firsthand having witnessed her own sister gradually lose her vision. Communities everywhere, regardless of their relative affluence, should strive to be inclusive, safe, resilient, and sustainable.
LEGACY: A GIFT TO THE FUTURE
Deborah sees the idea of a legacy-making as a 'paying it forward' gift to future generations. She believes it is the essence of sustainability.
Yet getting everyone motivated to begin building their own legacies can be difficult, though, when many feel they could never do enough to make a difference. Deborah wants to dispel this notion by making people first recognize that it's not their job to save the whole world all at once.
"Find a problem to solve, make it your business to solve it," Deborah suggests.
To build a lasting legacy you have to find motivation by connecting with one thing that inspires you and working with others to make it better, even if just a little.
---
The Grow CFO Co. is B1G1 Legacy Maker for the week of 2 December 2019. By sponsoring the B1G1 giving space for a week, The Grow CFO Co. has enabled thousands of giving impacts to be created around the world.

---